| | |
| --- | --- |
| President's Message | |
NASAR
NASAR is proud to have been a part of the Missing and Unidentified Persons conference that was held September 16-18 in Las Vegas. The conference is put together by the National Criminal Justice Training Center and brings together a broad mix of disciplines. We were involved by providing seminars on several topics that showcased how typical SAR personnel can support law enforcement and other agencies or organizations in working on their cases. We were also able to attend a few sessions and pick up some great information. We want to advocate that well trained SAR folks can bring a lot of expertise to assist authorities in a missing persons case, and MUPC provided us a great opportunity to do so!

NASAR's Urban Search Management and initial Actions courses are great one-day programs that provide knowledge for law enforcement, fire, and SAR personnel who may be called upon to initiate and conduct search operations for missing persons cases. Check our website for additional information.

Mike
| | |
| --- | --- |
| In Memory of Commander Tomi' Boone Finkle | |
TrotSAR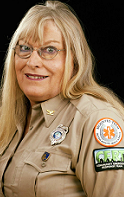 TrotSAR Mounted Search & Rescue (TrotSAR) is sad to announce the passing of our Team Commander, Ms. Tomi' Finkle on September 4, 2019 after her valiant battle with cancer. Tomi' had participated in search and rescue (SAR) for many years, starting with the Lyon sister's search in 1975. She dedicated her life to public service, and served 25 years as a motor officer, firearms instructor, and mentor with US Capitol Police, retiring as a sergeant. READ MORE


---
| | |
| --- | --- |
| 2 hikers found a message in a bottle and helped rescue a stranded family; Now the family wants to thank them | |
CNN
Curtis Whitson has two strangers to thank for his family being alive today. Two brave hikers plucked a lime green bottle from a river and alerted authorities about the SOS message they found inside.
READ MORE
| | |
| --- | --- |
| Google Earth helps solve the mystery of a decades-old disappearance | |
San Francisco Gate
After several drinks at a local night club, William Earl Moldt called his girlfriend around 9:30 p.m. to say he would be home soon. Moldt, a 40-year-old mortgage broker, rarely drank, but he had decided to go out that evening in November 1997. He mostly kept to himself at the club in Lantana, Florida, and then left alone in his 1994 white Saturn SL around 11 p.m., according to the National Missing and Unidentified Persons System. He didn't appear to be drunk.
READ MORE
| | |
| --- | --- |
| Hiker stranded for 2 days after breaking her leg says dog helped her get rescued | |
WBAL-TV
A hiker in Washington is thankful to be alive after an injury caused her to be stranded for two days with no end in sight. Barbara Dadswell slipped on a log when she was near the end of a trail and fell into a ravine, breaking her leg, KOMO reports.
READ MORE
| | |
| --- | --- |
| US air force OKs new Sikorsky combat rescue helicopter for initial production | |
Military.com
The U.S. Air Force has cleared for initial production a new Sikorsky combat rescue helicopter based on the venerable Black Hawk helicopter, parent company Lockheed Martin Corp. said. The helicopter will perform combat search and rescue and personnel recovery operations for all U.S. military services.
READ MORE
| | |
| --- | --- |
| 'The worst natural disaster I've ever seen' — US Search and Rescue team describes Hurricane Dorian's impact on the Bahamas | |
TIME
A Florida-based search and rescue team returned this week from one of the hardest-hit islands in the Bahamas, describing the devastation sustained during Hurricane Dorian as unlike anything they've ever seen.
READ MORE
| | |
| --- | --- |
| The best flashlights for camping | |
Forbes
If you plan to be doing some camping, a good flashlight is one of the most important items you can bring. You'll be spending a lot of time in the dark, and unlike city streets, most camp sites are completely unlit. Sure, you get a great view of the stars, but that's not enough light to see by if you need to step out for a bathroom break.
READ MORE
| | |
| --- | --- |
| Fi Dog Collar review: Find your pup with GPS | |
GearJunkie
Sean McCoy: Dog collars with GPS tracking have given owners a new tool for finding lost dogs. I tested the Fi Smart Dog Collar on my German shorthair pointer for the last 2 months for this review.
READ MORE