This Porsche 959 can be yours for $1.4 million
Motor Authority via Yahoo Autos
The 918 Spyder may be an impressive technological achievement, but Porsche's first true supercar was just as great a leap forward back in the day. The Porsche 959 is generally credited with introducing the concept of the high-tech supercar, but since it was never officially imported, they're a rare sight in the U.S. One of these rare cars is being offered for sale by Copley Motorcars in Needham, Massachusetts — just outside Boston — for a cool $1.45 million. It's funny to see one of the world's most legendary performance cars in a state with an equally legendary reputation for bad driving.
| | |
| --- | --- |
| Share this article: | |
PRODUCT SHOWCASE
| | | | |
| --- | --- | --- | --- |
| | | The full line of WELTMEISTER™ – Porsche®Performance Parts can be found at Automotion.com. Weltmeister products have constantly been on the cars in the winner's circle at IMSA, SCCA, PCA and POC races. Whether it's for the suspension, chassis, or transmission find the best priced Weltmeister parts for your Porsche® at Automotion. | |
Here's the 2015 Porsche 911 GT3 RS way before you're supposed to see it
Jalopnik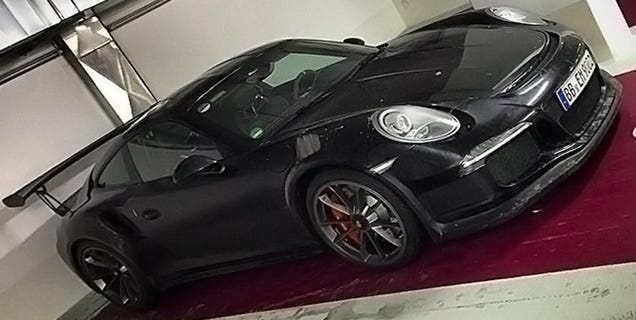 Porsche is looking forward to the official launch of the 2015 911 GT3 RS, likely after stuffing car writers with so much wine and shrimp that they think going automatic-only makes sense. Screw that. Here's how the car looks in the raw, unfiltered wild. Well, unfiltered might be the wrong word. These photos were posted on Instagram, after all. The user is Stuttgart resident Johan9ff, who should know a thing or two about fast Porsches.
| | |
| --- | --- |
| Share this article: | |
Video: Motor Trend pits GT3 vs. Camaro Z/28
PCA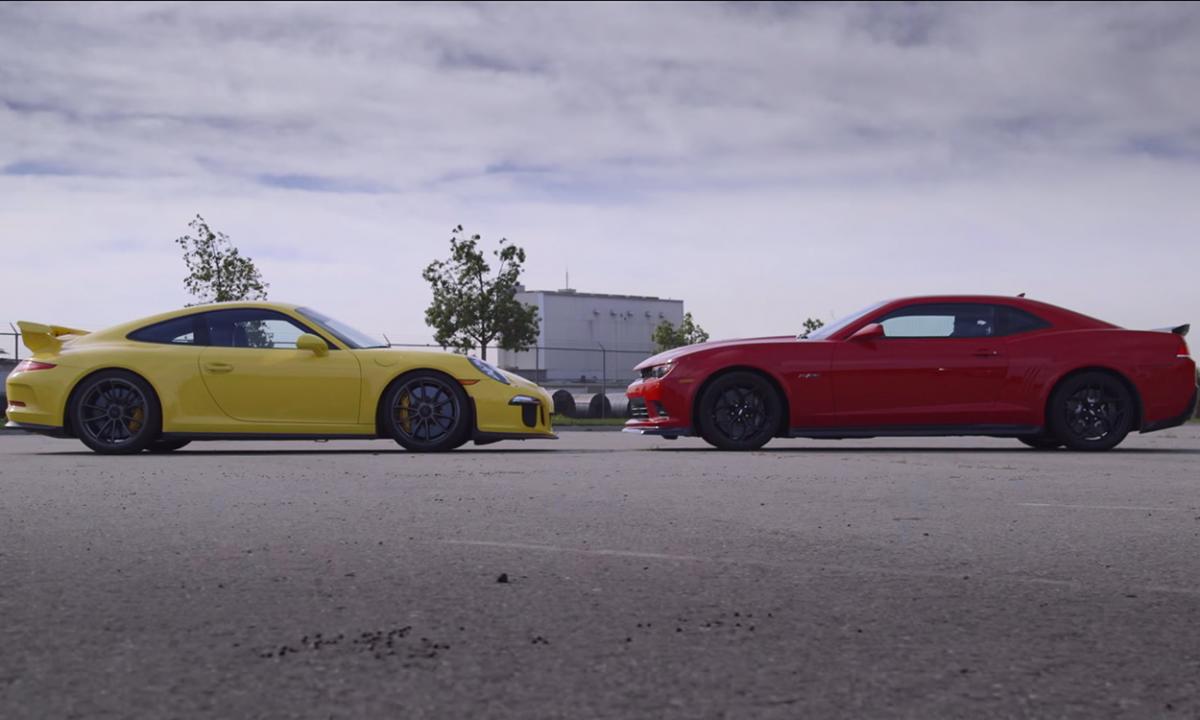 The past 12 months have been good to sports cars, even in the face of ever-tightening emissions and fuel economy regulations and decreasing engine displacements. Just look to cars such as the Porsche 911 GT3 and the Chevrolet Camaro Z/28 for confirmation that manufacturers still see the value in creating high-performance, track-oriented street cars. While you may cringe at the thought of mentioning GT3 and Z/28 in the same sentence — starting at $130,400, you'll pay at least $57,000 more for the Porsche — the truth is their performance is very similar, as evinced by Motor Trend's Head 2 Head episode featuring Stuttgart's finest sports car and a Corvette-powered Camaro.
| | |
| --- | --- |
| Share this article: | |
Naked 2015 Porsche Cayman GT4 streaks for the camera
Car and Driver
Last May, Car and Driver brought you advanced notice of the 2015 Porsche Cayman GT4, which is expected to follow in the hallowed tire treads of the visceral brain-nuke that is the 911 GT3. Today, it brings you images of a prototype that looks 100 percent ready for the showroom. If this indeed is a production-spec Cayman GT4, most of the modifications seen on the prototype back in May (front fascia, rear diffuser, ducktail-style lower decklid spoiler, GT3-like duct in front of the hood) were product-correct.
| | |
| --- | --- |
| Share this article: | |
The new Porsche Macan — Porsche Traction Management (PTM)
Porsche
The tremendous dynamic performance of the new Macan is thanks in part to the Porsche Traction Management (PTM) active all-wheel drive system. Learn in this video how PTM transfers the incredible sportiness of the Macan to the road.

| | |
| --- | --- |
| Share this article: | |
Video: How a Porsche 911 engine is made
Digg
The most incredible thing about this video is the continuous, silent concentration of Porsche employees.
| | |
| --- | --- |
| Share this article: | |
The new Boxster GTS & Cayman GTS — Launch Event in Taiwan
Porsche
The new Boxster GTS and Cayman GTS were recently unveiled at an exciting car show. One of the highlights: a demonstration of the performance capabilities at a karting track (Taroko Karting Land). Take a look in this video.

| | |
| --- | --- |
| Share this article: | |
Son wins Porsche Cayman and gives it to his parents
Bold Ride via Yahoo Autos
Here's a feel good story this Christmas — Arvinder Singh is the best son in the universe right now. He recently won a Porsche Cayman S, and instead of hooning it to no end, he gave it to his parents. Two things: is he available for adoption? And how can Keith Griffin make sure his daughters, ages 10 and 6, follow Singh's lead when they grow up? Unfortunately, Singh is 24 so adoption is probably out of the question — but there's still hope for Griffin's daughters.
| | |
| --- | --- |
| Share this article: | |
10 of 'Top Gear's' greatest cars from the last 20 years
The Cheat Sheet
For many gear heads and car enthusiasts around the world, there is no greater authority on automobiles than the British television series "Top Gear" and its bumbling cast of hosts who make the show enjoyable even for those who aren't as passionate about cars. So when the show announced that it compiled a list of the 50 best cars from the last 20 years, people paid attention. To celebrate "Top Gear" magazine's 20th birthday, the show did just that.
| | |
| --- | --- |
| Share this article: | |
The Porsche 924 Carrera — evolution to excellence
Veloce Publishing
The full story of the Porsche 924 Carrera's evolution to excellence by award winning motoring writer Roy Smith. Forewords by Norbert Singer, Jürgen Barth & Derek Bell. The brand new book available here: http://bit.ly/924Carrera
| | |
| --- | --- |
| Share this article: | |
7 dream cars
Consumer Reports via Yahoo Autos
Consumer Reports' engineers and editors drive well over 100 new cars every year, and they've found many exotics don't live up to the image. Here are seven dream machines that do, listed in ascending order of price.
| | |
| --- | --- |
| Share this article: | |
This Porsche 911 GT1 makes a McLaren P1 seem as common as a Camry
Jalopnik
People who don't like cars will say it's a piece of art. People who don't like cars will say only 25 were ever made. People who don't like cars will say that in 2011, one of these sold for $1.7 million, and it's only gone up in value since. People who don't like cars will say that for all these reasons, the Porsche 911 GT1 shouldn't be driven. They are wrong.
| | |
| --- | --- |
| Share this article: | |
America's most wanted: 12 vehicles flying off dealer lots
The Cheat Sheet
If you want to know the automobiles selling at the highest volume in America, we have you covered. In that list you'll find your Detroit pickups, your Japanese sedans, and a few crossovers. As for vehicles in highest demand at auto dealerships, a look at the average time an automobile spends on the lot reveals a much sportier and luxurious group. Cars.com recently compiled a list of the fastest and slowest sellers in America counting the days the cars arrive until the days a buyer signs the purchasing agreement.
| | |
| --- | --- |
| Share this article: | |
Porsche replaces chassis components in 205 vehicles worldwide
Porsche
As a precautionary measure, Porsche will replace chassis components in 205 vehicles of the 918 Spyder model worldwide. The reason for this is that for vehicles that were manufactured in a certain time period defective parts were used from a delivery batch, whose functionality cannot be permanently guaranteed. No complaints have been made known (such as a break of a component) from customers up till now.
| | |
| --- | --- |
| Share this article: | |
Is this what the Porsche Boxster GT4 will look like?
The Sports Car Guys
As you have probably heard by now a Porsche Boxster GT4 looks to be in the works. The new open-aired high performance car will be the Boxster's version of the GT3. You've probably already seen the spy shots and have an idea of what the car may look like, but it is always nice to see the actual car. Well, our friends over at TopSpeed have made the above rendering of what they think the finished product will look like. We have to say that it looks very good. It is very much like a combination between a 911 GT3 and a 981 Boxster which gives it an aggressive appearance.
| | |
| --- | --- |
| Share this article: | |
Devon's blistering blue '88 Porsche 944 Turbo: Your ride
Bold Ride
Everybody travels a different path into the world of car customization. Some folks start tinkering in their teenage years. For others, it's a late-in-life obsession. But for Bold Ride reader Devon B., he was born into it. Devon's family has run a New York car audio shop for the past two and a half decades, and part of growing up under that roof meant getting up and under the hood of cars — namely his dad's 1983 Porsche 930, and now this — Devon's tuned Porsche 951 (944 Turbo).
| | |
| --- | --- |
| Share this article: | |
Is the Porsche 996 motor a pin-less grenade?
TrueDelta
TrueDelta's Michael Karesh breaks down risks associated with dealing with the Porsche 996 naturally aspirated, flat-6 engine. He looks at long term reliability studies and has determined that it is not of matter of if this motor will fail, but when. He also provides a nice alternative.
| | |
| --- | --- |
| Share this article: | |
Porsche EV rival to Tesla Model S looks unlikely
Bold Ride via Yahoo Autos
A change is in the air, and at Porsche that means a reshaped, sexier Panamera, expected to debut for the 2016 model year. Recent spy photos confirm an evolutionary restyle, while various reports suggest a variety of new body configurations coming to market. But the most polarizing claim regards an all-electric version, a direct shot at the wildly acclaimed Tesla Model S.
| | |
| --- | --- |
| Share this article: | |
PCA stainless steel license frames in stock
PCA
These elegant OEM quality rust proof 304 stainless steel laser etched PCA frames are now in stock to show your club pride. Universal fit and easy mounting application, each frame includes matching finish hardware hider caps. Available in black, polish and brush finishes.

Special Club Price $24.99-$35.99. Order here.

| | |
| --- | --- |
| Share this article: | |
Porsche of the Week
PCA
Bliss in Blue The new 991 Targa 4S was a long time in coming and now shares the garage with its older siblings!


Photo by Jerry Charlup
CVR Region PCA
Got a stunning shot you want to share? Submit your pictures to
potw@pca.org
. Be sure to include your contact information, your region name and a few sentences about your picture.
Share this article: