Take a video tour of the Porsche Museum's secret prototypes and concepts
Jalopnik
Right now in Stuttgart, the Porsche Museum is running an exhibit that comes straight out of our wildest gearhead dreams. It's called Project: Top Secret! and it hauls a bunch of their old concept cars, prototypes and development mules out of the vault for the public to see.

| | |
| --- | --- |
| Share this article: | |
PRODUCT SHOWCASE
| | | | |
| --- | --- | --- | --- |
| | | The full line of WELTMEISTER™ – Porsche®Performance Parts can be found at Automotion.com. Weltmeister products have constantly been on the cars in the winner's circle at IMSA, SCCA, PCA and POC races. Whether it's for the suspension, chassis, or transmission find the best priced Weltmeister parts for your Porsche® at Automotion. | |
Video: Chris Harris drives a Porsche 911 rally car that puts Baja bugs to shame
Jalopnik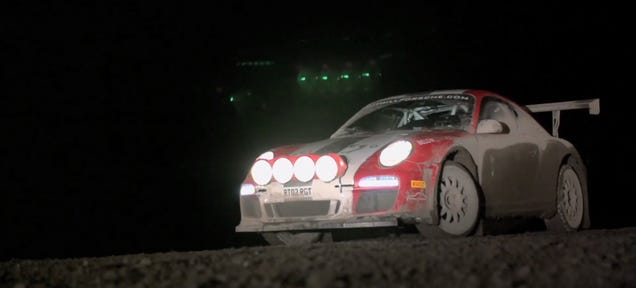 The latest Chris Harris on Cars tackles a subject very near and dear to my heart: 997-gen Porsche 911 Cup cars, built for the World Rally Championship's RGT class by the universe-saving heroes at Tuthill Porsche. It's a filthy, sideways good time.

| | |
| --- | --- |
| Share this article: | |
Only Porsche has more Porsches — Manfred Hering's passion for early 911s
Classic Driver
Manfred Hering, owner of German specialist Early 911s, is something of a lord of the classic Porsche 911 — despite his tender age (he's only in his forties). Classic Driver talked to the 911 expert in his newly opened Porsche dream factory in Wuppertal.
| | |
| --- | --- |
| Share this article: | |
Check out the expanded clearance items in the PCA Web Store!
PCA
Check out our expanded clearance section in the PCA webstore. Quantities are limited so get it while you can. Priced to sell from $10-$19.99!


| | |
| --- | --- |
| Share this article: | |
New billboard transforms for Porsche drivers [w/video]
TechRadar
Just in case Porsche drivers have forgotten how fortunate they are, a new billboard at Melbourne's Tullamarine Airport now reminds them of their specialness via a customized message whenever they drive past. You'd think cruising around in one of Germany's finest automobiles would be reward enough in itself, but in a world first, oncoming Porsches now trigger a change in the digital billboard advertising the Porsche 911 Turbo.
| | |
| --- | --- |
| Share this article: | |
Porsche rules out F1 project
Motorsport.com
2016 F1 entrant Gene Haas recently indicated he hopes rumors the German giant Volkswagen — Porsche's parent — is contemplating entering F1 are true. "I think having big manufacturers coming in and supplying engines makes a lot of sense," he told Autoweek and F1 business journalist Christian Sylt. But the marque's head of research and development Wolfgang Hatz has told Auto Motor und Sport: "Formula one has never been an issue for us and won't be."
| | |
| --- | --- |
| Share this article: | |
Video: Retro Review: '83 928S vs. Z28
MotorWeek
Watch a 1983 Porsche 928S take on a Chevrolet Camaro Z28 of the era at Summit Point Raceway in West Virginia in a throwback clip.
| | |
| --- | --- |
| Share this article: | |
TUDOR Championship kicks off new year with 'Roar' test
IMSA
The TUDOR United SportsCar Championship paddock roared to life for the first time in 2015 this past weekend with the annual Roar Before the Rolex 24 test at Daytona International Speedway Jan. 9-11. The three-day test was the lone official IMSA test of the offseason and the final dress rehearsal for teams competing in the season-opening Rolex 24 At Daytona on Jan. 24-25. Among the 53 teams entered across the TUDOR Championship's four classes are 10 different automotive manufacturers and current and former stars from various disciplines of racing, including NASCAR, IndyCar, Formula 1 and international sports car competition.
| | |
| --- | --- |
| Share this article: | |
2015 Porsche Macan road test
U-T San Diego
The Porsche Macan compact crossover is a sports car and an off-road climber. And Mark Maynard wouldn't have believed his words, either, had he not scorched the Streets of Willow Springs road course and then followed the leader on the off-road course. Porsche engineers are obsessed with creating a dual-purpose crossover, which, of course, is nearly impossible given budget and size restraints. But that doesn't stop them from trying to make perfect this so-American creation.
| | |
| --- | --- |
| Share this article: | |
Missed last week's issue? See which articles your colleagues read most.
Video: Porsche 911 991 factory
YouCar
Porsche will have completed the structural work and erection of steel girders for the new engine plant at its Zuffenhausen site by the end of the year. By the beginning of 2016, the new development in the northern part of Stuttgart, on a site occupying only 10,000 square meters, will include a state-of-the-art assembly line with logistics areas and engine-testing technology, plus appealing offices and staff recreation rooms. The two-story plant will accommodate a total workforce of around 400 people. The master plan for the conversion of the entire "Porsche Werk 4" industrial site has received the highest commendation from the German Association for Sustainable Construction.
| | |
| --- | --- |
| Share this article: | |
Next-gen Porsche 911 hybrid to take on BMW i8
Carscoops
Following extensive development efforts to produce the 918 Spyder hybrid supercar, Porsche is now weighing options regarding a hybrid variant across the sports car range, including the flagship 911. "We have a lot of ideas, but we have not approved them for production yet," explained Porsche global sales and marketing head Bernhard Maier. "The 918 Spyder shows that Porsche has the capability to produce very convincing hybrid sports cars."
| | |
| --- | --- |
| Share this article: | |
Porsche Motorsport North America celebrates Alex Job Racing's "first"
25 years
Porsche
Alex Job Racing, headquartered in Tavaras, Florida (near Orlando), has been at the head of the sports car racing class for 25 years, and Porsche Motorsport North America is celebrating one of its longest running customers as the team heads into year 26. The story of the team's success actually began more than 30 years ago. Team owner Alex Job spent 20 years in the retail automobile business, primarily with Porsche, before pursuing racing as a full time business. For Job, racing has always been a motivating factor; in the 1970s, he raced part time while keeping his day job. Job retired from racing in the late '70s, but the separation didn't stick and he was drawn back into motorsports competition.
| | |
| --- | --- |
| Share this article: | |
The Lego Speed Champions kits look amazing
Road & Track
The new Lego Speed Champions kits arrive in March, and the latest images show just how fantastic they're going to be.

| | |
| --- | --- |
| Share this article: | |
Porsche of the Week
PCA
Christmas in Santa Fe, New Mexico — This photo of my 1973 Porsche 911 Carrera RS 2.7 was shot at our house after a drive on the back roads of Santa Fe. It was the only RS we saw all day!


Photo by Will Sanchez
Grand Prix Region (GPX) PCA
Got a stunning shot you want to share? Submit your pictures to
potw@pca.org
. Be sure to include your contact information, your region name and a few sentences about your picture.
Share this article: