| | |
| --- | --- |
| Welcome New & Returning Members | |
NAME:
Alicia Adams
Linda Allen
Janie Anaya
Daniel Aquino
Adalis Arrieta
Paul Bailey
Maureen Blomquist
Greta Bogrow
Mary Brandt
Serena Camarillo
Cyndie Chen
Nkiru Chukwudi
Reid Corley
Oluwayemisi Daramola
Delilah Dees
Lexi Deompoc
Chris Duban-Bonoan
Frances Dy
Stephanie Dy Juanco
Michelle Edwards
Irene Garcia
Mary Grace Gaza
Nancy Gonzalez
Vicki Gutierrez
Pennysue Hammer
Brittany Hartin
Diana Hernandez
Whitney Hicklin
Donna Kendrick
Madeline Lawlor
Samantha Lewis
Estrella Liboon
Gabrielle Lutley

LOCATION:
Aliso Viejo
San Diego
Salinas
Folsom
San Diego
Anderson
West Sacramento
Aromas
Simi Valley
Lakewood
Newport Beach
Carson
San Diego
Fontana
Los Angeles
Playa Del Rey
Cerritos
Duarte
San Francisco
Oakland
Upland
Elk Grove
Woodland Hills
Los Angeles
Acton
Brea
Lancaster
LA Crescenta
Santee
Pleasant Hill
Los Angeles
North Hollywood
San Jose

NAME:
Cory Lynch
Paige Mackenzie Lanteigne
Rocio Magana-Lauth
Seth Mayoral
Rachelle Menconi Shipp
Leticia Mendez
Denise Mercer
Katrina Meyer
Tina Morrison
Rose Moss
Francis Mullnix
Michael O'Bleness
Jaymie Penales
Renee Pink
Stacy Quintana
Gima Ramirez
Larry Rankin
Yansi Rasso-Cortez
Andrea Reed
Jean Ricafort
Kristen Santiago
Shiran Schahaf
Brittani Simonini
Lindsay Sims
Astrid Sotomayor
Socheata Sun
Marilda Switlick
Deborah A Taubman
Jessica Tu
Mayra Villagomez
Lynn Visser
Kelly Vogt
Santwon Walker

LOCATION:
Burbank
Fresno
Suisun City
Gravette
Pleasant Hill
Canyon Country
Concord
San Diego
Agoura Hills
Agoura Hills
Long Beach
Vallejo
Northridge
Milpitas
San Pedro
Los Angeles
El Cajon
Perris
San Pedro
Riverside
Poway
Los Angeles
Morgan Hill
Rancho Murieta
Los Angeles
Bellflower
Loomis
Carlsbad
Vallejo
Oxnard
Loomis
Santa Monica
Fort Irwin

---
| | |
| --- | --- |
| Introducing the ANA Innovation Awards™ Powered by BD | |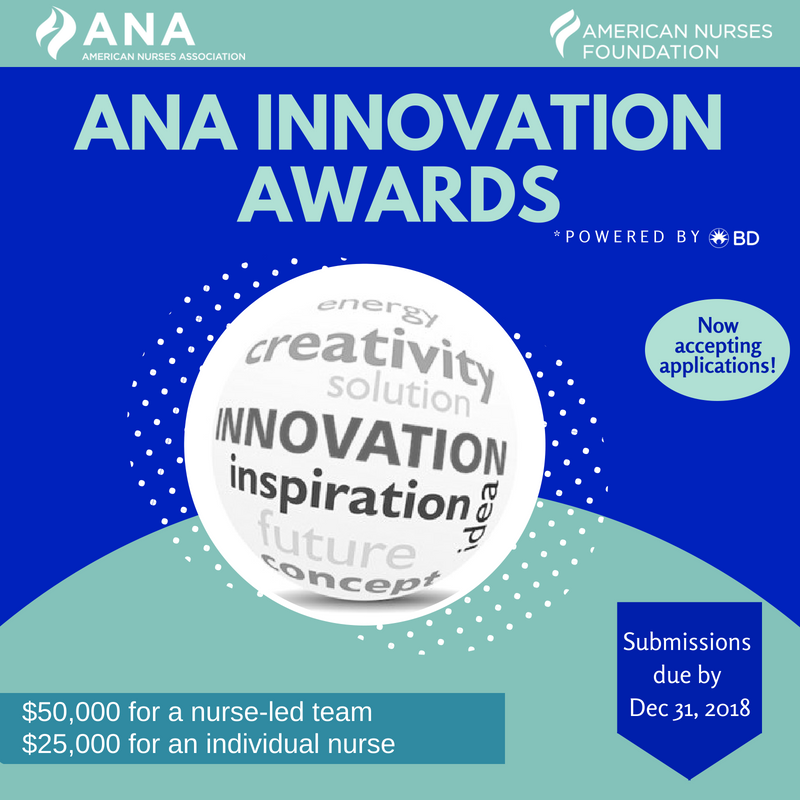 Every day, in ways big and small, nurses improve, advance, and invent. It could be a new idea to optimize care, a better way to keep patients safe, or a quality improvement initiative that transforms outcomes.

We want to showcase your brilliant work and give you the recognition you deserve!

Introducing the ANA Innovation Awards, powered by BD, a global medical technology company. The awards celebrate nurse-led innovation that improves patient safety and outcomes.

So tell us ... how do you drive innovation in your nursing practice? You could win $25,000 or your team could win $50,000. This award is a game-changer for the winning innovations!

Find out more and apply today!

*Individual award $25,000; Team award $50,000.
| | |
| --- | --- |
|   |  NEWS FROM AROUND THE INDUSTRY |
---
| | |
| --- | --- |
| Nurses can make mainstream media take notice | |
Nurse.com
I use Twitter frequently to broadcast nursing news, ranging from news about state legislators removing barriers to practice for nurse practitioners to highlights from commencement addresses I give. Oftentimes, I'll single out nurses for their research findings or acts of compassion.
READ MORE
| | |
| --- | --- |
| Use easy technology to improve your patients' treatment | |
By Lisa Mulcahy
Online patient portals and automated visit reminders are standard components of care for most hospitals and practices today. But did you know that there are other simple uses of technology that can raise the quality of care you provide — and contribute to better outcomes across the board for your patients? Research shows that implementing the following technological strategies can lead to excellent results.
READ MORE
| | |
| --- | --- |
| From stroke patient to rehabilitation nurse | |
DailyNurse
Anne M. Cabello, RN, BSN, CRRN, was only 12 years old when she experienced a mild stroke. Luckily for her, with good, acute rehabilitative care — as well as, she says, much love, prayers, and support — she made a full recovery. This experience, though, led her to become a rehabilitation nurse when she grew up.
READ MORE
| | |
| --- | --- |
| Not all clinicians realize CDC has tools to help prevent diabetes | |
Healio
Slightly more than one-third of primary care providers knew of the Centers for Disease Control and Prevention-recognized lifestyle change program for preventing diabetes, and less than 20 percent knew of the agency's STAT toolkit that serves the same purpose, according to findings recently published in the American Journal of Preventive Medicine.
READ MORE
| | |
| --- | --- |
| IV acetaminophen minimally helpful for colectomy pain | |
HealthDay News
Intravenous acetaminophen does not decrease opioid utilization to a clinically significant threshold among colectomy patients, according to a study published in the July issue of Anesthesiology. Researchers used national claims data from open colectomy patients (Premier Healthcare Database; 2011 to 2016; 181,640 patients at 602 hospitals) to assess oral and intravenous acetaminophen use on the day of surgery, postoperative day one, or later. Associations between intravenous or oral acetaminophen and opioid utilization and opioid-related adverse effects were evaluated.
READ MORE
| | |
| --- | --- |
| 3 Ways to support nurses during the opioid crisis | |
HealthLeaders Media
About three-and-a-half years ago, Jennifer David, BSN, RN, MHA, associate vice president of client relations at Avant Healthcare Professionals, a Florida-based recruitment and staffing firm specializing in international healthcare employment, saw something that unnerved her. She had visited a hospital client where three of the agency's international nurses would be working on long-term contracts.
READ MORE
| | |
| --- | --- |
| Chronic migraine, not treatment, tied to cognitive impairment | |
Medscape (free login required)
Chronic migraine is associated with cognitive impairment in new research that, contrary to previous research, also shows no link between the anticonvulsant topiramate and cognitive impairment or other psychiatric comorbidities.
READ MORE
| | |
| --- | --- |
| Use of palliative care, oxygen therapy increasing for COPD | |
HealthDay News via Monthly Prescribing Reference
For patients with advanced chronic obstructive pulmonary disease (COPD), the use of formal palliative care services and long-term oxygen therapy has increased but remains low, according to a study published online in the American Journal of Respiratory and Critical Care Medicine. Researchers described trends in use of end-of-life care strategies by people with advanced COPD. The annual proportions of individuals who received formal palliative care, long-term oxygen therapy, or opioids from 2004 to 2014 were ascertained.
READ MORE
| | |
| --- | --- |
| More nurse practitioners are pursuing residency training to hone skills | |
NPR
The patient at the clinic was in his 40s and had lost both his legs to Type 1 diabetes. He had mental health and substance abuse problems and was taking large amounts of opioids to manage pain. He was assigned to Nichole Mitchell, who in 2014 was a newly minted nurse practitioner in her first week of a one-year postgraduate residency program at the Community Health Center clinic in Middletown, Connecticut.
READ MORE
| | |
| --- | --- |
| Patient engagement in asthma treatment plans may improve quality of life | |
HealthDay News
Older adults with asthma and a greater desire for involvement in decision making have higher asthma-related quality of life, according to a study published in the July issue of the Annals of Allergy, Asthma & Immunology. Researchers sought to identify factors associated with autonomy and to determine whether autonomy is related to outcomes among 189 adults older than 55 years with persistent asthma. Preferences for autonomy were assessed using the Autonomy Preference Index. Scores were separated into the domains of information seeking and decision making preferences.
READ MORE
---
---