---
| | |
| --- | --- |
| Wading deeper into liquid biopsy | |
CAP Today
The standard riff for talking about a promising new cancer test should be familiar to anyone within sneezing distance of a laboratory: There's no one-size-fits-all assay.
READ MORE
---
| | |
| --- | --- |
| National Cytotechnology Day 2019 T-Shirt Orders! | |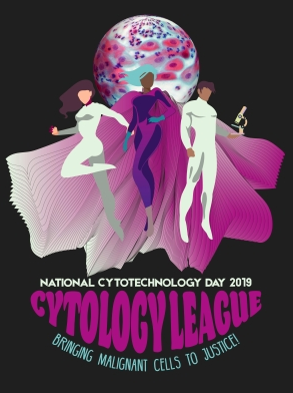 Congratulations to 2018 t-shirt design winner, Sarah Ortiz Rodríguez! Her winning design will be featured on t-shirts this year. The proceeds will benefit the ASCT Foundation.

If you are interested in purchasing a T-shirt with the 2019 design and slogan, click here to download an order form. Please complete and return the form, with payment, to info@asct.com. Please have your order in no later than April 1, 2019, 5:00 pm Eastern.

May 13 is National Cytotechnology Day

To commemorate Dr. George Papanicolaou's contributions to the field of medicine, May 13 - his birthday - has been designated National Cytotechnology Day (NCD).

Ways to celebrate National Cytotechnology Day

In your lab:

• Educate others in your laboratory, hospital, and community about the work of Dr. George Papanicolaou and the importance of the Pap test.
• Invite local high school and college students to your lab to inform them of a career in cytotechnology and what academic and technical requirements are necessary.
• Make a poster or exhibit or provide a lab tour to educate others about what cytotechnologists do.
• Get an official NCD proclamation from the governor or mayor.
• Proudly wear t-shirts celebrating NCD Day.
• Bake cookies decorated as various types of cells and share with colleagues.
• Create and play games like Cyto-jeopardy with your staff - it's both fun and educational.

The ASCT would like to share how labs celebrate NCD. Please send photos, ideas and articles on how you celebrated NCD this year to info@asct.com. Your lab will be featured in the next issue of the Voice.






EcoVue® was designed with patient safety in mind, our non-refillable and single use products will forever CHANGE YOUR VUE of ultrasound gel.


www.EcoVue.com
---
Date
Event
Location
More information



April, 17 2019




Head and Neck Cytopathology




your PC


Abbey Lott Limbach, MD
Department of Pathology
The Ohio State University Medical Center
Details



June 2019




The Engagement of Cytotechnologists in Genomic Selections Leads to Improved Outcomes




your PC


Melissa Randolph, BS, SCT(ASCP)
Details



July, 17 2019




TBA




your PC


Eva Wojcik, MD
Department of Pathology
Loyola University Medical Center - Chicago
Details



Available for 6 months after subscribing




Quality Assessment Center (QAC) Cell Blocks Basics Workbench




Your PC


Details



Available for 6 months after subscribing




Quality Assessment Center (QAC) Document Control for Cytopathology Workbench




Your PC


Details



Available for 6 months after subscribing


Quality Assessment Center (QAC)
The LEAN Cytopathology Laboratory Workbench



Your PC




Details




May 3 - 5, 2019




2019 ASCT Annual Conference




San Juan, Puerto Rico




Details
---
| | |
| --- | --- |
| Novel handheld device detects high-risk HPV in 2 hours | |
Medscape (free login required)
A novel handheld device that incorporates artificial intelligence detects high-risk human papillomavirus strains 16 and 18 within two hours and performs as well as biopsy, which can require two weeks for results to be returned. Another new approach identifies these high-risk HPV strains in urine samples. Teresa Diaz-Montes, MD, Mercy Medical Center, Baltimore, Maryland, commented that it was "extremely important" to identify high-risk HPV in underserviced areas because of the associated risk for cervical cancer.
READ MORE
| | |
| --- | --- |
| ASCP Wage Survey to Conclude Soon | |
ASCP
In February, ASCP launched its 2019 Wage Survey to secure the most recent wage data within the nation's clinical laboratory workforce. Since 1988, this survey has served as the primary source of information for academic, governmental and industry labor analysts.
READ MORE
| | |
| --- | --- |
| What's true and false in the debate over the Gardasil vaccine | |
WNPR
Gardasil is a vaccination against the human papillomavirus, which can cause certain types of cancer. Currently it's a voluntary vaccine that's offered to all children in Connecticut, but not mandated. A bill in the legislature would require families to vaccinate their children against HPV. Connecticut Public Radio's Ray Hardman spoke with Dr. Nick Bennett, the division head of infectious diseases and immunology at Connecticut Children's Medical Center. Here are some highlights from their conversation.
READ MORE
---
| | |
| --- | --- |
| Breast cancer: Does stress fuel its spread? | |
Medical News Today
New research in mouse models shows that stress hormones can help breast cancer grow, spread, and diversify, which makes it harder to treat.
READ MORE
| | |
| --- | --- |
| Prevalence, immunotherapy use in anorectal mucosal melanoma found to be increasing | |
Cancer Therapy Advisor
Prevalence of anorectal mucosal melanoma has increased. In addition, use of immunotherapy to treat the disease has also increased over an 11-year period, results from a retrospective study has shown. Mucosal melanomas in general, and ARMM in particular, represent rare forms of melanoma with very poor prognoses. The main objectives of this study were to investigate the prevalence of this disease and discern whether specific management practice trends exist.
READ MORE
| | |
| --- | --- |
| Chemoradiotherapy may confer survival benefit in sinonasal undifferentiated carcinoma | |
Journal of Clinical Oncology via Healio
Patients with sinonasal undifferentiated carcinoma who responded well to induction chemotherapy had better survival outcomes with definitive concurrent chemoradiotherapy than definitive surgery, according to a study published in Journal of Clinical Oncology. However, surgery appeared to offer a better chance of disease control and improved survival for those who do not respond favorably to induction chemotherapy.
READ MORE