---
| | |
| --- | --- |
| Cervical cancer screening in patients with HIV: Updated guidelines | |
Medscape (free login required)
The New York State Department of Health (NYSDOH) AIDS Institute Medical Care Criteria Committee has updated its guideline, Cervical Screening for Dysplasia and Cancer in Patients With HIV. The guideline presents current, evidence-based recommendations for human papillomavirus (HPV) vaccination, cervical cytologic screening, and follow-up of abnormal test results in people with HIV. The comprehensive guideline also addresses the ongoing need for diligence in early identification and treatment of precancerous and cancerous lesions, when treatment is most successful.
READ MORE
---
| | |
| --- | --- |
| National Cytotechnology Day 2018 T-Shirt Orders! | |
ASCT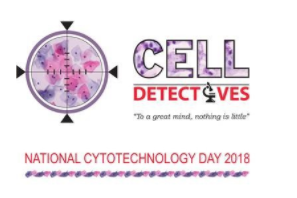 Congratulations to 2018 t-shirt design winner, Timothy Nkwasibwe of Makerere University College of Health Sciences in Kampala, Uganda! His winning design, "Cell Detectives" will be featured on t-shirts this year. The proceeds will benefit the ASCT Foundation.

If you are interested in purchasing a T-shirt with the 2018 design and slogan, click here to download an order form. Please complete and return the form, with payment, to info@asct.com. Please have your order in no later than April 2, 2018, 5:00 pm Eastern.

May 13 is National Cytotechnology Day
To commemorate Dr. George Papanicolaou's contributions to the field of medicine, May 13 - his birthday - has been designated National Cytotechnology Day (NCD).

Ways to celebrate National Cytotechnology Day
In your lab:


Educate others in your laboratory, hospital, and community about the work of Dr. George Papanicolaou and the importance of the Pap test.
Invite local high school and college students to your lab to inform them of a career in cytotechnology and what academic and technical requirements are necessary.
Make a poster or exhibit or provide a lab tour to educate others about what cytotechnologists do.
Get an official NCD proclamation from the governor or mayor.
Proudly wear t-shirts celebrating NCD Day.
Bake cookies decorated as various types of cells and share with colleagues.
Create and play games like Cyto-jeopardy with your staff - it's both fun and educational.


The ASCT would like to share how labs celebrate NCD. Please send photos, ideas and articles on how you celebrated NCD this year to info@asct.com. Your lab will be featured in the next issue of the Voice.
---
Date
Event
Location
More information



June 20, 2018




The Bethesda System for Cervical Cytology — Update and Beyond




Your PC


Patricia G. Tiscornia-Wasserman, MD
Professor of Pathology and Cell Biology
Director of Cytopathology
Columbia University Medical Center
Melville, New York
Details



Available for 6 months after subscribing




Quality Assessment Center (QAC) Cell Blocks Basics Workbench




Your PC


Details



Available for 6 months after subscribing




Quality Assessment Center (QAC) Document Control for Cytopathology Workbench




Your PC


Details



Available for 6 months after subscribing


Quality Assessment Center (QAC)
The LEAN Cytopathology Laboratory Workbench



Your PC




Details
---
| | |
| --- | --- |
| Early vaccination key to preventing HPV | |
MedicalXpress
Nearly half of adolescents aren't receiving a pair of vaccines to prevent a virus many of them will get. Guidelines released more than a decade ago recommend that all children receive a two-shot vaccine against human papillomavirus, or HPV, at their 11-year-old well child check-up. Yet local, state and national statistics show that HPV vaccination rates are well below half of the adolescent population.
READ MORE
| | |
| --- | --- |
| Communication intervention increases HPV vaccination in teens | |
Medscape (free login required)
Rates of vaccination against the human papillomavirus (HPV) remain low among adolescents in the United States, despite wide availability of the vaccine since 2006 for girls and 2009 for boys. Now, a new randomized controlled clinical trial suggests that patients may complete the HPV vaccine series when clinicians use an intervention specifically designed to facilitate communication with patients and their parents about the vaccine.
READ MORE
| | |
| --- | --- |
| Breast cancer: Obesity may hinder some treatments | |
Medical News Today
Obesity may be the reason that some cancers become resistant to drugs intended to stop the formation of new blood vessels that fuel tumor growth, according to recent research led by Massachusetts General Hospital in Boston.
READ MORE
| | |
| --- | --- |
| Modified Pap tests can show early warning signs of other gynecological cancers | |
Los Angeles Times
The Pap test has already reduced the incidence of cervical cancer by more than 60 percent. Now it may become a key step in the early detection of two other gynecological malignancies — ovarian and endometrial cancers — that have been notorious killers because they're typically caught so late.
READ MORE
---
| | |
| --- | --- |
| Proteins reveal new mechanisms in prostate cancer | |
Science Daily
A study by the University of Tampere in Finland used protein profiling to find new prostate cancer mechanisms that are not shown by aberrations at the genomic level. Several new potential biomarkers of prostate cancer were also found.
READ MORE
| | |
| --- | --- |
| Scientists identify genes that could develop therapies for EBV-related cancers | |
Drug Target Review
Researchers have identified two genes that are responsible for governing the replication of the Epstein-Barr virus, an infection that drives the growth of several types of cancer.
READ MORE
| | |
| --- | --- |
| Common STD may double ovarian cancer risk | |
MSN via NBC News
The most common sexually transmitted disease can double a woman's risk of ovarian cancer, according to new research released. Women who had chronic chlamydia infections had twice the risk of ovarian cancer compared to women with no evidence of ever having been infected, researchers are expected to report at a meeting of the American Association for Cancer Research in April.
READ MORE