---
| | |
| --- | --- |
| As coronavirus strains hospitals, cancer patients face treatment delays, uncertainty | |
NPR
As hospitals across the country are forced to delay or cancel certain medical procedures in response to the surge in patients with COVID-19, those hard choices are disrupting care for some people with serious illnesses. The federal government has encouraged health centers to delay non-essential surgeries while weighing the severity of the patient's condition and the availability of personal protective equipment, beds and staffing at hospitals.
READ MORE
---
| | |
| --- | --- |
| NCD T-Shirts! | |
ASCT
National Cytotechnology Day is right around the corner and fortunately there's still time to get your t-shirt. But you have to hurry! Orders must be placed by Friday, April 10th.
This year's winning design submission was:
"THROWING AWAY MALIGNANT CELLS"
by Yelemis De La Cruz Ortiz, Carolina, Puerto Rico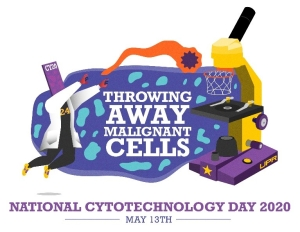 Don't miss your chance to get a shirt! Click
here
to order.
| | | |
| --- | --- | --- |
| | | The F-50 Non-Gyn Slide Processor has a liquid-based cytology system that features more cells per slide, and doesn't need duplicate preps. The dual filtration disposable filters remove non-diagnostic material to optimize cell presentation. Cells of interest are transferred to the slide in a homogenous thin-layer cell deposit. Throughput: 50 samples/hr. |
---
Date
Event
Location
More information



April 22, 2020




Molecular Cytopathology in an Era of Precision Medicine: Doing More with Less




Your PC


Dr. Sinchita Roy-Chowdhuri
MD Anderson Medical Center
Houston, Texas Details



June 2020




Soft Tissue and Bone FNA




Your PC


Dr. Benjamin Witt
Associate Professor of Anatomic Pathology
University of Utah/ARUP Laboratories
Salt Lake City, Utah
Details



Available for 6 months after subscribing




Quality Assessment Center (QAC) Cell Blocks Basics Workbench




Your PC


Details



Available for 6 months after subscribing




Quality Assessment Center (QAC) Document Control for Cytopathology Workbench




Your PC


Details



Available for 6 months after subscribing


Quality Assessment Center (QAC)
The LEAN Cytopathology Laboratory Workbench



Your PC




Details
---
| | |
| --- | --- |
| Breastfeeding tied to lower ovarian cancer risk | |
MedPage Today
Breastfeeding for any duration was linked with a reduced risk of borderline and invasive ovarian tumors, a retrospective study indicated. In a pooled analysis of nearly 24,000 women, breastfeeding at any point was significantly associated with risk reductions of 28% for borderline tumors and 24% for invasive ovarian cancers (including high-grade serous, endometrioid and clear cell tumors), reported Naoko Sasamoto, MD, MPH, of Brigham and Women's Hospital in Boston, and colleagues.
READ MORE
| | |
| --- | --- |
| Microbiome may hold key to identifying HPV-infected women at risk for pre-cancer | |
Science Daily
Gardnerella bacteria in the cervicovaginal microbiome may serve as a biomarker to identify women infected with human papillomavirus (HPV) who are at risk for progression to precancer, according to a study published in the open-access journal PLOS Pathogens by Robert Burk and Mykhaylo Usyk of the Albert Einstein College of Medicine, and colleagues. According to the authors, the findings could lead to therapeutic strategies that manipulate the microbiome to prevent disease progression.
READ MORE
| | |
| --- | --- |
| Vaccine combo 'provocative' as cervical cancer treatment | |
MedPage Today
Administration of a therapeutic vaccine during chemotherapy led to tumor regression in a substantial proportion of patients with advanced human papillomavirus (HPV)-positive cervical cancer, a preliminary clinical trial showed. The HPV16-targeted vaccine plus carboplatin-paclitaxel chemotherapy produced tumor regression in 31 of 72 patients. Chemotherapy-induced depletion of myeloid suppressive cells was associated with spontaneous HPV-specific immunity in a third of tested patients. Patients had T-cell responses across all vaccine doses evaluated.
READ MORE