---
| | |
| --- | --- |
| Surgery tied to 44% increased survival in women with advanced breast cancer | |
CNN
Surgery is tied to improved chances of survival among stage four breast cancer patients, a new study suggests, but who has access to surgery and who doesn't can vary drastically, based on factors including income level and where treatment is administered. Surgery to remove tumors was associated with a 44% increased chance of survival within an average follow up period of 21 months, according to the abstract, to be presented at the American Association for Cancer Research's annual meeting in Atlanta.
READ MORE
---
| | |
| --- | --- |
| National Cytotechnology Day Gifts! | |
ASCT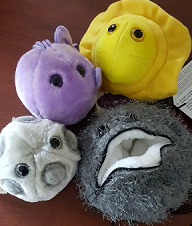 National Cytotechnology Day will be here before you know it. Our cytology themed items can help you make the day even more festive. Why not party with HPV and Candida? We have a fun and cuddly selection of GIANTmicrobes® to play with. We also carry microscope lapel pins, playing cards, tote bags, baseball hats, and polo shirts.

We can send our cuddly bugs or any of our other fantastic items straight to your door. Your purchase will support the work of the ASCT and allow us to continue representing the field that Dr. Papanicolaou founded! Click here to visit our online store.







EcoVue® was designed with patient safety in mind, our non-refillable and single use products will forever CHANGE YOUR VUE of ultrasound gel.


www.EcoVue.com
---
Date
Event
Location
More information



June 2019




The Engagement of Cytotechnologists in Genomic Selections Leads to Improved Outcomes




your PC


Melissa Randolph, BS, SCT(ASCP)
Details



July, 17 2019




TBA




your PC


Eva Wojcik, MD
Department of Pathology
Loyola University Medical Center - Chicago
Details



Available for 6 months after subscribing




Quality Assessment Center (QAC) Cell Blocks Basics Workbench




Your PC


Details



Available for 6 months after subscribing




Quality Assessment Center (QAC) Document Control for Cytopathology Workbench




Your PC


Details



Available for 6 months after subscribing


Quality Assessment Center (QAC)
The LEAN Cytopathology Laboratory Workbench



Your PC




Details




May 3 - 5, 2019




2019 ASCT Annual Conference




San Juan, Puerto Rico




Details
---
| | |
| --- | --- |
| HPV rates are increasing among women under 40 | |
Futurity
Human papillomavirus infection rates are increasing in women born after 1980 who did not receive the HPV vaccine, research finds. The recent model indicates that while there may be a substantial increase in HPV prevalence in more recent birth cohorts, HPV vaccination may ultimately control adverse HPV-related outcomes, including genital warts and cancer. Questions still remain, such as why there is a peak in HPV infection among 45-to-55-year-olds.
READ MORE
| | |
| --- | --- |
| Cytopathology in focus: Serous fluid cytology and the international system | |
CAP TODAY
Just when you thought you were done implementing a new terminology for cytology, another one pops up. Is it possible there are sites that have not yet been standardized? Unbelievably, the most common nongynecologic cytology specimen, body fluids, remains a Wild West for terminology and the International Academy of Cytology and American Society of Cytopathology are collaborating to improve consistency and understanding for serous fluid cytology reporting by developing The International System for Reporting Serous Fluid Cytology, or TISRSFC.
READ MORE
| | |
| --- | --- |
| Urinary HPV DNA testing can reach additional women | |
Precision Vaccinations
A new study evaluated an alternative HPV cervical cancer test for women who are reluctant to have a pap smear. This new study conducted in France, presented in an oral session at the European Congress for Clinical Microbiology and Infectious Diseases, found the urinary human papillomavirus test could be an alternative to the usual screening by a cervical pap smear. This would extend cancer screening coverage to more women.
READ MORE
| | |
| --- | --- |
| Socioeconomic barriers limit successful cervical cancer screening | |
Healio
Screening for cervical cancer has been a "great success," according to a speaker at the American College of Physicians Internal Medicine Meeting. However, socioeconomic barriers prevent all women from gaining equal access to screening. "Although the mortality rate from cervical cancer has continued to drop since the 1970s in parallel with incidence, our treatments aren't really better," Kathleen McIntyre-Seltman, MD, of Magee Womens Hospital at the University of Pittsburgh School of Medicine, said during a presentation. "The reason women aren't dying as much from cervical cancer is because there is less cervical cancer."
READ MORE
| | |
| --- | --- |
| Microscopy's Danger: From wear and tear to disabling injury | |
CAP TODAY
When pathologist Sandra Ewaskow, MD, was asked at a recent medical conference what topic she would choose if she were to write a book in her field, she thought of her own experience with musculoskeletal pain and of her mother, who had recently been hospitalized for occupational therapy after a hip fracture.
READ MORE
---
| | |
| --- | --- |
| Primary radiotherapy plays important role in early follicular lymphoma | |
Cancer Network
Patients with early-stage follicular lymphoma who relapsed after primary radiotherapy had excellent prognoses, supporting "the role of primary radiation in the management of early-stage disease," according to a retrospective study. Of the approximate one-third of patients with relapsed disease after primary radiotherapy, the majority were still alive 3 years post-relapse, reported Dr. Michael S. Binkley, M.S., of Stanford Cancer Institute and Stanford University School of Medicine, and colleagues. The results were published in the International Journal of Radiation Oncology, Biology, Physics.
READ MORE
| | |
| --- | --- |
| Does primary tumor side matter in patients with metastatic colon cancer treated with cytoreductive surgery and hyperthermic intraperitoneal chemotherapy? | |
Annals of Surgical Oncology
Primary tumor location has been shown to be prognostic of overall survival (OS) in patients with both locally advanced and metastatic colorectal cancer. The impact of sidedness on prognosis has not been evaluated in the setting of peritoneal-only metastases treated with cytoreductive surgery (CRS) and hyperthermic intraperitoneal chemotherapy (HIPEC). A retrospective review of prospectively maintained databases of patients with peritoneal surface malignancy undergoing CRS/HIPEC from three high-volume centers was performed. There was a dramatic, clinically significant difference in OS between patients with right- and left-sided tumors, and primary tumor side was an independent predictor of DFS and OS.
READ MORE