---
| | |
| --- | --- |
| Parents want the HPV vaccine for their sons — new research | |
Medical Xpress
Human papillomavirus (HPV) is a sexually transmitted infection that causes diseases that affect both men and women. In the U.K., girls are vaccinated against HPV but boys are not. There are more than 100 types of HPV. Two of the low risk types (six and 11) cause more than 90 percent of genital warts. Other high risk types of HPV (especially 16 and 18) can cause cervical, vulval, vaginal, head, neck and throat, anal and penile cancers.
READ MORE
---
| | |
| --- | --- |
| National Cytotechnology Day Gifts! | |
ASCT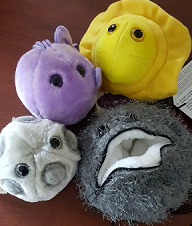 National Cytotechnology Day will be here before you know it. Our cytology themed items can help you make the day even more festive. Why not party with HPV and Candida? We have a fun and cuddly selection of GIANTmicrobes® to play with. We also carry microscope lapel pins, playing cards, tote bags, baseball hats, and polo shirts.

We can send our cuddly bugs or any of our other fantastic items straight to your door. Your purchase will support the work of the ASCT and allow us to continue representing the field that Dr. Papanicolaou founded! Click here to visit our online store.

---
Date
Event
Location
More information



June 20, 2018




The Bethesda System for Cervical Cytology — Update and Beyond




Your PC


Patricia G. Tiscornia-Wasserman, MD
Professor of Pathology and Cell Biology
Director of Cytopathology
Columbia University Medical Center
Melville, New York
Details



July 2018




Milan System for Salivary Gland FNA




Your PC


Esther Diana Rossi, MD, PhD, MIAC
Division of Anatomic Pathology and Histology
Catholic University "Agostino Gemelli" School of Medicine
Rome, Italy Details



Available for 6 months after subscribing




Quality Assessment Center (QAC) Cell Blocks Basics Workbench




Your PC


Details



Available for 6 months after subscribing




Quality Assessment Center (QAC) Document Control for Cytopathology Workbench




Your PC


Details



Available for 6 months after subscribing


Quality Assessment Center (QAC)
The LEAN Cytopathology Laboratory Workbench



Your PC




Details




May 3 - 5, 2019




2019 ASCT Annual Conference




San Juan, Puerto Rico




Details
---
| | |
| --- | --- |
| Computer-based intervention to increase parents' knowledge about HPV vaccination | |
News-Medical
It's been almost 30 years since Salt-N-Pepa implored Americans to set their puritanical misgivings aside and talk about sex, and yet we still struggle with the subject; that fact is abundantly clear when you consider national HPV vaccination rates. While the government-funded initiative Healthy People 2020 has targeted an 80 percent HPV vaccination rate for youth by age 15, the national rate for 13- to 17-year-olds stands at roughly 40 percent for females and 22 percent for males. In Arizona, the rates are even lower: roughly 36 percent for females and 17 percent for males.
READ MORE
| | |
| --- | --- |
| Digital pathology: A 1st anniversary report card | |
CAP TODAY
Nearly one year after the FDA cleared the Philips IntelliSite Pathology Solution for primary diagnosis, Philips is reporting worldwide momentum for the adoption of digital pathology. Last year, it helped two labs in Austria — Pathology Institute in Hall and Pathology Institute at Tirol Kliniken — fully digitize their workflows.
READ MORE
| | |
| --- | --- |
| Why does cancer arise? Landmark study provides unique insight | |
Medical News Today
A massive research effort that started more than a decade ago has completed a comprehensive PanCancer Atlas that, for the first time, offers researchers and clinicians alike a way to fully understand cancer according to its genomic and molecular features.
READ MORE
| | |
| --- | --- |
| Prostate cancer: Big data unlocks 80 new drug targets | |
Medical News Today
In the biggest study to analyze the genetics of prostate cancer, scientists find no fewer than 80 new potential drug targets. The project opens broad avenues for the design of new treatments.
READ MORE
---
| | |
| --- | --- |
| Triple-negative breast cancer found to be chemoresistant prior to treatment | |
News-Medical.net
Difficult to treat and aggressive "triple-negative" breast cancer is chemoresistant even before chemotherapy begins, a new study by researchers from Karolinska Institutet and the University of Texas MD Anderson Cancer Center reports. The findings, which are published in the journal Cell, may lead to better and more personalized treatments for breast cancer.
READ MORE
| | |
| --- | --- |
| Findings support nonavalent HPV vaccine use in women with HIV | |
Infectious Disease Advisor
A high-risk (HR) human papillomavirus (HPV) nonavalent vaccine may be effective in decreasing HR-HPV infection burden in women with HIV, according to a study published in the Journal of Infectious Diseases. Due to effective combination antiretroviral therapy (ART), the HIV-infected population is living longer but diagnosis of non-AIDS-defining conditions has increased and the prevalence of anogenital HPV infections remains high.
READ MORE
| | |
| --- | --- |
| Synthetic cancer indicator: An artificial mole as an early warning system | |
Science Daily
Alongside cardiovascular disease, cancer has become the top cause of death in industrialised countries. Many of those affected are diagnosed only after the tumour has developed extensively.
READ MORE