---
| | |
| --- | --- |
| Despite FDA expansion, HPV vaccination still faces social hurdles | |
Houston Public Media
In early October, the Food and Drug Administration approved expanding the vaccine that prevents the human papillomavirus — or HPV — for men and women ages 27 to 45. Up until this point, vaccinations were primarily targeted toward teens and pre-teens. Despite that, doctors say many social hurdles still exist that prevent people from getting vaccinated, such as the misconception that it's only for young people — or the idea that only the sexually active need it.
READ MORE
| | | |
| --- | --- | --- |
| | | EcoVue® was designed with patient safety in mind, our non-refillable and single use products will forever CHANGE YOUR VUE of ultrasound gel.   |
---
| | |
| --- | --- |
| Announcing the 2019 National Cytotechnology Day T-Shirt Design Contest | |
ASCT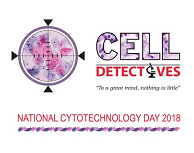 It is time once again for ASCT's annual National Cytotechnology Day t-shirt design contest! The winning entry will receive a $150 prize, and will be acknowledged at the 2019 ASCT Conference in San Juan Puerto Rico (May 3-5, 2019)

Rules:

1. Design must be an original concept of the applicant.
2. Artwork cannot be an advertising copyright or reproduction of a trademark.
3. Design and slogan selected becomes the property of ASCT.
4. Principle winner cannot be a minor.
5. Any entry received after the February 5, 2019 deadline will not be accepted.
6. All entries must be submitted with applicant's name, address, email and phone number.

Come join the fun! Click here to get more information and a copy of the entry form.
---
Date
Event
Location
More information



November 28, 2018




Anal Cytology: An Update




your PC


Vohra Poonam, MD
University of California San Francisco Medical Center
San Francisco, CA
Details



December 19, 2018




Indeterminate Thyroid Nodules on Fine Needle Aspiration: Correlation with Clinical, Imaging, Molecular and Histopathological Findings




your PC


Rana S. Hoda, MD
CBLPath Inc
Rye Brook, New York
Details



Available for 6 months after subscribing




Quality Assessment Center (QAC) Cell Blocks Basics Workbench




Your PC


Details



Available for 6 months after subscribing




Quality Assessment Center (QAC) Document Control for Cytopathology Workbench




Your PC


Details



Available for 6 months after subscribing


Quality Assessment Center (QAC)
The LEAN Cytopathology Laboratory Workbench



Your PC




Details




May 3 - 5, 2019




2019 ASCT Annual Conference




San Juan, Puerto Rico




Details
---
| | |
| --- | --- |
| HPV vaccine coverage lacking among rural teens | |
Healio
More teenagers aged between 13 and 17 years received the HPV vaccine in 2017 than 2016, with 65.5 percent administered at least one dose and 48.6 percent completing the three-dose series, according to the Center for Disease Control and Prevention. However, many barriers to HPV vaccination exist in rural areas, where HPV-related cancers are more prevalent. An estimate provided by the Kaiser Family Foundation suggests that only 42.4 percent of rural teenagers had completed the series. Infectious Diseases in Children spoke with Robin C. Vanderpool, DrPH, associate professor in the department of health, behavior and society at the University of Kentucky College of Public Health and the University of Kentucky Markey Cancer Center, about some of the barriers to HPV vaccination among rural teenagers and what is needed to prevent future infections.
READ MORE
| | |
| --- | --- |
| There's an HPV vaccine gender gap in the United States | |
KATU-TV
In America, the most recent stats show around 65 percent of girls had started the vaccine course, while only 56 percent of boys had. Recent studies show nine times out of 10, girls' families are told about the HPV vaccine in the U.S., but for boys, 1 in 5 families are not informed. "The rate of HPV-related oral pharyngeal cancers are rising, particularly among men, and so that is providing some impetus for both providers and parents to vaccinate both their male and female children," Bruegl said.
READ MORE
---
| | |
| --- | --- |
| A new cancer weapon: Antibodies | |
Cornell University via ScienceDaily
Antibody-based imaging of a particularly aggressive form of breast cancer is undergoing clinical trials worldwide, but the path from trial to application is being hampered by a major obstacle: safety. Concerns stem from inefficient tumor targeting, which can result in accumulation in the bone marrow, liver and kidneys of the radioactive material necessary for the imaging.
READ MORE
| | |
| --- | --- |
| 7 signs of cervical cancer every woman ought to know | |
Eve
In the early stages of cervical cancer, a person may experience no symptoms at all. Symptoms often do not begin until the cancer becomes invasive and grows into nearby tissue. Invasive cervical cancer affects the deeper tissues of the cervix and may spread to other parts of the body including lungs, liver, bladder, vagina and rectum. Other than getting a pap smear, there are a few other ways to look out for cervical cancer.
READ MORE
| | |
| --- | --- |
| Google's AI tool can identify one type of breast cancer more accurately than human doctors | |
FORTUNE
Determining whether cancer has spread, or metastasized, from the primary site to nearby lymph nodes is a difficult, time-intensive task for pathologists. Google AI has developed a promising algorithm to evaluate lymph node biopsies in breast cancer patients, and it's more accurate than humans in certain circumstances.
READ MORE