This message was sent to ##Email##
To advertise in this publication please click here
---
.
TOP NEWS
Update: CAP International Inspections
College of American Pathologists
Throughout the COVID-19 pandemic, the College of American Pathologists (CAP) has been working to help you navigate the unique complexity and compliance requirements of SARS-CoV-2 testing along with your everyday high-quality laboratory management and testing for patients. We hope you have found the many resources added to our website, webinars, and new PT to be helpful. Because of COVID-19, we delayed inspections. However, the CAP is now ready to begin to schedule international virtual inspections for non-CLIA laboratories.
---
.
UPCOMING EVENTS
Date
Event
Location
More information



Available for 6 months after subscribing




Quality Assessment Center (QAC) Cell Blocks Basics Workbench




Your PC


Details



Available for 6 months after subscribing




Quality Assessment Center (QAC) Document Control for Cytopathology Workbench




Your PC


Details



Available for 6 months after subscribing


Quality Assessment Center (QAC)
The LEAN Cytopathology Laboratory Workbench



Your PC




Details
---
.
ASCT NEWS
Win a Quilt!
ASCT
One of ASCT's most popular contests is the annual National Cytotechnology Day t-shirt design contest. This handmade quilt, made from some of those winning designs, could be yours! Contest info will be coming soon. You must be an ASCT member to be eligible, so make sure to renew your membership today!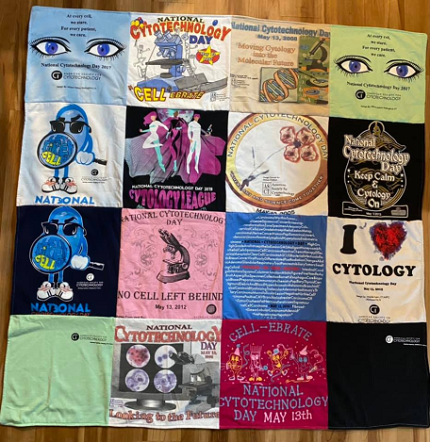 ---
.
INDUSTRY NEWS
Women with cervical cancer may have increased risk of injury during diagnostic workup
Medical Xpress
Among women participating in cervical cancer screening in Sweden, those with a diagnosis of invasive cervical cancer had an increased risk of iatrogenic injuries (as a consequence of medical intervention) and non-iatrogenic injuries (caused by accidents and self-harm) requiring hospitalization, according to results published in Cancer Epidemiology, Biomarkers & Prevention, a journal of the American Association for Cancer Research.
Early post-therapy HPV clearance linked to improved survival in cervical cancer
Healio
Early post-therapy clearance of HPV appeared associated with improved survival among women with cervical cancer, according to results of a prospective study published in Cancer. Evaluation of HPV expression six weeks after treatment provided prognostic information beyond post-therapy PET imaging and may assist in risk stratification, as well as treatment escalation decisions, researchers noted. "High-risk HPV is associated with greater than 95% of cases of cervical carcinoma," Amar J. Srivastava, MD, MPH, radiation oncologist at Washington University Medical Center in St. Louis, and colleagues wrote. "Although this marker has been well integrated into the diagnostic paradigm for cervical cancer, much less is known about the natural history of HPV infection and the potential biological role of persistent HPV infection after definitive [chemoradiation]."
---
.
MORE NEWS
How melanoma increases immunotherapy resistance
GEN
Melanoma is a serious form of skin cancer that begins in cells known as melanocytes. While it is less common than basal cell carcinoma (BCC) and squamous cell carcinoma (SCC), it is the deadliest skin cancer because of its ability to spread to other organs more rapidly if it is not treated at an early stage.
CDC warns incidence of metastatic prostate cancer on the rise
Urology Times
Over the past decade, the incidence of metastatic prostate cancer in the U.S. has been on the rise, according to an analysis published in the Centers for Disease Control and Prevention Morbidity and Mortality Weekly Report. Between 2003 and 2017, the percentage of patients diagnosed with metastatic prostate cancer increased from 4% to 8%.
Technology shines the light on ovarian cancer treatments
EurekAlert!
Scientists estimate that nearly 60% of all cancer patients do not respond effectively to chemotherapy treatments. Even worse - many of those same patients experience toxic and sometimes deadly side effects. Now, a Purdue University scientist and entrepreneur is working to use simple LED light to help determine if certain chemotherapy options will work for specific patients.
7701 Las Colinas Ridge, Ste. 800, Irving, TX 75063