---
| | |
| --- | --- |
| New virus could help destroy cancer | |
Medical News Today
A new study examines the behavior of a cancer-killing virus that fits tumor cells perfectly and leaves healthy cells intact. Cancer is a chronic disease that kills millions of people worldwide. According to the World Health Organization (WHO), cancer is the second leading cause of death globally and is likely to be responsible for more than 9 million deaths in 2018.
READ MORE
| | | |
| --- | --- | --- |
| | | EcoVue® was designed with patient safety in mind, our non-refillable and single use products will forever CHANGE YOUR VUE of ultrasound gel.   |
---
| | |
| --- | --- |
| ASCT Congratulates Beverly Haigler-Daly | |
ASCT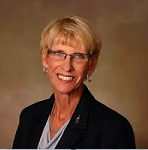 ASCT is happy to announce that the recipient of the 2018 Cytotechnologist Award for Outstanding Achievement is ASCT member Beverly Haigler-Daly, BS, CT(ASCP). The award, which was established in 1969, is presented each year by the American Society of Cytopathology (ASC) to a cytotechnologist in recognition of meritorious service and contributions to the field of cytotechnology.

Beverly is currently in her 50th year as a cytotechnologist. She trained at the Bowman Gray School of Cytotechnology at Wake Forest University, from which she graduated Cum Laude with a Bachelor of Science in Allied Health. She has been actively involved in the cytology community ever since. She has worked on numerous committees for ASC and served two terms as president of the North Carolina Society of Cytotechnology.

Beverly is a founding member of ASCT. She is currently the Executive Director of ASCT Services, Inc. and oversees the operations of that organization. She also a lecturer for the cytotechnology program at Central Piedmont Community College.

Beverly's commitment to advancing the field of cytotechnology and its future is truly remarkable, and we are happy to congratulate her on this well-deserved award!
---
Date
Event
Location
More information



November 28, 2018




Anal Cytology: An Update




your PC


Vohra Poonam, MD
University of California San Francisco Medical Center
San Francisco, CA
Details



December 19, 2018




Indeterminate Thyroid Nodules on Fine Needle Aspiration: Correlation with Clinical, Imaging, Molecular and Histopathological Findings




your PC


Rana S. Hoda, MD
CBLPath Inc
Rye Brook, New York
Details



Available for 6 months after subscribing




Quality Assessment Center (QAC) Cell Blocks Basics Workbench




Your PC


Details



Available for 6 months after subscribing




Quality Assessment Center (QAC) Document Control for Cytopathology Workbench




Your PC


Details



Available for 6 months after subscribing


Quality Assessment Center (QAC)
The LEAN Cytopathology Laboratory Workbench



Your PC




Details




May 3 - 5, 2019




2019 ASCT Annual Conference




San Juan, Puerto Rico




Details
---
| | |
| --- | --- |
| HPV vaccine, approved for children, can prevent the virus from turning into cancer | |
Reading Eagle
Over the last 12 years, the HPV vaccine has been gaining ground in the effort to prevent cervical cancer and other forms of cancer in men and women. For millions of Americans, an infection with the human papillomavirus, or HPV, will not lead to a serious health problem, said Dr. Mary Kelleher, chief medical officer at the Berks Community Health Center. But for thousands of others, the virus will develop into cancer. The vaccine is a great way to prevent the virus from developing into something more serious, she said.
READ MORE
| | |
| --- | --- |
| Higher HPV vaccination rate needed to combat cancer | |
Pharmacy Times
Although human papillomavirus vaccination rates have steadily increased in recent years, more work is needed in this area to effectively reduce HPV-associated cancer, according to a new report release by the President's Cancer Panel. The report, "HPV Vaccination for Cancer Prevention: Progress, Opportunities and a Renewed Call to Action," found that although the percentage of adolescents who started the HPV vaccine series increased by an average of 5 percent each year between 2013 and 2017, less than half of all teens in the United States were fully vaccinated by 2017, well below the Healthy People 2020 goal of 80 percent. "We have a safe, effective vaccine that protects against a cancer-causing virus, and we applaud the efforts of cancer and immunization leaders joining forces and rising to the challenge of accelerating HPV vaccine uptake," said PCP chair Barbara K. Rimer, DrPH, in a statement. "Yet, the fact remains that this vaccine continues to be seriously underutilized."
READ MORE
| | |
| --- | --- |
| Studies find less-invasive surgery for cervical cancer may bring more risks | |
HealthDay News
Surgeons have long turned to a minimally invasive means of hysterectomy when treating early-stage cervical cancer. However, two new studies could change all that. Both found the approach was linked to a higher rate of cancer recurrence, plus worse long-term survival, compared to more "open" surgeries. "Minimally invasive surgery was adopted as an alternative to open radical hysterectomy before high-quality evidence regarding its impact on survival was available," said Dr. Jose Alejandro Rauh-Hain of the University of Texas MD Anderson Cancer Center in Houston, who helped lead the study. Speaking in a university news release, Rauh-Hain said he was "surprised" to find that the technique "negatively affected oncologic outcomes for women with early-stage cervical cancer."
READ MORE
---
| | |
| --- | --- |
| First-ever prostate cancer treatment uses gold nanoparticles to destroy tumorous cells | |
MedicalXpress
A small clinical trial using gold nanoparticles that act as tumor-seeking missiles on a mission to remove prostate cancer has begun at The University of Texas Health Science Center at Houston (UTHealth). It is the first trial of its kind in the world.
READ MORE
| | |
| --- | --- |
| Early birds may have lower risk of breast cancer | |
Chicago Tribune
Women who love the early hours of the day are less likely to develop breast cancer, a new study suggests. British researchers analyzed two data banks that included more than 409,000 women to investigate the link between sleep traits and breast cancer risk.
READ MORE
| | |
| --- | --- |
| Global skin cancer deaths rising for men, but not women, study says | |
CNN
Men are dying at a higher rate than women from melanoma, an aggressive form of skin cancer, a new global analysis said. Over the last three decades, male deaths from melanoma were higher than female deaths in 33 countries, according to the analysis presented Sunday at the 2018 NCRI Cancer Conference in Glasgow. Rates among women have either stabilized or decreased.
READ MORE