On July 15, 2021, Victor "Vic" Donald, P.E., M. ASCE (Terracon) was notified of his selection as the 2021 winner of the Professional Practice Ethics and Leadership Award for "his superior ethics, innovative spirt, and love of learning and leadership that has shaped and forever changed the engineering profession." This annual award is bestowed on one professional engineer annually through a joint award between GBA and ASCE.

Please take a moment to congratulate Vic Donald on this prestigious award and significant milestone in his career.

In 2005, GBA and the American Society of Civil Engineers (ASCE) instituted the Professional Practice Ethics and Leadership Award to promote and recognize civil engineering leadership in professional practice and ethics. The Foundation for Professional Practice, also established by GBA and ASCE, donated the funds to support this annual award which recognizes an engineer-leader for a specific accomplishment or for lifetime achievements that demonstrate superior ethics and leadership while participating in professional practice or service to the public.
Mr. Donald will be presented with an award and honorarium, and he will be recognized at GBA's 2021 Fall Conference to be held October 21-23 at the Westin Lake Las Vegas Resort and Spa. He will also be recognized at a future ASCE event.
GBA is coming back together this October for our 2021 Fall Conference in Henderson, Nevada. As we enter the post-pandemic world and have the opportunity to gather together after a long period of separation, GBA will reunite in person to learn, collaborate, network, renew friendships, celebrate successes, and meet with fellow geoprofessionals from across North America.
We will do what GBA members have done for more than 50 years: identify emerging opportunities, solve common problems, strive to improve our businesses and elevate our profession. We will reconnect as a community, share experiences, and plan for the future.

Reuniting at this conference will bring us back to the basics of what GBA does best. We will focus on business & educational resources, specifically risk management and business performance optimization for geoprofessional firms.

$50 for 50 Incentive Ends July 31
As a special gift for early registrants, the first 50 GBA Members that register for the 2021 Fall Conference in July 2021, will receive a $50 Amazon Gift card upon their arrival at the Conference. (Some restrictions may apply)

Dates: October 21-23, 2021
Location: Westin Lake Las Vegas Resort and Spa, Henderson, Nevada
Our most popular article from our last issue of GBA NEWSlog was the new GBA Business Brief summarizing the results of the Fiscal Year 2020-2021 Financial-Performance Survey.
GBA is committed to promoting the value of geoprofessionals and we want to see it through your eyes. For our 2021 Photo Contest, we would like to know: "How do you depict the day in the life of a Geoprofessional?" Is it field activities? Is it meeting with colleagues and clients? Is it performing testing in the laboratory? How is safety incorporated into your work? How are you positively impacting the world? Capture those vibrant moments and express what being a geoprofessional means to you!

Contest ends August 31, 2021. Winners will be presented with awards and featured during our 2021 Fall Conference.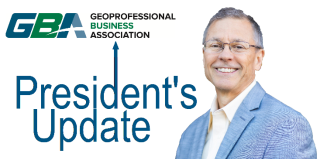 Tom Blackburn – GBA President
In July's installment of the President's Updates, Tom Blackburn reminds us of the value of virtual meetings and shares his review of the very successful "Toddies with Tom" event that took place in early July.
GBA's Spring Conference scheduled for April 7-9, 2022 at the Marriott Marquis San Diego Marina Hotel in San Diego, CA.

The conference theme is: Think Big. Act Bigger.
Do you have valuable content to share with industry leaders that can help improve their businesses and elevate the profession? Are you an experienced professional or an outstanding leader?

If you answered yes to any of the above, GBA invites you to submit an abstract for consideration for our upcoming Spring Conference scheduled for April 7-9, 2022, at the Marriott Marquis San Diego Marina Hotel in San Diego, CA.

Call for Abstracts: HERE
Join the Geoprofessional Business Association (GBA) today to gain access to the essential resources, support, and connections that will enable your organization to succeed.
Future GBA Events: Mark Your Calendars Now!
This is the first of Eustis Engineering's video trilogy honoring the 75th anniversary of our founding.

Please enjoy a bit of our history and join our celebration of three-quarters of a century providing top-tier geotechnical and construction materials testing services across the Gulf Coast.
Viruses mutate due to their rapid reproduction and the ease with which they can exchange genetic material. This has held true with the COVID-19 virus, most recently with the variant B.1.617.2, better known as the "Delta variant," considered a variant of concern.


What Is A Variant of Concern?
As defined by the CDC, a variant of concern is "A variant for which there is evidence of an increase in transmissibility, more severe disease (e.g.,  increased hospitalizations or deaths), significant reduction in neutralization by antibodies generated during previous infection or vaccination, reduced effectiveness of treatments or vaccines, or diagnostic detection failures."  CDC currently lists the alpha, beta, gamma, and delta variants as variants of concern.
Why Is Delta a Variant of Concern?

As of this writing, the primary concern is that the Delta variant appears to be more transmissible. Data from the UK has indicated that the variant has an estimated 60% higher risk of household transmission, which is more infectious than the original virus and the previously dominant Alpha variant.
CS Southwest, LLP excitedly announces the expansion of its environmental department with the recent hire of Senior Project Manager Michael Nibert, CHMM, C.E.M. in the North Texas region.
In his new role, Michael brings over 15 years' experience in environmental consulting and project management. His areas of focus include environmental due diligence, site investigations, regulatory site closures, asbestos consulting services, remediation and regulatory compliance.
As more individuals get vaccinated and life moves toward normal, public involvement (PI) professionals are being asked: Should we go back to the way things were before, with public meetings held in loca l high schools from 4:30 to 7 p.m., with snacks, stations, a presentation, and a question-and-answer session?

Our experience, coupled with public and client feedback through the last 15 months, suggests the answer is no; a shift to virtual meetings during the COVID-19 pandemic has demonstrated the value, flexibility, and inclusivity that virtual events present, so we can expect a hybrid approach to public involvement in the future.
Environmental remediation professional Joe Aldridge has joined GeoEngineers as a Principal Geologist. Joe's years of expertise complement the environmental team from Cascadia Associates that joined the firm in a recent acquisition.

Joe is a veteran of the energy industry with expertise in environmental management. During the past 15 years, Joe built up and managed a successful remediation program for the pipeline and terminal division of a large national energy company. His career has focused on investigating and responsibly cleaning up legacy contamination at petroleum-related industrial sites.
La Gan Wind Power Development Corporation (La Gan Wind), owned by Copenhagen Infrastructure Partners (CIP), Asiapetro and Novasia, has awarded an offshore geotechnical contract to a consortium led by Vietsovpetro, PTSC G&S and Fugro.The award is part of CIP's development plan for the La Gan offshore wind project in Vietnam which, with a potential capacity of 3.5 GW, will be one of the first large-scale offshore wind farms in Vietnam.

As part of this new contract, Fugro will provide offshore geotechnical services utilising their regional geotechnical vessel, and deliver advanced onshore soils laboratory testing and engineering studies. The initial scope of work will focus on geotechnical boreholes to expand understanding of the La Gan site's geological features and to build up the geological ground models.

We are excited to announce Alissa Urick has been named our national-reaching environmental, energy, water and civil infrastructure platform's Talent Acquisition Director. In her role, Alissa will be responsible for sharing our story with top talent to encourage them to join our already amazing team of people. We are an organization rapidly evolving on a unique journey, full of both short and long term potential. Alissa brings over 15 years of progressive leadership and talent acquisition experience. We are honored to have her as part of our team!
TTL, Inc. is pleased to announce Travis Lung, PE has joined the team as a Civil Design Lead at the San Antonio office. Mr. Lung is an active member of the San Antonio engineering community, with more than 25 years of experience. He has managed several government, commercial, and residential projects in the South Texas area.

TTL, Inc. is happy to announce Jason Hubbert, PE has joined the San Antonio branch office as a Civil Design Lead. Mr. Hubbert has more than 20 years of experience in the industry and has designed several multimillion-dollar construction projects in the South Texas area.

TTL, Inc. is expanding civil design capabilities at its San Antonio branch office and is excited to be adding to its growing team!
GeoEngineer
Keller's committed to reducing its impact on the environment by offering clients more sustainable solutions wherever possible. Improving weak soils with columns of compacted crushed concrete, recycled from other construction projects, is one such solution.
NBC News
Before the pandemic, the term "virtual nomad" applied to a privileged few, now the possibility of a nomadic lifestyle has opened up to entirely new groups of people.
NYU
Analysis of 260 million years of major geological events finds recurring clusters 27.5 million years apart.
Civil Beat
A federal judge ruled Thursday that Maui County can no longer discharge treated sewage into the ocean without a permit from the U.S. Environmental Protection Agency, potentially putting an end to a decade old standoff over the reach of the Clean Water Act.
HCN
Thawing permafrost threatens to undermine the supports holding up an elevated section of the Trans-Alaska Pipeline, jeopardizing the structural integrity of the pipeline and raising the potential of an oil spill in a  landscape where it would be extremely difficult to clean up.
Scientific American
Cities on the Great Lakes and St. Lawrence River will face nearly $2 billion in damages from climate change through 2025, according to a new survey of municipalities in the basin.
WTTW
Chicago's water management system is stressed.
eCommerce Times
Creating Paths of Engagement for Effective E-Commerce Journeys.
ABC
The success of Iceland's 'four-day week' trial has been greatly overstated by some.
Washington Post
Crowds, high prices and variants have some travelers reconsidering their vacations. Getting away from it all may be too much of a hassle.
Words of Wisdom
"We forget that the water cycle and the life cycle are one."
- Jacques Cousteau
President - Thomas "Tom" W. Blackburn, P.E., G.E., F. ASCE, F.ACEC (Blackburn Consulting / Auburn, CA) 530/887-1494
President-Elect - Leo J. Titus, Jr. P.E., (ECS, Ltd. / Chantilly, VA) 703/471-8400
Secretary/Treasurer - Christopher Matthew "Matt" Moler, P.E. (S&ME, Inc. / Greensboro, NC) 336/553-1245
Director - Martin LaRoche, P. Eng, M.Sc.(Kiewit / Montreal, Canada)
Director - Guy Marcozzi, P.E., LEED AP BD+C, F. ASCE (Duffield Associates, Inc. / Wilmington, DE) 302/239-6634
Director - Steve Wendland, P.G., P.E., R.G., D.GE (GeoEngineers, Inc. / Prairie Village, KS) 913/475-5851
Director - Teresa L. Peterson, P.E., C.M.E., LEED AP O&M ENV SP (Gannett Fleming / Harrisburg, PA) 717/763-7211
Director - Bradley M. Melocik, P.E., P.H. (DOWL / Redmond, WA) 800/478-3695
NEWSlog
Connect with GBA
GBA Staff
Joel G. Carson, Execuive Director, 301-565-2733 (office) | 402-517-1819 (cell)
Sara Menase, Program Manager, 301-5652733
Phillip D. Pettway, Controller, 301-565-2733
Barb Nappy, Program Director, 301-565-2733 (office) | 727-457-2272 (cell)

Geoprofessional Business Association
15800 Crabbs Branch Way, Suite 300 | Rockville, MD 20855 | 301-565-2733 | Contact Us

About GBA
The Geoprofessional Business Association (GBA) helps its members and their clients confront risk and optimize business performance by delivering unique professional resources, programs, and services that make them stronger and more successful.

Learn how to add us to your safe-sender list so our emails get to your inbox.