This message was sent to ##Email##
To advertise in this publication please click here
---
.
CCAPP/CALIFORNIA NEWS
CCAPP Moves SUD Counselors Into Behavioral Health Workforce 'Mega-Budget Proposal'


On June 8th, the California Legislature amended its budget bill to include over $200 million in additional funding to address the state's critical behavioral health workforce shortages, bringing the total investment to over $400 million, with $26 million already earmarked for substance use disorder workforce expansion.

"CCAPP was the only certifying organization at the table fighting for workforce dollars in the budget for SUD counselors and registrants," said CCAPP President and CEO Pete Nielsen.

"We were 100% successful in ensuring that our workforce has parity in funding for SUD focused professionals and we could not be more pleased with the resources and depth of understanding about capacity issues the Legislature has shown in this year's budget," said Nielsen.

The behavioral workforce augmentation budget deal includes the following items:
$100 million to create a public behavioral health pipeline that reflects the diversity of California's low-income and underserved communities through establishing partnerships between the public behavioral health delivery system with high schools and community colleges.
$500,000 one-time competitive grant to conduct a statewide LGBTQ affirming training for licensed and certified alcohol and drug treatment programs.
$5 million ($1 million per year for 5 years) to provide specialized training for non-native English speakers to improve charting and documentation skills.
$3.6 million to add 1,200 SUD counselors through tuition assistance and test preparation.
$20 million for 200 paid internships and supervision of interns and supporting a pathway to licensure as a licensed advanced alcohol drug counselor.
$1 million over two years to fund stipends to cover costs related to testing and portfolio review for 3,000 registered alcohol drug technicians who are seeking registration or certification.
$10 million over 5 years for tuition reimbursement and stipends for licensed mental health and medical professionals to complete SUD-specific courses.
$50 million to fund 60-100 colleges/universities with high enrollment of students from underrepresented communities to develop a specialized curriculum focused on working in the public behavioral health delivery system, including a focus on substance use disorders.
CCAPP will continue to monitor budget bills to update members as they move to the Governor's desk. CCAPP has already commenced meetings with the Department of Health Care Access and Information (HCAI) to provide input on effective ways to use these new resources.


Celebrating Freedom Day
On Juneteenth, we celebrate the courage and strength of the Black community, remembering June 19, 1865, when Gordon Granger, a Union general, arrived in Galveston, Texas, to inform enslaved African Americans of their freedom and that the Civil War had ended, nearly two and a half years after the Emancipation Proclamation had been issued by President Lincoln.
National Council for Mental Wellbeing Recognizes The California Consortium of Addiction Programs and Professionals for Advocacy Excellence

Washington, D.C. (June 16, 2022) — The National Council for Mental Wellbeing has recognized the California Consortium of Addiction Programs and Professionals (CCAPP) for their extraordinary advocacy work during Hill Day at Home, the organization's annual advocacy event to promote bipartisan solutions for mental health and substance providers and patients.

The National Council's 2022 Advocacy Leadership Awards recognize individuals and organizations that have led legislative or regulatory advocacy and public policy efforts to expand access to services and supports for people with mental health and/or substance use challenges.

"Faced with rising demand for substance use treatment services amidst a workforce crisis and a pandemic, CCAPP rose to the challenge and went above and beyond to improve the mental wellbeing of communities across California," said National Council for Mental Wellbeing President and CEO, Chuck Ingoglia. "Under their proactive leadership, innovative new programs and partnerships were created, harmful and discriminatory policies against those in recovery were struck down, and new funding was secured to get people the care they need. Their continued advocacy success will have a lasting impact for years to come."

CCAPP is one of the most recognized and trusted advocacy organizations in the addiction services space in California. They recently sponsored 14 bills, including the nation's first state-level, anti-patient brokering law; follow-up legislation to create "safe harbors" for assisting people seeking housing or transportation to support treatment and recovery in ethical ways; an addiction patient bill of rights and anti-fraud bill; a $9 million workforce bill; and more. CCAPP has fought and won campaigns to eliminate discriminatory local ordinances that banned recovery residences in numerous local jurisdictions.

"I would like to thank everyone on my team at CCAPP, our wonderful board members, past and present, and the absolute ton of individuals who make up our army of grassroots supporters who have made our advocacy work successful," said Sherry Daley, Vice President of Governmental Affairs at CCAPP on receiving the Award for Organizational Achievement in Advocacy.

The National Council honored its 2022 Advocacy Leadership Award winners during Hill Day at Home on Wednesday, June 8.
Person-centered Care and LGBTQ+ Pride Month
National Council for Mental Well-Being
"To ensure health care meets the needs of LGBTQ+ clients, providers must be able to deliver services that are person-centered. Given that suicide and overdose within LGBTQ+ communities are at much higher rates than other populations, this is particularly important for mental health and substance use care providers." Read our new blog post to learn more.
Drug Treatment Disaster Looming by Michael Prichard and Pete Nielsen
Addiction Recovery Bulletin
The argument against SUD licensure has been, "Why should SUD licensure be granted to individuals who did not obtain a master's degree specific to addiction or at least in a related field?" It is a strong argument and one that I sympathize with. However, I think people forget that the scope of practice is limited for SUDs and would not require a long graduate program. The argument is valid and one of professional equality...
| | | |
| --- | --- | --- |
| | | Power Diary now includes a complete Health Practice Operations Manual, a new in-platform feature available exclusively to all Power Diary customers! Developed by a team with over 50 years of industry experience, this game-changing feature provides a set of policies and procedures that practices can configure to meet their businesses' needs, set standards for the workplace, and maintain professional operations. So, whether you're running a solo practice or managing a larger health clinic, Power Diary's practice management software takes care of business so you can take care of your clients.  |
HRSA Launches Primary Health Care Challenge


On June 9, HRSA launched Building Bridges to Better Health: A Primary Health Care Challenge. This $1 million national prize challenge will accelerate the development and testing of low-cost, scalable technical assistance solutions. Challenge participants will submit ideas to address barriers to health and health-related social risk factors such as accessing medical, social, housing, educational, or other related services. HRSA will make awards totaling $1 million over three phases between June 2022 and August 2023. The challenge is open to broad public participation including individuals, groups, health care organizations, and other entities.

More information, including submission requirements, eligibility, deadlines, competition rules, judging criteria, prize amounts, and how to submit a proposal can be found here.

Phase 1 submissions are due by August 2, 2022.

To read the full press release, please click here.
HRSA Announces RCORP Psychostimulant Awards

On June 8, HRSA announced nearly $15 million in funding for rural communities to address psychostimulant misuse and related overdose deaths. Psychostimulants include methamphetamine and other illegal drugs, such as cocaine and ecstasy, as well as prescription stimulants for conditions such as attention deficit hyperactivity disorder or depression. This funding helps support the President's National Drug Control Strategy and deliver on his Unity Agenda priority of beating the overdose epidemic. Three of these awards were made to grantees in Region 9. To read the full press release, please click here.
LGBTQIA+ Behavioral Health Town Hall Webinar
Happy Pride Month! On behalf of the HRSA Office of Intergovernmental and External Affairs Regions 2, 6, and 9, you're invited to the "LGBTQIA+ Behavioral Health Town Hall — Promising Practices from New York, Texas, and California" webinar on Tuesday, June 21.

The webinar will highlight promising practices in addressing mental health disparities disproportionately affecting the queer communities in California, Texas, and New York. The Town Hall will feature panelists from the Fenway Institute, HRSA-funded health centers in each of the three states, and a Q&A session. The event will also include remarks from HRSA Administrator Carole Johnson.

Date: Tuesday, June 21, 2022 from 12:00pm -1:30pm PT.

To register for the event, please click here.
Register Now for The Ripple Effect Webinar
Prevention Technology Transfer Center Network

The Ripple Effect Webinar
Wednesday, July 6th 3:00 p.m. - 4:00 p.m. Pacific Time
Presented By: Debra Hansen, M.Ed., and Rebecca Sero, Ph.D.

Identifying the impacts of complex community work is often challenging due to the time lag between the work and the ultimate effect on clients. But what if you could create a map?

This webinar will introduce participants to the Ripple Effects Mapping process. It starts with appreciative inquiry interviews in small group settings, before leading a mapping process that involves storytelling in an online group setting. As participants share their experiences with the facilitator, their stories about accomplishments, partnerships, and contributions are virtually mapped on the screen. At the conclusion, participants will have a digital map that contains the learning, actions, and condition changes that happened as a result of a program, workshop series, or event. This webinar will:
Introduce members to the benefits of using Ripple Effects Mapping to identify the intended and unintended outcomes.
Demonstrate how it captures the impacts of complex or evolving work.
Show how it is useful when outcomes are difficult to conceptualize and measure with other methods.
Participants interested in a deeper understanding of Ripple Effects Mapping are invited to register for the four-session Enhanced Prevention Learning Series beginning July 19th!
| | | |
| --- | --- | --- |
| | | Tarzana Treatment Centers (TTC) champions the use of Medications for Addiction Treatment (MAT). MAT services are integrated into TTC's inpatient medical detox, residential rehab, and outpatient ambulatory detoxification levels of care. Using FDA-approved medications and harm reduction, TTC combines the latest MAT updates with behavioral counseling to save lives! |
Van Wagner Gives You The Tools to Understand Your Insurance Needs!
Professional & General Liability for Facilities & Individuals in the Mental & Behavioral Health Fields

You need a policy that insures a wide range of exposures and WE DELIVER! Van Wagner provides you with extensive coverage such as: General Liability, Professional Liability, Abuse & Molestation, Employee Benefits Liability, Umbrella Liability, Blanket Additional Insured by written contract included. Corporate accounts can also add Property, Crime & Auto coverage. Click Here [sm1.multiview.com] to complete our application online. Call Lana Gorman (516) 773-8666 at the Van Wagner Group to learn more.
UCSF Seeks DSAAM Peers, Patient Navigators
UCSF is seeking peers and/or patient navigators for the following/attached (2) positions in the Division of Substance Use And Addiction Medicine (DSAAM), which is a part of the UCSF Department of Psychiatry and Behavioral Sciences (DPBS) at Zuckerberg San Francisco General Hospital (ZSFG).

Click on the links below to learn more and apply.
The Time Is Now To Support Licensure! CCAPP Needs Your Help!
CCAPP
Did you know California is one of only a handful of populous states that does not license alcohol and drug counselors? This means that anyone can practice in this area of counseling, regardless of how qualified they are to do so, and in this unregulated outpatient landscape, consumers are left vulnerable to unscrupulous actors, incompetent treatment and patient brokering.
Advocacy & Policy Overview — National Drug Control Strategy
The White House
The Office of National Drug Control Policy (ONDCP) outlined its Strategy to access and sustain recovery support services [e.g., recovery community organizations, collegiate recovery programs, etc.]. Additionally, they emphasize the need to integrate safe drug testing supplies and syringe exchange programs into general healthcare and address inequities for Black, Indigenous, and People of Color. As we advance this year's legislative agenda, we continue to push for additional funding to support these recommendations.
California's SUD Work Force Shortage
CCAPP
For many years there has been a very real workforce shortage problem in the SUD counseling profession. Many people that go into this profession are in recovery themselves or have been impacted personally by a person that has a SUD. They have a passion for it because they are connected to it personally. Few people outside the recovery community choose this as their life's work. This means that the SUD counseling interest pool is small to begin with. SUD counseling, rewarding as it is, tends to be a high burnout profession in general.
Substance Use Disorder Treatment and Recovery Loan Repayment Program
Health Resources and Services Administration
Are you a substance use disorder professional? Pay off your school loans with up to $250,000 from the Substance Use Disorder Treatment and Recovery Loan Repayment Program in exchange for six years of full-time service at an approved facility. Apply if you are a behavioral health clinician or support worker, clinical support staff or trained in substance use disorder treatment.
Preliminary Findings from Drug-Related Emergency Department Visits, 2021
SAMHSA
An analysis of 2021 preliminary data presents nationally representative weighted estimates for the top five drugs in drug-related ED visits, the assessment of monthly trends and drugs involved in polysubstance ED visits in a subset of sentinel hospitals and the identification of drugs new to DAWN's Drug Reference Vocabulary.
DTAC Bulletin: Hurricane Preparedness
SAMHSA
This DTAC Bulletin has resources for disaster behavioral health professionals, parents and families, and the public about preparing for a hurricane. The resources discuss steps to take in preparing for hurricanes, as well as common mental health and substance use-related reactions to hurricanes.
R1 supports SUD/OUD grants & funding applications
R1 Learning
R1 Learning is an education company providing interactive curriculum that engages and retains individuals in service, increases practitioner effectiveness through workforce training, and generates data for measuring outcomes. R1 delivers greater engagement for the leading evidence-based and best practice models and theories for mental health & wellness, substance use disorder, and life skills
HHS Announces Its First-Ever Behavioral Health Recovery Innovation Challenge
SAMHSA
The Department of Health and Human Services, through the Substance Abuse and Mental Health Services Administration, is announcing its first-ever behavioral health Recovery Innovation Challenge. The goal of this challenge is to identify innovations developed by peer-run or community-based organizations, and entities that may partner with them — such as local or state governments, health systems, hospitals, or health plans — that advance recovery.
Peer Support Training
BHAP
A Behavioral Health Peer Support Specialist promotes recovery and removes barriers and obstacles to recovery, serving as a personal guide and mentor for people seeking or already in recovery from an addiction to alcohol and or other drugs. There are many other titles that are used for this sought after position. What distinguishes a peer support specialist from other peer positions is that we stay in the lane of providing support for people in recovery from an addition to alcohol and or other drugs.
SB 992 — Licensure for Alcohol Drug Counselors
Senator Melissa Melendez
SB 992 will provide the Department of Public Health (DPH) the authority to accept advanced certification as the standard for licensure, similar to the way in which genetic counselors are presently licensed in California. It is a simple, cost-effective way to accomplish licensure and provide title protection for licensees. Moving forward with this policy is vital at this time, as a tremendous amount of new federal funding for Substance Use Disorder (SUD) has been approved by Congress. This bill is necessary to ensure quality parameters are met for these counselors.
2021 Annual Report
CCAPP
It has truly been a formidable year for our organization, members, and the clients they serve. But, I am pleased to report that CCAPP definitely rose to the challenge. We have come out of the pandemic, not weakened, but stronger in every aspect. We have more members, a larger array of credentials and training opportunities, a greater degree of financial security, and a healthy and responsive organization.
Payor Relations Advocacy and Access Coalition (PRACC)
BHAP
Our Payor Relations Advocacy and Access Coalition (PRACC) undertakes the task of representing behavioral health at the payer level and providing behavioral health and addiction centers with the tools and background to understand and survive in this dynamic market. We proactively and responsively facilitate appropriate private payer advocacy for behavioral heath care. We establish talking points and represent BHAP in an exchange information with those involved in making decisions about public and private payer activities affecting addiction and brain health related health care at state and federal level levels.

The Payor Relations Advocacy and Access Coalition (PRACC) is one of our newest committees. We seeks to develop a database for our region on payer activities and create a "tool kit" for our members to use when dealing with payers. The lifeblood of our business is dictated by these payers; creating a better understanding of behavioral health and addiction care for them and helping members disseminate that message is key to growing our centers.
Legislative Analysis and Public Policy Association News Bites
LAPPA NEWS
LAPPA is pleased to announce the release of the Model Law Enforcement and Other First Responders Deflection Act (Model Act), a resource for states that encourages the development and use of deflection programs across the country. The Model Act was drafted in partnership with the Police, Treatment, and Community Collaborative (PTACC), an organization that provides vision, leadership, advocacy, and education to expand the practice of deflection and pre-arrest diversion programs. Deflection programs are needed because first responders, including law enforcement, often do not have many options when encountering people with substance use and/or mental health disorders, and in a growing number of states, public safety and public health partnerships "deflect" people with these disorders away from traditional criminal justice programs and connect them to evidence-based treatment, harm reduction, recovery, and prevention services.
Education
BHAP
Educational and certification opportunities build skills with higher-level learning designed for providers interested in ethical business practices and regulatory compliance, and informing prospective consumers of the dedication the provider exhibits toward honest business practices.

BHAP delivers on the promise of higher-level learning in specialized topics and expertise. Try our educational offerings and experience the difference in knowledge and skills gained. We offer both in-person and online learning, and even offer an extensive list of other big events (conventions, symposiums, etc.) that are in the behavioral health and addiction treatment industry.
InterCoast Colleges offers a certificate and Associates Degree program in the field of substance use disorder counseling
Our programs in addiction counseling require our students complete a 260 hour clinical internship at an approved facility, working under an experienced qualified clinical supervisor. InterCoast partners with many facilities whose managers and co-workers have been supportive and impactful in the lives of these new counselors.

InterCoast is seeking additional opportunities for the students to complete their 260 hour clinical internship in a telehealth setting. These interns will have the necessary exposure to the core functions in order to meet the certification requirements.

There is no expectation of payment or employment; however, many of our interns go on to work at the same facility in which they trained.

Please contact Judy Redman, Program Director at 909-767-7335.
Naloxone Distribution Project
NDP
The Naloxone Distribution Project (NDP) aims to reduce opioid overdose deaths through the provision of free naloxone, in its nasal spray formulation. As of November 2021, the NDP has:
Approved more than 3,300 applications for naloxone
Distributed more than 970,000 units of naloxone
Reversed over 50,000 opioid overdoses
To learn more about the organizations and counties that have received naloxone, visit the NDP page.

To learn more about applying for naloxone, visit the NDP application website.
We are excited about the live chat widget on our website!
CCAPP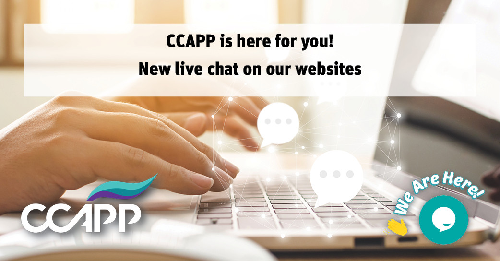 Visit one of our websites and click the chat icon. A live agent will assist you as soon as possible. If we are not available, you will see an envelope icon in place of the chat icon. You will be able to fill out an email contact form and an agent will get back to you by email.

Just a reminder, our office is practicing social distancing and not accepting in-person drop-in services. Our phone hours are now Tuesday - Thursday from 9:00 AM to 4:00 PM. You can also reach us by email:

For education, please email edu@ccapp.us;
For membership, ar2@ccapp.us

For accounting, accounting@ccapp.us
For credentialing, recovery residence, and general questions, admin@ccapp.us.
---
.
CCAPP CALENDAR
| | | | |
| --- | --- | --- | --- |
| July 4, 2022 | Independence Day | Office Closed | |
| Sept. 1, 2022 | District Meeting | Districts 1, 3 | |
| Sept. 8, 2022 | District Meeting | Districts 2, 8, 9 | |
| Sept. 15, 2022 | District Meeting | Districts 4, 5, 6 | |
| TBD | District Meeting | District 7 | |
| Sept. 5, 2022 | Labor Day | Office Closed | |
| Oct. 10, 2022 | Indigenous People's Day | Office Closed | |
| Nov. 11, 2022 | Veteran's Day | Office Closed | |
| Nov. 23, 2022 | Day before Thanksgiving | Office Closed | |
| Nov. 24, 2022 | Thanksgiving | Office Closed | |
| Nov. 25, 2022 | Day after Thanksgiving | Office Closed | |
| Dec. 1, 2022 | District Meeting | Districts 1, 3 | |
| Dec. 8, 2022 | District Meeting | Districts 2, 8, 9 | |
| ec. 15, 2022 | District Meeting | Districts 4, 5, 6 | |
| TBD | District Meeting | District 7 | |
| Dec. 26, 2022 | Christmas Day | Office Closed | |
---
.
INDUSTRY NEWS
Spike in accidental fentanyl deaths in San Diego County prompts outreach to parents
Los Angeles Times
A 17-year-old high school student bought a pill from a friend that looked like a prescription painkiller, a pill he took before school. But the blue tablet was counterfeit — and contained a lethal dose of fentanyl. When Connor White didn't show up for his first two classes at Cathedral Catholic High, his worried father — a Cathedral teacher — headed home.
Drug checking to save lives in California
DATAC
In a recent opinion article published by the Los Angeles Times, the author Emily Alpert Reyes examined the increasingly contaminated drug supply and drug checking services in California. The U.S. Centers for Disease Control and Prevention has estimated that there were 107,000 overdose-related deaths across the U.S. in 2021, amid calls by health experts and advocates to increase access to drug testing.
Increased overdose and mental health risks persist 2 years after opioid dose reduction
UC Davis Health
Does dose reduction for patients on stable opioid therapy have long-term overdose and mental health risks? Researchers from the UC Davis Center for Healthcare Policy and Research examined the potential long-term risks of opioid dose tapering. hey found that patients on stable but higher-dose opioid therapy who had their doses tapered by at least 15% had significantly higher rates of overdose and mental health crisis in the second year after tapering compared to their pretapering period.
Why a brain injury from a stroke cured a smoking addiction
Daily Beast
At least 27.5 million Americans say they've struggled with a substance use issue at some point in their lives. Though 75% of people with addiction eventually recover, we still don't have treatments that can effectively and successfully root out addiction in the brain more permanently to prevent relapse.
Consequences of non-EMS treatment of opioid overdose in the out-of-hospital setting
JEMS
From 2011 to 2019, opioid-related deaths have more than doubled, increasing from approximately 21,000 to nearly 50,000 per year. In 2020, the Centers for Disease Control and Prevention's National Center for Health Statistics recorded 69,710 opioid-related deaths, an increase of 36% from 2019. Notably, this provisional data may not account for all opioid-related mortalities, and the problem may be larger than previously documented.
Drug overdose deaths are rising; fentanyl responsible for 75%
WHSV-TV
Drug overdose deaths increased in Virginia in 2016, and that's when fentanyl came into play, according to data from the Virginia Department of Health. Deaths increased again in 2020 when lockdowns started. Fentanyl is the main driver of those deaths. The substance is used to treat severe pain, but there is also a high risk for addiction and dependence. Fentanyl is so deadly because it's often disguised as other less potent drugs.
---
.
INTRODUCING WENDI
---
.
USING Z CODES
---
.
RESOURCES


Click here to download the Substance Use Recovery Map

Click here to buy the Substance Use Recovery Map

Click here for more information on the Substance Use Recovery Map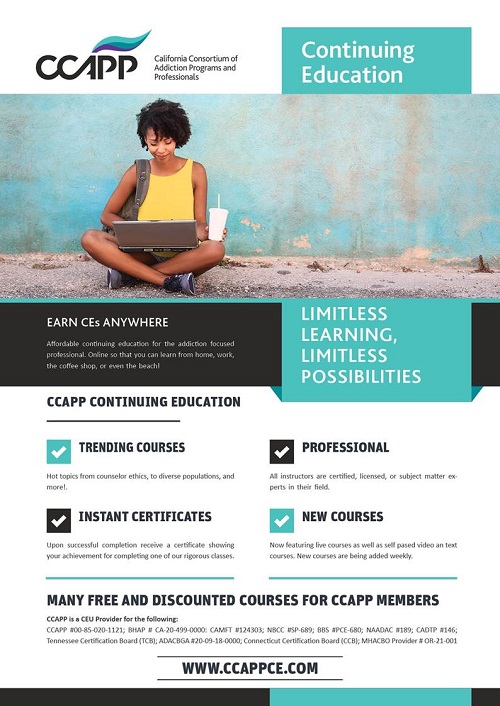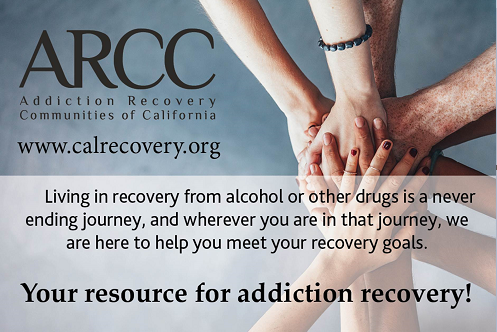 CCAPP Weekly Dispatch

---

Connect with CCAPP





Pete Nielsen, CEO, 916-338-9460
Kristina Padilla, Vice President of strategic Development and Education, 916-338-9460

Hailey Golden,

Director of Publishing, Multiview, 469-420-2630

 | Download media kit
Mary Todd Anthony,

Content Editor, Multiview, 972-373-2013

 | Contribute News

California Consortium of Addiction Programs and Professionals
2400 Marconi Avenue, Suite C  |  Sacramento, CA 95821 
916-338-9460  |  Contact Us  |  www.ccapp.us

Click here to unsubscribe. 

Learn how to add us to your safe sender list so our emails get to your inbox.

















 
7701 Las Colinas Ridge, Ste. 800, Irving, TX 75063