---
| | |
| --- | --- |
| CCA sessions and bus tour draw good crowds | |
CCA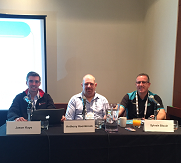 Carwash suppliers and operators came together at this year's CARWACS show in Calgary October 17 and 18th at BMO Centre in Calgary, AB. Once again, the Canadian Carwash Association (CCA) hosted educational seminars and the highly successful carwash bus tour. CCA Members Tony (Anthony) Heembrock, Manager, Dreams Eco Xpress Car Wash – Okotoks, AB, Jason Kaye, Bayview Car Wash Ltd. Toronto, ON and CCA National President and Sylvain Blouin, President – Founder, Rock-N-Wash in Calgary, AB discussed the latest trends in carwashing and answered questions from participants.

Ask an Operator Panelists

Jason Kaye, Bayview Car Wash Ltd. has been exposed to the car wash industry his entire life and now represents the third generation of car washing in his family. Since 2008, he has been actively involved in two successful full service locations, being Bayview Car Wash and Doctor Car Wash, both located in the City of Toronto.

Sylvain Blouin, President – Founder, Rock-N-Wash® has extensive experience with senior leaders and business project management in a corporate environment as well as management roles. In 2008 he decided to become an Entrepreneur and started a business with two partners and later sold his Equity share to create Rock-N-Wash™. Rock-N-Wash®, opened its first site in October 2013 and sold in May 2017.

Anthony (Tony) Heembrock, Dreams | Eco Xpress Car Wash has been involved in the car wash industry since his teens with his first job was working at a tunnel wash in Ottawa. Tony worked at the car wash through College where he studied Graphic Arts and Electronics. He returned to the industry in 1982 as a distributor, installer, manufacturer, and Car Wash site owner. In July 2018 became Manager of Dreams Eco Xpress Car Wash, in Okotoks Alberta.
| | |
| --- | --- |
| Bus Tour visits two Calgary area carwashes | |
CCA
Canadian Carwash Association's (CCA) third annual CARWACS Carwash Tour took place as part of CARWACS Calgary last week. Buses toured two CCA member carwash sites as carwash operators enjoyed a morning of networking, interactive site tours followed by lunch.

The first site was a refreshed Husky Energy Inc carwash that was renovated in July 2018 and has the new generation Mark VII Softwash XT machine. The new technology enhances wash quality, customer satisfaction and efficiency. This machine has the lowest operating cost in the industry in terms of water, chemical and electrical consumption. This site also uses an Exacta POS system, PurClean RO system and ZEP chemicals.

The second location was the first of the Dreams Eco Xpress Car Wash group. It opened on July 18th, 2018 and was designed as an Express Car Wash facility consisting of a 100' express conveyorized exterior tunnel car wash and 6 free (with purchase) vacuum stalls. Vacuum stalls are located under a canopy to protect from environmental factors. The site also includes 2 mat wash stations (Rhino-Mat) and air spray hoses.

The tunnel is equipped with Peco equipment and was supplied and installed by PD McLaren consisting of both soft foam and high pressure. Hamilton pay stations great customers as they arrive and allow for credit, debit, tap, apple pay, cash, QR Codes, number codes and RFID entry. The equipment also includes water recycling, with a goal of recycling 50-60% of the water.

All cleaning solutions are dispensed through the Zep Assure System and they co-brand with AmorAll and Rain-X products.
| | |
| --- | --- |
| Two new carwashes approved by New Tecumseth Council | |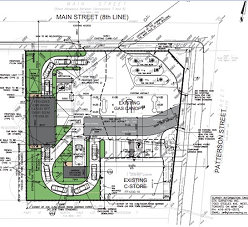 New Tecumseth Council has ratified approval for development of a car wash next to the Petro Canada station at 39 Main Street E in Beeton, ON and in Alliston, ON on 10 SR. The application for an amending Site Plan Agreement with 2190705 Ontario Inc. which owns the gas station, dates back to Feb. 2, 2015. There were seven separate submissions during the approval process. The car wash will use existing entrances.

Councillors also approved planning amendments for a car wash, gas station, and store/restaurant for Cablebridge Enterprises (Biffis) at Hwy 89 and 10 SR on land the proponent purchased from the Town in April. The application was submitted in June.

The site was deemed surplus following the realignment of 10 SR with the 6th Line in Essa, and purchased by Cablebridge for approximately $300,000.
| | |
| --- | --- |
| CFIB/CCA Benefits — Latest webinar could save your business time and money | |
CFIB/CCA
CCA Members benefit from many services and discounts offered through the Canadian Federation of Independent Business partnership. There are many free webinars available to help you succeed in your business. The most recent webinar is available covering a drug and alcohol policy that every business should have. If you're not ready for legal cannabis, it could cost your business precious time and money! Log into the CCA website to download the Drug and Alcohol Policy.

CFIB has partnered with Fasken, a leading Canadian law firm, to help you prepare for the confusing regulatory burden you're going to face. In this free webinar, you will:

• Hear what legalization means for private businesses like yours
• Learn how to talk to your employees about cannabis
• Discuss the importance of a drug-and-alcohol policy.
READ MORE
---
| | |
| --- | --- |
| The benefits of high-quality surveillance systems | |
Carwash Online
Security surveillance is the act of monitoring an activity, place or person for safety reasons and, by all accounts, it is a growing market. Over recent years, especially on the residential side, technology has played a major role in improving system quality while lowering costs for consumers. Today, homeowners and business owners can remotely view and protect their properties on a mobile device right in the palms of their hands. This appeal, along with better quality systems, which we will discuss later in this article, has helped to drive the surveillance industry to new heights.
READ MORE
| | | |
| --- | --- | --- |
| | | Tired of having clean cars come out looking dirty. The all-new Turtle Wax® Pro M.A.X Power is a NEW high-ph touchless presoak that allows you to boost the pH level from Moderate to Aggressive to Xtreme to overcome challenging cleaning conditions. Sign-up today to request a FREE trial! |
| | |
| --- | --- |
| Per car ticket — Maximize it with professional detailing | |
Auto Laundry News
For car washes looking to significantly boost their average ticket, detailing can be one of the most profitable add-on services today. Yet with the minimum wage rising and more than 25 percent of the full-serve budget and about 10 percent of the flex-serve budget dedicated to labor, operators need to reduce the cost of their labor and materials as much as possible in the available space.
READ MORE
| | |
| --- | --- |
| Understanding SBA loans | |
Professional Carwashing & Detailing
Owning a carwash can be profitable, provided you've done your homework and researched each type of wash. According to the International Carwash Association (ICA), depending on the model you choose, operating capital ranges from $25,000 for a self-serve wash to $100,000 for an express exterior to $200,000 for a full service wash.
READ MORE
---
Missed last week's issue? See which articles your colleagues read most.
Don't be left behind. Click here to see what else you missed.
---
| | |
| --- | --- |
| Planning now can help in small business marketing for '19 | |
Chicago Tribune
One simple, but often ignored marketing tool for small businesses is the calendar. Crazy busy small business owners to sales professionals employ calendars for their appointments to follow up calls and fail to use this same tool for marketing. Right now the fourth quarter marketing should already be planned and should be the process of being executed. Planning time for marketing now is devoted to the first quarter of 2019.
READ MORE
| | |
| --- | --- |
| 3 expert tips for marketing your business on Instagram | |
Forbes
Launched as a unique photo-sharing social platform in 2010, Instagram now has one billion users. The mainly mobile platform is a must-have for Millennials, and now for Generation Z as well. And it's not just a photo-sharing app anymore, it's one of the most effective business builders around. With the power of today's smartphones, Instagram has become a place for carefully curated images that showcase the most unique and interesting aspects of someone's life. And this highlight reel has led to many young adults becoming international social media stars.
READ MORE