This message was sent to ##Email##
| | |
| --- | --- |
| September 27, 2019 |     |
| | |
| --- | --- |
| Sadie Darnell: Transition needed for child welfare changes | |
The Gainesville Sun
As sheriff, I am concerned. What happens when this law takes effect next month, without adequate transition funds in place for the children in programs today? Incredible work from the state and community partners in foster parent recruiting has increased available and qualified homes, but the loss of current foster homes remains extremely high.
READ MORE
| | |
| --- | --- |
| 13.5-pound bale of marijuana washes ashore Friday | |
Vero News
"It was wrapped in multiple layers of plastic, "Indian River County sheriff's spokesman Maj. Eric Flowers said. "It was soggy, spongy and appeared to have been in the water for some time."
READ MORE
| | | |
| --- | --- | --- |
|   |  SPONSORED CONTENT | Advertisement |
---
Promoted by

 
---
| | |
| --- | --- |
| Orange County Sheriff John Mina sits down on 'The Weekly' | |
Click Orlando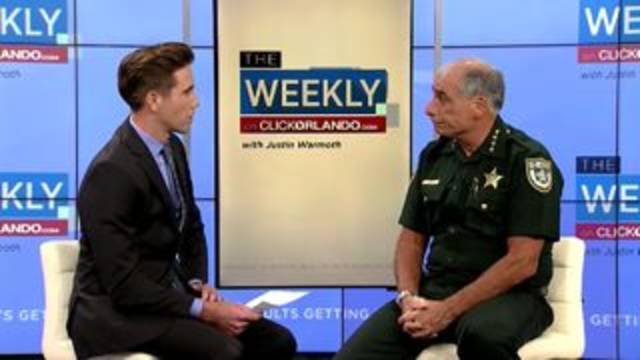 Sheriff John Mina joined News 6 anchor Justin Warmoth on "The Weekly on ClickOrlando.com" to discuss the need for more deputies, the effectiveness of the new distracted driving bill and how he's working with sheriffs and police chiefs from around the country to reduce the number of mass shootings.
READ MORE
| | | |
| --- | --- | --- |
| | | Our online Criminal Justice program is taught by top practitioners in the field who keep you ahead of current trends in the areas of corrections, policing, sociology, public administration, law and criminology. Graduate in as little as one year from a 100% online program that is ranked 8th best in the country by U.S. News & World Report. |
---
---




Promoted By

Whelen




| | |
| --- | --- |
| LCSO marine and aviation units recognized for rip current rescues | |
WBBH-TV
LEE COUNTY, Fla. - The Lee County Sheriffs Office Marine and Aviation Units were recognized Wednesday for the number of rescues they've made this year. Sea Tow honored the units with the Golden Life Jacket Award on Wednesday.
READ MORE
| | | |
| --- | --- | --- |
| | | Sun State has a long-standing relationship with government and municipal customers, with complete knowledge of common and special specifications on every aspect of truck and trailer applications. With an in-house fabrication shop, service, and parts, we can provide a true custom solution to all your equipment needs. See More |
| | |
| --- | --- |
| OCSO official calls deputy 'bear magnet' after having quite an unusual week | |
GateHouse Media Florida via NWF Daily News
A OCSO deputy has had an unusual week after removing a giant stuffed bear blocking traffic and then running into a motorcyclist wearing a panda bear helmet.
READ MORE
| | |
| --- | --- |
| Hernando County deputy helps save choking teen at high school | |
ABC Action News
HERNANDO COUNTY, Fla. -- Quick thinking and quick action helped save a choking teen in Hernando County Friday. The skill is one Hickey believes everyone should know. Just a few days earlier at Eastside Elementary School, another school resource officer, Deputy Christopher Downey, helped save a choking toddler.
READ MORE
| | |
| --- | --- |
| K-9, two deputies honored for finding 3-year-old boy | |
NWF Daily News
Chandler said both Copper and Zinc had been trained for about a year and this was their first real rescue. Santa Rosa County Sheriff Bob Johnson brought the bloodhounds into the agency last year and since that time the bloodhounds have located nine individuals, including missing children, senior citizens and criminals on the run.
READ MORE
| | |
| --- | --- |
| Brevard County Sheriff's Office Participates In 'Walk To End Alzheimer's' At Cocoa Riverfront Park | |
Space Coast Daily
While I was honored to emcee the event I want to personally thank all of the volunteers and vendors who made yesterday's "Walk To End Alzheimer's" possible. The team does an amazing job at hosting this event each year and I believe that together we will one day find a cure! – Sheriff Wayne Ivey
READ MORE
© 2019 Florida Sheriffs Association
2617 Mahan Drive Tallahassee, FL 32308
P: (800) 877-2168
Unsubscribe
Protecting, Leading & Uniting Since 1893
7701 Las Colinas Ridge, Ste. 800, Irving, TX 75063