This message was sent to ##Email##
| | |
| --- | --- |
| July 11, 2018 | |
---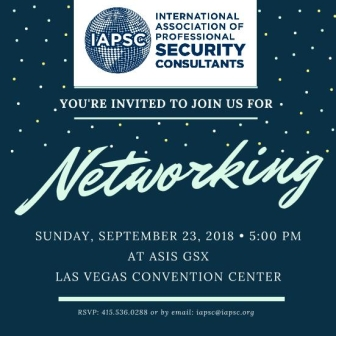 | | |
| --- | --- |
| Join IAPSC for Networking in Las Vegas | |
IAPSC
If you're headed to Las Vegas for GSX, ASIS' annual conference, September 23-27, 2018, join your IAPSC colleagues for a Sunday evening networking reception on September 23, 2018 in Room N219-220 at the Las Vegas Convention Center. RSVP required to 415.536.0288 or iapsc@iapsc.org

Also, members are needed to assist at the IAPSC table in the exhibit hall. If you can spare an hour or two to help out at the table sharing info about security consulting and the IAPSC, let us know by emailing: iapsc@iapsc.org



| | |
| --- | --- |
| Brent Barker GSX Session on Bitcoins, Blockchain and Crime | |
IAPSC

IAPSC member, Brent Barker is a speaker at GSX in Las Vegas. His session, "Bitcoins, Blockchains and Crime" will examine the criminal use of cryptocurrencies and law enforcement investigations of cryptocurrency crimes. It will also examine the future potential of blockchains for combating crime.

If you want to know more about more about how criminals are stealing cryptocurrencies and the crime fighting potential of blockchains join him for (Session #4309) on September 24 at 3:45PM.
| | |
| --- | --- |
| Welcome New IAPSC Member: Travis Nichols | |
IAPSC

Travis Nichols is the Director of Security Assessment & Protective Services for IMEG Corp in Austin, Texas. Mr. Nichols possesses a broad range of security management and consulting experience with demonstrated success in both federal government and corporate security capacities. Mr. Nichols' experience includes both federal law enforcement (Special Agent, DSS), security consulting, dignitary and executive protection, and corporate security management in Global and U.S. Fortune 100 companies with international and domestic experience. Additionally, Mr. Nichols' experience includes design, and project management work throughout the U.S. and internationally, with a focus on asset and personnel protection, facility and property threat and vulnerability assessments, executive protection and expatriate threat assessments, operational security, and the creation and implementation of security standards, policies, and guidelines.

View his IAPSC Profile here.



ONVIF conformant products allow you to create a flexible, cost-effective and future-proof system. ONVIF enables you to choose optimal products from different vendors. The conformant products allow you to be confident in their interoperability and makes integration of products from different vendors easier. Read more




Reach Your Prospects Every Week




Thousands of industry professionals subscribe to association news briefs, which allows your company to push messaging directly to their inboxes and take advantage of the association's brand affinity.

Connect with Highly Defined Buyers and Maximize Your Brand Exposure
| | |
| --- | --- |
| Member Benefit Highlight: IAPSC Best Practices | |
IAPSC

The IAPSC currently has three Best Practice documents that have been published on the topics of Forensic Methodology, Use of Force by Security Personnel, and Detention of Shoplifting Suspects. These documents have been developed using a consensus-based and peer-reviewed methodology and are regularly reviewed and updated in the same fashion. The Forensic Methodology document was updated in early 2018 and a review of the Use of Force is currently underway. All three Best Practices are available for members to download free-of-charge from the IAPSC Members' Library. Non-members may purchase the documents HERE.
| | |
| --- | --- |
| Join an IAPSC interest group this summer! | |
IAPSC
If you're interested in connecting with other members on topics of mutual interest, we invite you to join us on GoToMeeting for our Monthly meetings.

Cybersecurity Interest Group
Friday, July 20 @ 9:00 AM PT; 12 Noon ET

Forensics and Security Management Interest Group
Friday, August 17 @ 9:00 AM PT; 12 Noon ET

Security Design and Engineering Interest Group
Friday, September 21 @ 10:00 AM; 12 Noon ET

For more info and to RSVP, go to: https://iapsc.org/events/
| | |
| --- | --- |
| Successful Security Consulting Seminar | |
IAPSC
Sunday, 23 September | 8:00 am – 5:00 pm

Looking to successfully launch a new security consultant practice or jump-start an existing one? Back by popular demand, this unique program can show you how! Learn from seasoned consultants how to develop and market yourself and avoid costly mistakes that can sabotage your success. Gain practical information to save you time, money, and frustration. You'll return home with sample proposals and reports that give you a clear advantage when competing for a security consulting assignment.

Registration starts at $250 for this one-day pre-conference program offered at ASIS' Annual Conference: GSX in Las Vegas, NV.

Learn More here.

Register Now here.
| | |
| --- | --- |
| Save the Date: IAPSC's 35th Annual Conference | |
IAPSC



May 4-6, 2019 | Marriott Biscayne Bay, Miami, FL

2019 Conference Planning Committee: Al Zajic - Conference Chair; Frank Pisciotta ; Mitch Fenton ; Michael D' Angelo; Kelly Klatt; Karim Vellani; William Latorre.
IAPSC









The US OSPAs are part of a global awards scheme currently running in eight countries and serve to recognize and reward teams, individuals and organizations for their commitment and outstanding performance within the security sector. The awards are designed to be independent, credible, transparent and respectable and anyone can enter. View the available categories here.

Entries for the 2018 US OSPAs are open until Midnight (GMT) on Monday, 23rd July 2018 and nominations may be submitted online at: https://us.theospas.com/ or contact the IAPSC at iapsc@iapsc.org for assistance.

The 2018 US OSPAs will be presented at a business lunch taking place at ASIS' Global Security Exchange (GSX) on Monday, September 24, 2018 at 12 noon in Las Vegas. As a supporting association, IAPSC coordinates a table for members to sit together at the luncheon. If you plan to attend, let us know so we can save you a seat at the IAPSC table!
---
| | |
| --- | --- |
| Banning software won't keep the government safe, says nuclear security agency official | |
Defense One
The federal government can't legislate or mandate its way out of the risk of foreign hackers compromising its networks, the top tech official in the government's nuclear security agency said recently. Instead of banning software with a connection to China or other U.S. cyber adversaries, government tech shops should focus on installing safeguards that mitigate any risk the software poses for foreign spying or sabotage, said Wayne Jones, chief information officer at the National Nuclear Security Administration.
READ MORE
---
| | |
| --- | --- |
| Identity Verification: Staying Ahead of Post-Breach Era Consumer Preferences | |
Help Net Security
In the wake of numerous high-profile data breaches and privacy incidents, consumers are increasingly concerned about the security of their identities and what companies are doing to keep them safe. Ultimately, there is a strong need for bi-directional trust between consumers and businesses: Consumers must trust that businesses will protect them, and businesses must trust that they're dealing with legitimate consumers.
READ MORE
---
Promoted by

 
---
---
| | |
| --- | --- |
| 6 myths preventing you from achieving maximum online privacy | |
Harold Kilpatrick
Data plays a significant role in our everyday lives, something that has been made all too clear over the last few years. The enormous amount of false and misleading information about online privacy that's floating around isn't helping the situation, either. With so much conflicting advice out there, it can be hard to know what the best practices for maintaining online privacy are. Correcting the following common myths is the first step towards living a more private online life.
READ MORE
| | |
| --- | --- |
| How To Perform a Risk Assessment: Rethinking the Process | |
CSO
The world has changed significantly in the past two years, and so have the rules around assessing cyber security risk. A combination of greater digital business penetration, a wider array of risks, and bigger consequences of cyber threats have made the world of risk management both more complex and more important than ever.
READ MORE
| | |
| --- | --- |
| Why Sharing Intelligence Makes Everyone Safer | |
Dark Reading
Cybersecurity is sometimes viewed as being inherently reactive. But given the security issues we face today, security professionals must push beyond merely blocking an attack before a network breach. Cybersecurity teams must also have the ability to disrupt an attack from achieving its goal. This might sound similar to blocking an attack, but there's more to it.
READ MORE
| | |
| --- | --- |
| How to Avoid Card Skimmers at the Pump | |
Krebs on Security
Previous stories here on the proliferation of card-skimming devices hidden inside fuel pumps have offered a multitude of security tips for readers looking to minimize their chances of becoming the next victim, such as favoring filling stations that use security cameras and tamper-evident tape on their pumps. But according to police in San Antonio, Texas, there are far more reliable ways to avoid getting skimmed at a fuel station.
READ MORE
7701 Las Colinas Ridge, Ste. 800, Irving, TX 75063