---
| | |
| --- | --- |
| Register 5 Nurses, Get 1 FREE Registration | |

Earn over 30 CE and CEPTC credits at the Transplant Nursing Symposium from Nov. 15-18 in Orlando, Florida. Register before Oct. 16 and save $100. Take advantage of the Register 5, get 1 FREE promotion. Learn more and register.

| | |
| --- | --- |
| Product Feature: ITNS Core Curriculum, second edition | |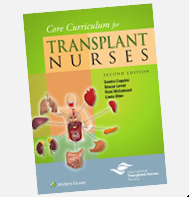 Expanded and updated to reflect today's thinking, the ITNS Core Curriculum for Transplant Nurses, second edition offers real-life direction on the science and skills required for every kind of solid organ transplant-- from initial evaluation to long-term follow-up. Order your copy today! ITNS members pay only $79.99 USD!

---
---
| | |
| --- | --- |
| New Educational Resource from ITNS: CCTC/CCTN Online Review Course | |
The CCTC and CCTN Online Review Course, presented by Sandra Cupples, PhD RN FAAN and Linda Ohler, RN MSN CCTC FAAN FAST, is a comprehensive program for transplant nurses preparing for the CCTC and CCTN examinations. The CCTC and CCTN Online Review Course will be offered in 11 modules, which can be purchased individually or as a package.

Modules available for immediate purchase:
| | |
| --- | --- |
| Nominate a Colleague for an ITNS Award | |


The Transplant Nursing Symposium in Orlando, FL, USA will be here before you know it! Please consider nominating a colleague for an ITNS award.

Transplant Nursing Excellence Award: Recognizes an exemplary nurse (RN or equivalent) for their care of transplant patients and their embodiment of the ITNS mission and values.

Friend of Transplant Nursing Award: Recognizes an individual outside the nursing profession who has supported the efforts of ITNS and made an impact in the field of transplant nursing.

All nominations must be received by Aug. 30, 2019.
| | |
| --- | --- |
| Support ITNS on Prime Day! | |


You can make a difference while you shop Amazon Prime Day deals on July 15 & 16. Simply shop at smile.amazon.com/ch/20-1589538 and AmazonSmile donates to the International Transplant Nurses Society (ITNS)!
---
| | |
| --- | --- |
| Study outlines risk of infection for donor kidneys | |
American Journal of Transplantation via Healio
A study on deceased donor kidneys has identified hepatitis C viremia, the need for dialysis, hematopoietic cell transplant and exposure to antibiotics with a narrow gramnegative spectrum as the top risks for infection.
READ MORE
| | |
| --- | --- |
| Transplant recipients may soon have a test to protect against organ rejection | |
Horizon Magazine
To help prevent organ rejection, transplant recipients could receive drug cocktails personalized to their own immune systems if a new test, which has passed early trials, is successful. And new methods for scrubbing animal tissue could enable humans to benefit from other species' organs in the future.
READ MORE
| | |
| --- | --- |
| Scientists studying brains of altruistic kidney donors who give organs to strangers | |
CBS News
There were more than 20,000 kidney transplants in the United States last year, with some cases involving donors providing organs to complete strangers. "It really is an extraordinary form of altruism in a lot of ways," said professor Abigail Marsh of Georgetown University. Marsh is studying the brains of these altruistic donors to find out if they have specific brain functions that make them more generous. Marsh claims she can see an enlarged portion of the brain that is associated with altruism when examining scanned images.
READ MORE
| | |
| --- | --- |
| Donor infection with multi-drug resistant organisms: Should we change our approach to peri-operative prophylaxis? | |
American Journal of Transplantation
Transmission of disease from donor to recipient remains an inevitable consequence of solid organ transplantation. In fact, the intentional transmission of viruses such as cytomegalovirus is routine; management strategies reduce the negative consequences of these transmissions.
READ MORE
| | |
| --- | --- |
| Prognostic markers at adolescence in patients requiring liver transplantation for biliary atresia in adulthood | |
Journal of Hepatology
In patients with biliary atresia, the rate of native liver survival to adulthood has been reported as 14–44 percent worldwide. Complications related to portal hypertension  and cholangitis are common in adulthood. For those requiring liver transplantation, the timing can be challenging.
READ MORE
| | |
| --- | --- |
| Do patients with idiopathic PAH have worse lung transplantation outcomes? | |
Pulmonology Advisor
Patients with idiopathic pulmonary artery hypertension undergoing a lung transplant in which extracorporeal life support was needed experienced poorer outcomes compared with patients with other diagnoses, according to study results published in the Journal of Thoracic Disease.
READ MORE
| | |
| --- | --- |
| The use of induction therapy in liver transplantation is highly variable and is associated with post-transplant outcomes | |
American Journal of Transplantation
The use of induction immunosuppression in liver transplantation remains controversial. This was a retrospective cohort study of adult, first‐time liver alone recipients at 114 U.S. centers between 2005‐2018 using data from the United Network for Organ Sharing. The comparative effectiveness of non‐depleting and depleting induction was assessed.
READ MORE
| | |
| --- | --- |
| An easy and sensitive method to profile the antibody specificities of HLA-specific memory B-cells | |
Transplantation
Pretransplant immunological risk assessment is currently based on donor-specific HLA antibodies in serum. Despite being an excellent source for antibodies produced by bone marrow-residing plasma cells, serum analysis does not provide information on the memory B-cell compartment. Although B–cell culture supernatants can be used to detect memory B cell-derived HLA antibodies, low IgG concentrations can preclude detectability of HLA antibodies in luminex single-antigen bead assays.
READ MORE