---
| | |
| --- | --- |
| Product Feature: ITNS Core Curriculum, second edition | |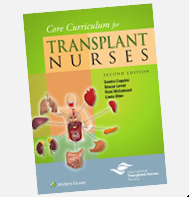 Expanded and updated to reflect today's thinking, the ITNS Core Curriculum for Transplant Nurses, second edition offers real-life direction on the science and skills required for every kind of solid organ transplant-- from initial evaluation to long-term follow-up. Order your copy today! ITNS members pay only $79.99 USD!

---
---
| | |
| --- | --- |
| Refer a Friend for Membership in ITNS | |

1. Log into your account at ITNS.org and click the "My Account" button

2. Click the "Refer a Friend" link on the left side of the page.

3. Complete the form and click "Send." You have the option to send yourself a copy of the referral email.

4. You friend will receive a special email invitation to join ITNS.
---
| | | |
| --- | --- | --- |
| Location | Job Title | More Information |
| Boston, MA | Nurse Flow Manager | More info |
| Houston, TX | Heart Transplant ICU RN | More info |
| North Florida | Registered Nurse | More info |
| Kindred Spring Valley, NV | Nursing Supervisor, Registered Nurse | More info |
---
---
| | |
| --- | --- |
| Donor hearts at increased disease risk offer better survival rates for transplant recipients | |
MedicalXpress
Accepting an organ that has an increased risk of potentially transmitting disease offers a higher one-year survival rate for candidates on the heart transplant list over waiting for an organ with less risk, according to a study published today in the Journal of the American College of Cardiology. Increased risk donors make up a growing number in the donor pool for organs, offering a potential strategy to reduce waitlist mortality for patients awaiting transplant. For many of these patients, the benefit of proceeding with transplantation sooner outweighs the low risk of disease transmission associated with these donors.
READ MORE
| | |
| --- | --- |
| Method for determining donor kidneys' suitability for transplantation may be flawed | |
Science Daily
Kidneys obtained from deceased donors for transplantation are a scarce and valuable resource, yet 20 percent of kidneys are discarded – most commonly due to findings noted on biopsies taken when the kidney is procured from the donor. Such procurement biopsies are often read by pathologists with limited training or experience in pathology of the kidney.
READ MORE
| | |
| --- | --- |
| Thousands die waiting for liver transplants; This tactic could yield more organs | |
The Philadelphia Inquirer
Each year in the U.S., more than 2,500 people die while waiting to receive liver transplants or become too sick to undergo the surgery and must be removed from the wait list. As with hearts, kidneys, and lungs, there simply are not enough livers to go around. To increase the supply, researchers are pursuing a variety of strategies to rejuvenate "marginal" organs — those discarded because they are decayed, diseased in some way, or simply too old.
READ MORE
| | |
| --- | --- |
| Study: Dialysis modality choice does not affect kidney transplant outcomes | |
Lynn Hetzler
Does the choice of dialysis modality prior to renal transplantation affect transplant outcomes for patients with end-stage renal disease (ESRD)? Results of a new study suggest it does not. Controversy regarding pre-transplant dialysis modality choice continues, with each side presenting data that supports either peritoneal dialysis (PD) or hemodialysis (HD) as the preferred modality, especially as it relates to kidney transplantation outcomes. Many people find PD more convenient, but many medical professionals worry that PD will affect the outcomes of kidney transplantation.
READ MORE
| | |
| --- | --- |
| Direct-acting agents help to eliminate hepatitis C in liver transplant recipients | |
Infectious Disease Advisor
The introduction of direct-acting agents (DAAs) has caused a significant reduction in the percentage of liver transplant recipients for hepatitis C virus (HCV) who are viremic after surgery, according to study results published in the Journal of Clinical and Translational Hepatology.
READ MORE
| | |
| --- | --- |
| The U.S. is throwing out donor kidneys that could be given to patients, study says | |
Live Science
There's a serious kidney shortage in the U.S. According to the Organ Procurement and Transplantation Network, a federal database on organ transplantation, there are nearly 100,000 Americans currently on the waitlist for a kidney. So far this year, only around 16,000 people on that list received a kidney.
READ MORE
| | |
| --- | --- |
| Matching kids to right-sized hearts: New method shortens transplant waits | |
SCOPE
Children who need heart transplants can spend months or years waiting for a suitable donor heart. Fortunately, the pediatric cardiology team at Lucile Packard Children's Hospital Stanford has a new strategy for shortening the wait. The technique enables children to accept larger donor hearts than doctors would have considered for them in the past. Traditionally, heart transplant teams made size-matching decisions on the basis of total body weight and height, but this method left children with few options.
READ MORE
---
---