---
| | |
| --- | --- |
| Transplant Nurses Day Nominations Due Tomorrow | |
My Transplant Nurse: An Avenger of Transplant

In April 2006, ITNS created Transplant Nurses Day to raise awareness of the unique contributions transplant nurses make in the lives of the people with whom they work, especially their patients. The celebration takes place the third Wednesday in April, this year April 17, and recognizes the skill and commitment of transplant nurses around the world. The Transplant Nurses Day Essay Contest allows patients to nominate an ITNS transplant nurse who has made a difference in their lives. Nominations for the Transplant Nurses Day Essay Contest will close tomorrow, Friday, March 1, 2019.


| | |
| --- | --- |
| Apply for a Leadership Position with ITNS | |
If you are interested in applying for a leadership position with ITNS and becoming a key component in transforming the future of transplant nursing, please review the following documents about becoming a candidate. The deadline to submit a completed candidate application is Monday, April 15, 2019 at 5 PM Eastern Standard Time (USA).

Candidate Handbook - contains an overview of the elections process, board position descriptions, and a candidate application
Candidate Application - all the necessary materials to successfully submit your name for consideration to be added to the 2017 ballot
Reference Form

All interested candidates must submit a fully completed application to lzamora@itns.org by Monday, April 15, 2019 at 5 PM Eastern Standard Time (USA). It is the responsibility of the candidate to fully complete the application and ensure accuracy. Incomplete submissions will not be accepted.
---
---
| | |
| --- | --- |
| Product Feature: ITNS Core Curriculum, second edition | |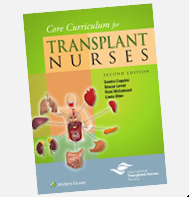 Expanded and updated to reflect today's thinking, the ITNS Core Curriculum for Transplant Nurses, second edition offers real-life direction on the science and skills required for every kind of solid organ transplant-- from initial evaluation to long-term follow-up. Order your copy today! ITNS members pay only $79.99 USD!

| | |
| --- | --- |
| Refer a Friend for Membership in ITNS | |

Log into your account at ITNS.org and click the "My Account" button
Click the "Refer a Friend" link on the left side of the page.
Complete the form and click "Send." You have the option to send yourself a copy of the referral email.
You friend will receive a special email invitation to join ITNS.
---
| | |
| --- | --- |
| Doctors eradicate Hepatitis C in patients after heart transplants from infected donors | |
University of Pennsylvania School of Medicine via ScienceDaily
Nine patients have recently been cured of the Hepatitis C virus following lifesaving heart transplants from deceased donors who were infected with the disease, according to a new study. The results highlight the potential for expanding the use of HCV-infected organs, including hearts, to broaden the donor pool for the more than 100,000 Americans currently on a transplant waitlist.
READ MORE
| | |
| --- | --- |
| Fluorescing urine signifies organ transplant rejection, could replace needle biopsies | |
ECN
Too often, it's only after a transplanted organ has sustained serious damage that a biopsy reveals the organ is in rejection. A new screening method using sensor particles and a urine test could catch rejection much earlier, more comprehensively, and without a biopsy needle. When the body's immune system has just begun attacking cells of a transplanted organ, the new method's particles send a fluorescent signal into the urine. In a new study, researchers at the Georgia Institute of Technology and Emory University validated the method in a mouse model, and they have engineered the sensor with highly biocompatible components, which could make the path to potential future trials easier.
READ MORE
| | |
| --- | --- |
| Clinical characteristics, outcomes of kidney transplantation under urgency priority condition | |
National Center for Biotechnology Information
In several countries, patients with end-stage renal disease who are ineligible for dialysis are considered urgency priority for kidney transplantation through distinct allocation rules. There are scarce published data on clinical features and outcomes after KT of these patients.
READ MORE
| | |
| --- | --- |
| Having a heart, lung, kidney, or bone-marrow transplant may lower risk of developing Parkinson's | |
Parkinson's News Today
People who have had kidney, heart, lung, or bone-marrow transplants are less likely to develop Parkinson's disease than the general population, research suggests. The study, "Transplant and risk of Parkinson disease" was published recently in Parkinsonism & Related Disorders.
READ MORE
| | |
| --- | --- |
| The yield, safety of screening colonoscopy in patients evaluated for liver transplantation | |
AASLD via Wiley Online Library
Colorectal cancer screening with colonoscopy is commonly used in candidate patients for liver transplantation. We initiated this study to define the risk‐benefit ratio of performing screening colonoscopy in this population. A retrospective observational study of all consecutive patients undergoing colonoscopy during pre-liver transplantation screening between 2004–17 was conducted.
READ MORE
| | |
| --- | --- |
| Study: Family, transplant professionals' views of organ recovery before circulatory death for imminently dying patients | |
AST via Wiley Online Library
Donation before circulatory death for imminently dying patients has been proposed to address organ scarcity and harms of non‐donation. To characterize stakeholder attitudes about organ recovery before circulatory death we conducted semi‐structured interviews with family members who had experienced a loved one's unsuccessful donation after circulatory death and focus groups with professional stakeholders.
READ MORE
| | |
| --- | --- |
| Study: Scarcity of organs a major limiting factor in pediatric transplantation | |
Breaking News Ireland
The low numbers of organ donation from deceased children is impacting on pediatric transplantation programs, research shows. Over an 11-year-period from 2007 to last year in Ireland, there were organ donations or tissue heart valves from 36 deceased children. The age range was from a one-day-old baby to 15 years. This represents a donation rate of 2.9 per million population of children, compared with a U.S. donation rate of 1.2 per million children, which is even lower.
READ MORE
| | |
| --- | --- |
| Outcomes after listing for liver transplant in patients with acute-on-chronic liver failure: the multicenter NACSELD experience | |
AASLD via Wiley Online Library
Acute‐on‐Chronic Liver Failure characterized with extra‐hepatic organ failures in cirrhosis carries a high mortality. Outcomes of patients listed for liver transplant after ACLF and after LT are largely unknown. North American Consortium for the Study of End‐Stage Liver Disease prospectively enrolled 2,793 non-electively hospitalized patients with cirrhosis; 768 were LT-listed.
READ MORE