This message was sent to ##Email##
To advertise in this publication please click here
---
.
IAPSC NEWS
Certified Security Consultant (CSC) – Congratulations!
IAPSC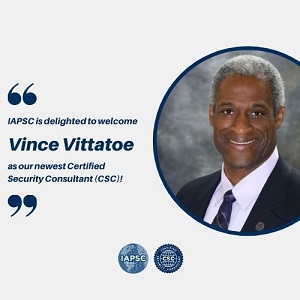 IAPSC would like to congratulate our newest Certified Security Consultant (CSC), Vince Vittatoe, CSC. Vince Vittatoe is the Principal/Owner at Vittatoe Consulting, LLC., an independent Security Management Consulting firm.

A graduate of Hardin-Simmons University with a B.B.A, Accounting, Vince spent several years as an accounting supervisor for State Farm Insurance before leaving to join the Dallas Police Department. After 9 years as a patrol officer and divisional defensive tactics instructor at the Southeast Patrol Division, Vince returned to the private sector where he spent the next 21 years serving as Director/Sr. Director of Safety, Security, and Loss Prevention holding leadership roles for both publicly and privately held companies in the hospitality and restaurant industries. Brands supported as an internal consultant included Accor North America (Brands included Sofitel, Novatel, Red Roof Inns, Motel 6, and Studio 6 brands), Red Roof Inns, La Quinta Inns & Suites, G6 Hospitality, and Bob Evans Farms/Mimi's Cafes restaurants. Read Vince's Full Bio>>

Are you interested in becoming the next CSC? Earning the CSC designation demonstrates your depth of knowledge, professional objectivity, integrity, and skills as a security consultant. The CSC requires a combination of experience, education, independence, ethics, and successfully passing an online examination. Learn more here and apply today!


| | | |
| --- | --- | --- |
| | | Overtur™ is Allegion's digital environment for simplifying design, specification and management of door openings, including access control, between Divisions 8 and 28. It serves as a central hub of access control hardware information that allows team members to collaborate on a project in a single platform. |
IAPSC Membership – Renew Before It's Too Late!
IAPSC
Thank you for your support in 2020! We want to remind you it is time to renew your IAPSC membership & reaffirmation for 2021 and maintain your connection to the leading association for independent professional security consultants.


Your membership and engagement are very important to us, so if you have a hardship, please let us know so we can discuss it further. If you should have any questions, please contact us at iapsc@iapsc.org.

We value your support & dedication to IAPSC and look forward to another successful year together.
Have You Heard? IAPSC Has a New Communications Committee!
IAPSC
We took your feedback from the 2019 IAPSC Member Survey and are in the process of strengthening our virtual presence. To ensure we are providing the most relevant & timely content to our membership, we put together a short follow-up survey.

As we revamp our current newsletter, we would like to feature our members more often, in columns like "Ask a Security Consultant", "Project Spotlight" and "Member Profile", to name a few. If you would like to be included, please submit your content in the survey below.

Submit Your Feedback Now!
 

Promoted by Murray Associates
Your organization needs help with wastepaper. Some can be recycled. Easy. There are plenty of recycling companies around. Some of it, however, contains sensitive information that must be destroyed. So, you contact your local "I-Rip-A-Part" shredding company. They offer two shred bin styles, if you are lucky. The elegant particle board beige box, or the converted garbage can. Both scream security joke. But hey, they only gave you two choices. So, you take what "I-Rip-A-Part" gives you. After all, it's their business. They know best. Baloney. Here's how to fix it, probably for FREE…



 
IAPSC Webinars – Share Your Expertise
IAPSC
We hope you have enjoyed IAPSC's webinars as much as we have so far. If you missed any, click here to view our webinar library available in the IAPSC Member Portal.

As we look ahead to 2021, we are hoping to highlight IAPSC members and your wide range of knowledge in future webinars. Please find a couple of suggestions below we think our membership would be interested in learning more about.
Virtual Business Management – Successfully transitioning from in-person business to virtual business due to COVID-19. Many security consultants are struggling because they do not know how to continue business virtually, if your business has been doing well in this environment, share your tips & tricks!
Business Marketing – How to effectively advertise and market your business. Many businesses struggle because they don't know where to start and how to market correctly. If you have found success in this, we would love to hear what steps you took.
Using Your Network To Grow Your Business – Has your business found success networking with other IAPSC members? This is a tool that is commonly underutilized and other members would love to hear more about it.
If you or someone you know would be able to cover any of the proposed topics above or if you have another idea for an IAPSC Webinar, please contact us at iapsc@iapsc.org today.

We are looking forward to hearing from you!

---
.
GOVERNMENT
Why America Would Not Survive a Real First Strike Cyberattack Today
The Hill
If a full on "turn the lights off" cyber war were to happen today, we would lose. Think about that. We would lose a cyber war. With a few clicks of the mouse, and in just a few seconds, hackers in Beijing or Moscow could turn off our electricity, millions would lose heat, groceries would spoil, banking machines would not work, and people could not get gasoline. It would be what we have seen down in Texas, but on national scale and with no end in sight. That we have escaped a digital catastrophe thus far is not due to skill. It is due to blind luck and restraint from our adversaries.
---
.
BUSINESS & MANAGEMENT
78% Lack Confidence in Their Company's Cybersecurity Posture, Prompting 91% to Increase 2021 Budgets
Business Wire
Nearly 80% of senior IT and IT security leaders believe their organizations lack sufficient protection against cyberattacks despite increased IT security investments made in 2020 to deal with distributed IT and work-from-home challenges, according to a new IDG Research Services survey commissioned by Insight Enterprises, the global integrator of Insight Intelligent Technology Solutions™ for organizations of all sizes.
Why Human Error Is No. 1 Cyber Security Threat to Businesses in 2021
The Hacker News
Among the major cyber threats, the malware remains a significant danger. The 2017 WannaCry outbreak that cost businesses worldwide up to $4 billion is still in recent memory, and other new strains of malware are discovered on a daily basis. Phishing has also seen a resurgence in the last few years, with many new scams being invented to take advantage of unsuspecting companies.
---
.
IT SECURITY
5 Reasons Hackers Target Mobile Devices And How To Stop Them
Forbes
For small and mid-size businesses (SMBs), cybersecurity is critical. In fact, in 2019, more than 60% of businesses experienced a cyberattack. Enter COVID-19. As mobile workforces have nearly doubled since the pandemic to keep employees and customers safer at home, according to a recent Gallop poll on remote work trends, so have the number of cyber-attacks.
 

IAPSC News

---

Connect with IAPSC





Jason Zimmerman,

Director of Publishing, Multiview, 469-420-2686

 | Download media kit
Jacqueline Hansen, Senior Content Editor, Multiview, 469-420-2636| Contribute news

International Association of Professional Security Consultants
136 Everett Road  |  Albany NY, 12205 
415-536-0288  |  Contact Us  |  iapsc.org/

Click here to unsubscribe. 

Learn how to add us to your safe sender list so our emails get to your inbox.

















 
7701 Las Colinas Ridge, Ste. 800, Irving, TX 75063