This message was sent to ##Email##
To advertise in this publication please click here
---
.
IAPSC NEWS
IAPSC' Newest Member - Welcome Freddy Ouzan!
IAPSC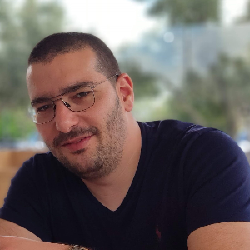 Freddy Ouzan is currently the VP of Security Research at Nyotron, responsible for the core logic and design of enterprise-grade level protections against known and unknown threats, which successfully mitigated numerous targeted attacks and defends hundreds of thousands of critical endpoints and servers around the globe. Freddy is a self-taught researcher and leader with strong hands-on skills and vast experience in building and managing teams of security professionals and technology experts. Author of ransomwiz.gg, and lover of butter croissants.

Interested in learning more about IAPSC membership? Visit our website here or contact IAPSC staff at iapsc@iapsc.org. We can't wait to hear from you!
| | | |
| --- | --- | --- |
| | | Overtur™ is Allegion's digital environment for simplifying design, specification and management of door openings, including access control, between Divisions 8 and 28. It serves as a central hub of access control hardware information that allows team members to collaborate on a project in a single platform. |
IAPSC Member Orientation - Register Today!
IAPSC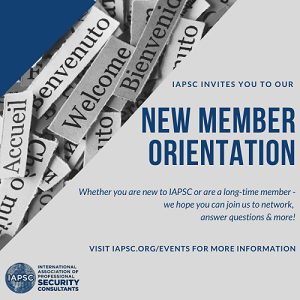 Whether you have been a member for ten months or ten years, the IAPSC Membership Committee invites you to join us for our new member orientation.

We will discuss how to best utilize your membership benefits, who to contact, how to network, and much more. There will also be time for questions and to network with fellow IAPSC members.

To learn more and register for an upcoming new member orientation, please visit the IAPSC member portal here.

We look forward to seeing you there!
IAPSC Webinars – Share Your Expertise
IAPSC
We hope you have enjoyed IAPSC's webinars as much as we have so far. If you missed any, click here to view our webinar library available in the IAPSC Member Portal.

As we look ahead to 2021, we are hoping to highlight IAPSC members and your wide range of knowledge in future webinars. Please find a couple of suggestions below we think our membership would be interested in learning more about.
Virtual Business Management – Successfully transitioning from in-person business to virtual business due to COVID-19. Many security consultants are struggling because they do not know how to continue business virtually, if your business has been doing well in this environment, share your tips & tricks!
Business Marketing – How to effectively advertise and market your business. Many businesses struggle because they don't know where to start and how to market correctly. If you have found success in this, we would love to hear what steps you took.
Using Your Network To Grow Your Business – Has your business found success networking with other IAPSC members? This is a tool that is commonly underutilized and other members would love to hear more about it.
If you or someone you know would be able to cover any of the proposed topics above or if you have another idea for an IAPSC Webinar, please contact us at iapsc@iapsc.org today.

We are looking forward to hearing from you!

 

Promoted by Murray Associates
Before jumping into the USB memory security recommendations, some background is in order… News Report: "According to a straw poll carried out at InfoSecurity Europe, 90% of the 12,000 attendees routinely carried portable storage devices. The survey also showed that 80 per cent of visitors believed their company had lost valuable confidential data through the use of these devices." And, that's just from losing a device. Malicious USB memory sticks do much more damage. They can inject debilitating or ransomeware viruses, steal keystrokes, and more. Some are actually audio and video eavesdropping devices. Here is what you need to know…



 
What You Need to Know About Cryptocurrency Crime Webinar - Register Now
IAPSC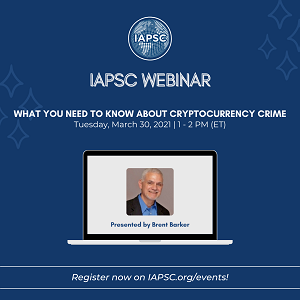 Tuesday, March 30, 2021 | 1 - 2 PM (EST)
Presented by Brent Barker

The pandemic has accelerated the mainstream adoption of cryptocurrencies - they are growing in use and value. Bitcoin recently hit a new high of over $55,000, but Bitcoins and other cryptocurrencies are also being used in a growing variety of crimes. They are being stolen, used as payments for crime, used for money laundering, and used by counties to avoid international sanctions.

Even as authorities are learning how to investigate cryptocurrency crimes and track cryptocurrency ownership, new harder-to-track forms of cryptocurrencies are being created. This webinar will examine how criminals are stealing and using cryptocurrencies, along with law enforcement efforts to stop them.

This webinar has been approved for 1 CSC credit hour through IAPSC and 1 CPE credit hour through ASIS.

Register Now!
IAPSC Communications Committee - We Want to Hear From You
IAPSC
We took your feedback from the 2019 IAPSC Member Survey and are in the process of strengthening our virtual presence. To ensure we are providing the most relevant & timely content to our membership, we put together a short follow-up survey.

As we revamp our current newsletter, we would like to feature our members more often, in columns like "Ask a Security Consultant", "Project Spotlight" and "Member Profile", to name a few. If you would like to be included, please submit your content in the survey below.

Submit Your Feedback Now!
---
.
GOVERNMENT
---
.
BUSINESS & MANAGEMENT
Actionable Tips For Engaging the Board On Cybersecurity
Dark Reading
There's never been a tougher time to be a chief information security officer (CISO). Since the onset of COVID-19 in March 2020, cyberattacks are up by 92%, and the average data breach now costs $3.86 million, according to IBM and the Ponemon Institute. Still, many CISOs find themselves struggling to engage their board members on cybersecurity priorities.
---
.
IT SECURITY
How to Achieve Harmony in Security Design Projects
Security InfoWatch
Analyzing common specification and implementation mistakes can help maximize the consultant-integrator relationship – which of course leads to a successful project and a happy client.
This Chart Shows the Connections Between Cybercrime Groups
ZDNet
Cybersecurity reports often talk about threat actors and their malware/hacking operations as self-standing events, but, in reality, the cybercrime ecosystem is much smaller and far more interconnected than the layperson might realize. Cybercrime groups often have complex supply chains, like real software companies, and they regularly develop relationships within the rest of the e-crime ecosystem to acquire access to essential technology that enables their operations or maximizes their profits.
Massive Supply Chain Cyberattack Breaches Several Airlines
Threatpost
A communications and IT vendor for 90% of the world's airlines, SITA, has been breached, compromising passenger data stored on the company's U.S. servers in what the company is calling a "highly sophisticated attack." The affected servers are in Atlanta and belong to the SITA Passenger Service System, company spokeswoman Edna Ayme-Yahil told Threatpost.
 

IAPSC News

---

Connect with IAPSC





Jason Zimmerman,

Director of Publishing, Multiview, 469-420-2686

 | Download media kit
Jacqueline Hansen, Senior Content Editor, Multiview, 469-420-2636| Contribute news

International Association of Professional Security Consultants
136 Everett Road  |  Albany NY, 12205 
415-536-0288  |  Contact Us  |  iapsc.org/

Click here to unsubscribe. 

Learn how to add us to your safe sender list so our emails get to your inbox.

















 
7701 Las Colinas Ridge, Ste. 800, Irving, TX 75063