This message was sent to ##Email##
| | |
| --- | --- |
| May 3, 2018 | |
---
| | |
| --- | --- |
| Highlights from the IAPSC 2018 Annual Conference | |
IAPSC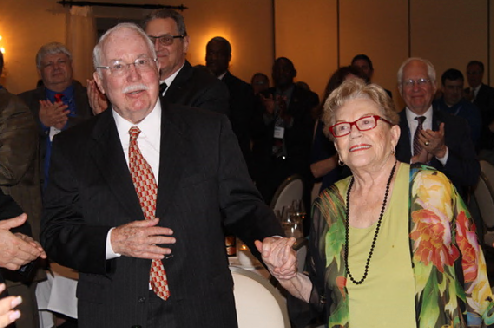 Chuck and Connie Sennewald at the IAPSC Annual Conference in San Diego.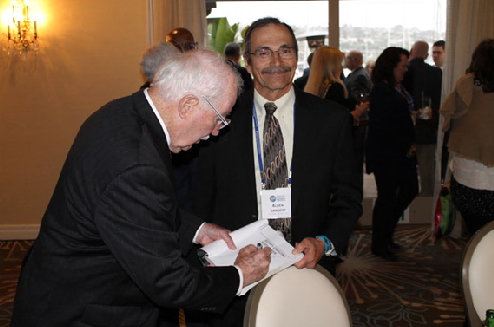 Chuck Sennewald signing his book Security Consulting 4th Edition for Alden Langert.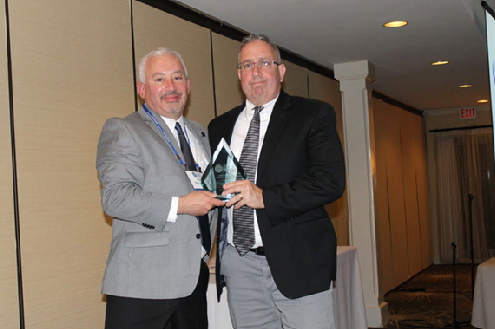 IAPSC President Alan Brockbank presents the Meritorious Life Member award to Frank Pisciotta at the Annual Conference awards dinner on April 30.

Frank was selected per the IAPSC By-Laws. Frank is eminently qualified and exceeds the required 35 points on the points scoring table included in the IAPSC Policy/Procedure #12. Frank has served the IAPSC as a member of the Board of Directors and the Executive Committee, as President, as chair of the Technical Standards Committee, and the Annual Conference Committee. He has been the leading force behind the financial success of the IAPSC Annual Conference through his tireless work with exhibiting vendors. Frank has also mentored many new members and has promoted the Successful Security Consultant (SSC) training program at numerous ISC and ASIS venues.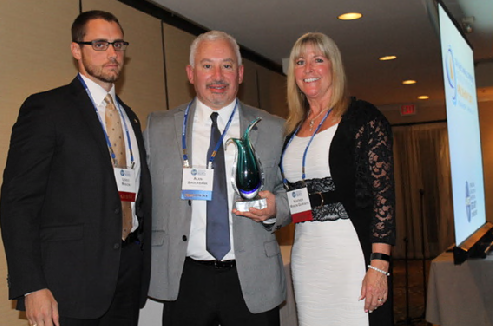 The Charles Sennewald Distinguished Service Accolade is posthumously awarded to Ron Minion. To accept the award on Ron's behalf were his son Leroy Minion and his daughter Heather Minion Giuriato.

Ron was nominated for this award by IAPSC Founder and friend Chuck Sennewald and was selected by the IAPSC Awards Committee.

Ron was born in December 1938 and passed away on June 3rd, 2008, after a courageous battle with ALS. Ron had such a huge impact on everybody who was fortunate enough to come into his life. He had a presence that was larger than life and he lived his life to the fullest. He started his career in the Protection Field as a Royal Canadian Mounted Police (RCMP) member and quickly moved into the position of Dog Master in High River, Alberta. It was there that he became passionate about two things, security and German Shepherds.

Ron left the force and started his first security company in 1965, Base Fort Patrol, for a shopping center and he personally patrolled with a police dog. His company grew to the largest in western Canada and eventually was purchased by an international security firm, where he quickly became a well-respected leader in the security industry.

He was the first Canadian to receive the designation of Certified Protection Professional from the American Society of Industrial Security. Ron founded the Canadian magazine Professional Protection. He worked tirelessly to professionalize the security industry and foresaw the need for more and better training. To that end he established the International Foundation for Protection Officers, which is a non-profit organization that promotes a training program for line security officers, supervisors and managers.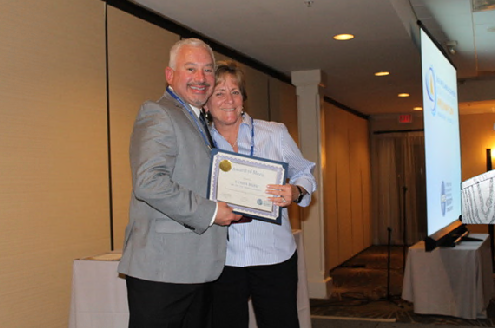 A President's Merit Award was presented to Lynda Buel for her work as the CSC exam update project leader.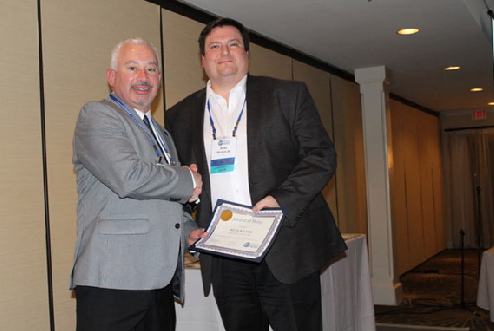 A President's Merit Award was presented to Rene Rieder for two terms as conference chair.

Although not all were present, several other IAPSC members who were recognized by Alan Brockbank at the awards dinner with Merit Awards: John Hatcher for several terms serving as Nominating Committee chair; Sean Ahrens as a CSC exam update project question writer; Chad Callaghan as a CSC exam update project question writer; Bill Birks as a CSC exam update project question writer; Ken Wheatley for continuous support on the IAPSC website; Mike Silva for leadership of the SSC Course; Jim Kelton and Michael Bacon (co-chairs) of the Cybersecurity Interest Group; Norm Bates and Bill Birks (co-chairs) of the Forensic and Security Management Interest Group; and Chad Parris (chair) of the Security Design and Engineering Interest Group.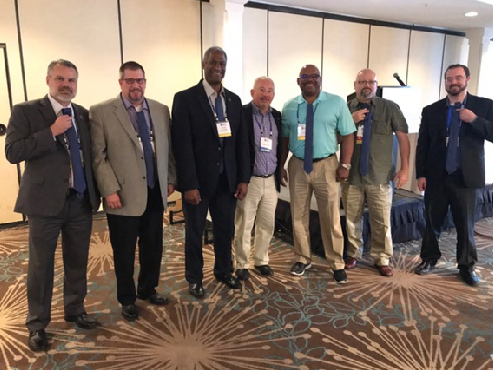 In keeping with IAPSC tradition, Alan Brockbank presented new members with blue ties embroidered with "IAPSC" on the back. From left: Michael D'Angelo, Jim Townzen, Vince Vittatoe, Alan Brockbank, Victor Glover, Steve Baker, and Eddie Lauth.
---
Promoted by

 
---
| | |
| --- | --- |
| Many thanks to Our Sponsors who joined us at the Annual Conference | |
IAPSC
Platinum Annual Sponsors:

ASSA ABLOY
Aventura
Boon Edam
HID Global
RS2 Technologies, LLC
Veracity

Gold Annual Sponsors:

Axis Communications
Bosch Security Systems, Inc.

Silver Annual Sponsors:

Arecont Vision
Code Blue
DSI - Designed Security Inc.
Genetec
March Networks
OnSSI
Safe-Screen
Salient Systems
VIDEOTEC

Welcome Reception Bar Sponsor: RS2 Technologies, LLC

Conference Bag Sponsor: Code Blue



ONVIF conformant products allow you to create a flexible, cost-effective and future-proof system. ONVIF enables you to choose optimal products from different vendors. The conformant products allow you to be confident in their interoperability and makes integration of products from different vendors easier. Read more




Reach Your Prospects Every Week




Thousands of industry professionals subscribe to association news briefs, which allows your company to push messaging directly to their inboxes and take advantage of the association's brand affinity.

Connect with Highly Defined Buyers and Maximize Your Brand Exposure
| | |
| --- | --- |
| IAPSC Board of Directors election results for the 2018-2019 term | |
IAPSC
Members cast their votes at the Annual Business Meeting on April 29th in San Diego and the following Officers were re-elected for a one-year term: President Alan Brockbank, Vice President Lynda Buel, Treasurer Rene Rieder, and Secretary Michael Silva. The following members were elected to the Board of Directors: David Aggleton, William Durso, Mitchell Fenton, and Hector Sanchez.

Thank you to Nominating Committee Chair John Hatcher, and members Michael D'Angelo and Bryan Strawser for their work managing this year's election.
| | |
| --- | --- |
| Don't miss these upcoming IAPSC Interest Group meetings | |
IAPSC
These monthly member meetings facilitate member relationship-building across areas of specialty and interest. They provide new opportunities for IAPSC members discuss current topics, best practices and guidelines, challenges and trends in the industry.

Forensics and Security Management : Fri., May 18 @ 9 a.m. PST

Security Design and Engineering : Fri., June 15 @ 10 a.m. PST

Cybersecurity : Fri., July 20 @ 9 a.m. PST

These monthly member meetings facilitate member relationship-building across areas of specialty and interest. They provide new opportunities for IAPSC members discuss current topics, best practices and guidelines, challenges, and trends in the industry. It's easy and FREE to participate from your computer or your phone. Sign up now online here or by contacting iapsc@iapsc.org.
---
| | |
| --- | --- |
| Government leads major industries in email security | |
Nextgov
The federal government is now using anti-phishing security on its emails at a higher rate than any major industry sector, according to a report released recently.
READ MORE
---
| | |
| --- | --- |
| A Lack of Cybersecurity Funding And Expertise Threatens U.S. Infrastructure | |
Forbes
Most leaders in infrastructure-related industries take cyber risk seriously, but their public sector counterparts need to start addressing vulnerabilities with more urgency.
READ MORE
| | |
| --- | --- |
| What Organizations Can Do to Strengthen Their Cybersecurity Stance | |
Infosecurity Magazine
The challenges of cybersecurity have been covered ad nauseum: the ever-increasing volume and sophistication of attacks, the shortage of skilled cybersecurity analysts, and the general inability to keep up with all that is going on in the cybersecurity market have all been well documented.
READ MORE
---
| | |
| --- | --- |
| Identity theft isn't just an adult problem — kids are victims, too | |
CNBC
Should your toddler receive a jury-duty summons in the mail, or debt collectors start calling for your tween, don't be so quick to dismiss those interactions as a quirk of mistaken identity.
READ MORE
| | |
| --- | --- |
| The changing nature of the surveillance industry | |
Security Info Watch
The surveillance market has changed dramatically over the last 10 to 15 years. Whereas once, all that was needed for people to secure their business was a simple CCTV system to give them that much-needed peace of mind, today the needs and possibilities are far more complex.
READ MORE
| | |
| --- | --- |
| Good Cybersecurity at Work Starts at Home | |
Forbes
Like a dog with a biscuit, a link in an email is so enticing that most employees want to click no matter the ramifications. It is a problem the majority of organizations have today — the end user and the malicious links that show up in their email. When curiosity killed the cat, how are companies going to stop the click?
READ MORE
7701 Las Colinas Ridge, Ste. 800, Irving, TX 75063