This message was sent to ##Email##
| | |
| --- | --- |
| May 15, 2019 | |
---
| | |
| --- | --- |
| IAPSC's 35th Annual Conference: A Big Hit in Miami | |
IAPSC
This year's IAPSC Annual Conference, held May 4-6 in Miami, was chock full of innovations designed by a creative planning committee. These included a shortened two-day format, breakout sessions that met the interests of the diverse consulting community, high-profile speakers including Andrea Schultz, CPP, of the National Football League, sharing insights on security within high traffic events and venues, and a host of other interesting presentations on marketing, technology, trends in security consulting, and much more.

New this year, we welcomed our manufacturing partners into the session room to facilitate engagement amongst all of our conference attendees. There was plenty of time for networking including a fun Cuban-themed dinner complete with cigar rolling, music, dancing, and a mojito bar. That same evening IAPSC recognized its members who have contributed greatly to the IAPSC and presented Norman D. Bates with Meritorious Life Membership for his valued service since 2000 in various leadership roles in the organization and most significantly, in the pursuit of excellence in the development of standards and in the category of security expert testimony ever since. Also presented was the Charles A. Sennewald Distinguished Service Accolade, IAPSC's most prestigious award for a security executive, educator, author, or industry leader who has made an outstanding and significant contribution to the security profession. It was presented to Milton (Mick) Moritz, CPP, a former President of the American Society for Industrial Security (now ASIS International), for his more than fifty years of security experience, service, and leadership in the security industry.

Finally, a well-received and appreciated change to the conference was the attire: "Miami-casual" was worn throughout the conference and island shirts and sandals set the stage for comfortable networking minus a suit and tie!

Many thanks to the hardworking Annual Conference Committee for putting together an excellent line-up of speakers and topics, along with these many innovations: Al Zajic, AWZ Consulting (Chair), Frank Pisciotta, Business Protection Specialists, Inc., Mitchell Fenton, Baltusrol Golf Club, Michael D'Angelo, CHPA, Secure Direction Consulting, LLC, Kelly Klatt, Center for Security Solutions, William LaTorre, LaTorre Consulting Inc., Karim Vellani, Threat Analysis Group, LLC.

Mark your calendar to attend the 36th Annual Conference May 2-4, 2020 at the Sheraton Grand at Wild Pass Resort, Phoenix, AZ.

(See Conference Photos Here)



ONVIF conformant products allow you to create a flexible, cost-effective and future-proof system. ONVIF enables you to choose optimal products from different vendors. The conformant products allow you to be confident in their interoperability and makes integration of products from different vendors easier. Read more




Reach Your Prospects Every Week




Thousands of industry professionals subscribe to association news briefs, which allows your company to push messaging directly to their inboxes and take advantage of the association's brand affinity.

Connect with Highly Defined Buyers and Maximize Your Brand Exposure
| | |
| --- | --- |
| The IAPSC Board of Directors Election Results Are In | |
IAPSC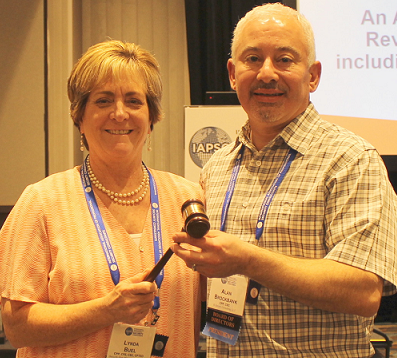 Alan Brockbank passes the gavel to new IAPSC President Lynda Buel

---

The IAPSC elected Lynda Buel, CPP as President at its Annual Business Meeting held in Miami, FL, on May 6, 2019. Also newly elected to the board were three members: Michael D'Angelo, CPP, Sean Ahrens, CPP and Vince Vittatoe. The 2019-2020 board is as follows:

President – Lynda Buel, CPP, CFE, CSC – Columbus, OH – 2019-2020
Vice President – Michael Silva, CPP – Covington, WA – 2019-2020
Secretary – Rene Rieder, CPP, PSP, CHS-IV, CMAS – New York, NY – 2019-2020
Treasurer – Michael D'Angelo, CPP, CSC, CHPA – Miami, FL – 2019-2020
Immediate Past President – Alan Brockbank, CPP, CSC – Morrisonville, NY – 2019-2020
Executive Director – Kerry Parker, CAE – San Francisco, CA (ex-officio)
Directors:
Sean Ahrens , CPP, FSyl, BSCP, CSC – Chicago, IL – 2019-2021
David Aggleton, CPP, CSC – Mission Viejo, CA – 2018-2020
William Durso, Jr. – New York, NY – 2018-2020
Mitchell Fenton, CPP – Lebanon, NJ – 2018 -2020
Ronald Heil, CPP, CSC, CHS – Pittsburgh, PA – 2019-2021
Kelly Stewart, MBA, CHS-IV, CFC, CAS – Leesburg, VA – 2019-2021
Hector Sanchez, CPP – West Palm Beach, FL – 2018-2020
Vince Vittatoe – McKinney, TX – 2019-2021

Advisor/Founder: Charles Sennewald, CPP, CPO, CSC – Escondido, CA
| | |
| --- | --- |
| Certified Security Consultant (CSC) - Recertification Changes Announced | |
IAPSC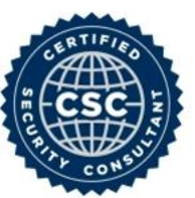 The point system for CSC recertification every three years has recently been upgraded. One significant change is that it is now based on a 60-point system instead of the former 30-point system. No, that doesn't mean it takes twice as much effort to recertify - most common point-earning activities were simply doubled to adjust to the 60-point scale. However, there are internal changes of note. Specifically, to encourage association participation serving in IAPSC leadership and committee roles is more richly rewarded than before and for the first time participation on a best practice committee earns points. Also, attendance at the annual conference earns more points to give the CSCs even more reason to attend. The new recertification scales can be found on the IAPSC web site at https://iapsc.org/about-us/certification/recertification/.

---
| | |
| --- | --- |
| Trump creates new cybersecurity competition with a $25,000 award | |
RollCall
The Trump administration announced steps to address a shortage of cybersecurity workers across the federal government, including sponsorship of a national competition and allowing cyber experts to rotate from one agency to another.
READ MORE
---
| | |
| --- | --- |
| Microsoft's security chief explains why the company is eliminating passwords | |
CNBC
It was 4 a.m. on a night in June 2017. Bret Arsenault, the top-ranking cybersecurity executive at Microsoft, had fallen asleep on top of his cell phone when it shocked him awake with a buzz. A cyberattack, later dubbed NotPetya, had begun locking down computers and shutting down businesses in Ukraine.
READ MORE
| | |
| --- | --- |
| How seriously are retailers taking new data privacy laws? | |
Digital Journal
When GDPR first hit, many retailers rolled out changes to comply with the new regulations, but many smaller companies appear to have reverted back to cookies and data collection, plus other activities that fought data privacy requirements.
READ MORE
---
| | |
| --- | --- |
| Why the cyber security talent shortage is the greatest threat businesses face today | |
TechNative
Every company faces an ever-evolving onslaught from hackers in one form or another, which is no longer about when a breach happens but how often they happen. Resilient businesses have a laser focus on cyber security, all too aware of the negative impact a breach can, and does have. Even with an effective cyber security incident response plan in place finding the required skills and knowledge to deliver on that plan is far from easy.
READ MORE
| | |
| --- | --- |
| Cybersecurity basics still the key for preventing business email compromise | |
ZDNet
Business email compromise is up, and people are still falling for phishing attacks that give cyber criminals access to corporate email systems.
READ MORE
7701 Las Colinas Ridge, Ste. 800, Irving, TX 75063