| | |
| --- | --- |
| GSX Registration Discount for IAPSC Members | |
IAPSC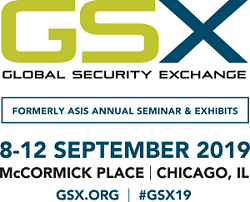 IAPSC Members Receive $50 All-Access Pass for GSX. Save $50 off when you use VIP code: "Partner17" to register to attend the Global Security Exchange (GSX) September 8-12, 2019 at McCormick Place, Chicago. Register

| | |
| --- | --- |
| Call for nominations — US Outstanding Security Performance Awards | |
IAPSC
Entry to the 2019 US Outstanding Security Performance Awards (OSPAs) is open through to July 1, 2019. Anyone working in (or from) the US can enter. Winning an OSPA is recognized by many as one of the most prestigious accolades a company, team or individual can be awarded. For the fourth consecutive year, the OSPAs have partnered with ASIS International to deliver the US Awards. Winners will be announced on September 9, 2019 at Global Security Exchange (GSX) where 3,000 security professionals will unite at a networking lunch to celebrate excellence across the sector. The criteria for each category are available on the website. Full details on how to enter can be found at https://us.theospas.com/enter/
| | |
| --- | --- |
| Physical Security Infrastructure Best Practices | |
IAPSC Sponsor Feature
Darren Giacomini, BCDVideo's Director of Advanced Systems Architecture, has penned numerous articles that explain the best practices and strategies when building a reliable, resilient and highly available physical security infrastructure for video surveillance. One of the many topics Darren writes about is hyperconvergence. "The key to hyperconvergence and virtualization for the physical security market hinges on the effective utilization of resources. Regardless of the platform you run on, server resources are rarely used efficiently or to their full potential," said Giacomini.
READ MORE
| | |
| --- | --- |
| CONSULT 2019 is October 19-22 in New Mexico | |
IAPSC
From cyber security to product technology to common project and design issues, the environment that security consultants and engineers face is constantly evolving. Technical complexities continue to escalate, while the scope and definition of risk assessment and security design continues to expand. CONSULT 2019 enables like-minded professionals to discuss this changing landscape and to gain new insights into technical and management approaches to address it and respond. Consultants, selected integrators, and 27 manufacturers will all contribute to the discussion. Register
---
| | |
| --- | --- |
| The US needs an industrial policy for cybersecurity | |
Defense One
President Trump's recent executive order restricting the use of Huawei's telecommunications equipment was hardly the first time the U.S. government has intervened in the private sector for purposes of national security. During World War II, for example, the U.S. government pumped investment into the American steel industry to ensure the military had a sufficient supply to build tanks, ships and other armaments.
READ MORE
| | |
| --- | --- |
| It's time for cybersecurity to go pro bono | |
World Economic Forum
As asylum seekers and other vulnerable people are required to give up more and more of their personal information to agencies charged with protecting them, the human rights organizations that work to help such populations become targets of cyberattacks themselves. Cyber abusers see them as a portal to get to their victims. The recent discovery of a significant messaging app vulnerability used to target human rights groups is just one example of these malicious efforts, but provides significant cause for alarm.
READ MORE
---
| | |
| --- | --- |
| What marketers need to know about cybersecurity | |
CPO Magazine
Data-driven marketing has become the new marketing norm for businesses of all sizes. As Mark Flaharty, executive vice president of advertising at SundaySky says, "Arguably, the most important evolution in the history of marketing is the ability to understand what data you have, what data you can get, how to organize and, ultimately, how to activate the data."
READ MORE
| | |
| --- | --- |
| Creating a 'wayback machine' for IT security | |
Design World
Many people are familiar with the "wayback machine," an incredibly useful internet archive at web.archive.org. But until now, there's been no similar type of system for cyber security professionals. An attack may happen today and then not manifest itself for months or years … by then, it's nearly impossible to do the sleuthing necessary to figure out how the break in happened.
READ MORE
---
| | |
| --- | --- |
| 11.9M Quest Diagnostics patients impacted by AMCA data breach | |
Health IT Security
American Medical Collection Agency recently began notifying clients of a system hack that breached the billing and medical data of some of its clients, including 12 million Quest Diagnostics patients. Quest Diagnostics is one of the largest blood testing companies in the U.S. According to a recent Securities and Exchange Commission 8-K filing, a hacker gained access to the system of billing collections vendor AMCA for nearly eight months between August 1, 2018, and March 30, 2019.
READ MORE
| | |
| --- | --- |
| 5 things you should know about the Whatsapp hack | |
Security Boulevard
The recent WhatsApp™ hack is pretty alarming: all the hackers had to do was drop a missed encrypted WhatsApp call to their target and — boom — spyware was installed. The hack didn't require the user to do anything — even if the user didn't pick up the phone the spyware would still be installed. But maybe what's most important about it is that it shines a light on the myth that security is equal to end-to-end encryption.
READ MORE
| | |
| --- | --- |
| Security systems of major hotel chains exposed by huge data breach | |
Forbes
Self-styled "hacktivist" researchers have recently revealed a truly huge data breach with implications for many major hotel chains around the globe. Rather than revealing financial or guest information, as is the norm for breaches involving the travel and hospitality industry, this time the data exposed was actually far more valuable: some 85.4GB of security audit logs.
READ MORE
| | |
| --- | --- |
| Hackers can now bypass two-factor authentication with a new kind of phishing scam | |
Fortune
Two-factor authentication, the added security step that requires people enter a code sent to their phone or email, has traditionally worked to keep usernames and passwords safe from phishing attacks. However, security experts have demonstrated an automated phishing attack that can cut through that added layer of security — also called 2FA — potentially tricking unsuspecting users into sharing their private credentials.
READ MORE