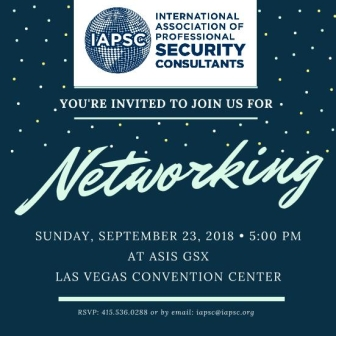 | | |
| --- | --- |
| Join IAPSC for Networking in Las Vegas | |
IAPSC
If you're headed to Las Vegas for GSX, ASIS' annual conference, September 23-27, 2018, join your IAPSC colleagues for a Sunday evening networking reception on September 23, 2018 in Room N218 at the Las Vegas Convention Center. RSVP required to 415.536.0288 or iapsc@iapsc.org

Also, members are needed to assist at the IAPSC table in the exhibit hall. If you can spare an hour or two to help out at the table sharing info about security consulting and the IAPSC, let us know by emailing: iapsc@iapsc.org


| | |
| --- | --- |
| Join an IAPSC interest group this summer! | |
IAPSC
If you're interested in connecting with other members on topics of mutual interest, we invite you to join us on GoToMeeting for our Monthly meetings.

Forensics and Security Management Interest Group
Friday, August 17 @ 9:00 AM PT; 12 Noon ET

Security Design and Engineering Interest Group
Friday, September 21 @ 10:00 AM; 12 Noon ET

Cybersecurity Interest Group
Friday, October 19 @ 10:00 AM; 12 Noon ET

For more info and to RSVP, go to: https://iapsc.org/events/
| | |
| --- | --- |
| Successful Security Consulting Seminar | |
IAPSC
Sunday, 23 September | 8:00 am – 5:00 pm

Looking to successfully launch a new security consultant practice or jump-start an existing one? Back by popular demand, this unique program can show you how! Learn from seasoned consultants how to develop and market yourself and avoid costly mistakes that can sabotage your success. Gain practical information to save you time, money, and frustration. You'll return home with sample proposals and reports that give you a clear advantage when competing for a security consulting assignment.

Registration starts at $250 for this one-day pre-conference program offered at ASIS' Annual Conference: GSX in Las Vegas, NV.

Learn More here.

Register Now here.
| | |
| --- | --- |
| Save the Date: IAPSC's 35th Annual Conference | |
IAPSC



May 4-6, 2019 | Marriott Biscayne Bay, Miami, FL

2019 Conference Planning Committee: Al Zajic - Conference Chair; Frank Pisciotta ; Mitch Fenton ; Michael D' Angelo; Kelly Klatt; Karim Vellani; William Latorre.
---
| | |
| --- | --- |
| 'Red Alert' Warning on US Cyber-Attacks, Now at 'Critical Point' | |
Infosecurity Magazine
The U.S. director of national intelligence issued a "red alert" warning on a dangerous new level of cyber-warfare during a Washington think tank conference. He also spoke of Russia as one of the "worst offenders" ahead of U.S. President Donald Trump's meeting with Russian President Vladimir Putin in Finland.
READ MORE
---
| | |
| --- | --- |
| Budgetary Foresight: 3 Essential Cyber Security Programs For 2019 | |
Cyber Security Hub
The back-to-school sales circulars are arriving, a reminder that fall is on its way. For most organizations, fall also brings an annual budgetary exercise for which many mid-level managers and executives will be unprepared.
READ MORE
| | |
| --- | --- |
| How to Structure an Enterprise-Wide Threat Intelligence Strategy | |
Dark Reading
The ever-expanding range and diversity of cyber threats make it difficult for organizations to prioritize their offensive and defensive strategies against attackers. From malware, ransomware and other attacks coming from the outside, to insider threats and system vulnerabilities from within, today's expanded attack surfaces cut across the whole enterprise landscape — and that means an enterprise's threat intelligence strategy must address the entire IT ecosystem.
READ MORE
---
Promoted by

 
---
| | |
| --- | --- |
| Building the Next Generation of Cybersecurity Talent | |
Infosecurity Magazine
Everyone in the cybersecurity space can agree that we are in the midst of an enormous skills shortage. ISACA predicts that we will be short two million cybersecurity professionals by 2019. Nearly 72 percent of firms say they are finding it difficult to identify and hire high caliber cybersecurity professionals, according to a survey by Booz Allen Hamilton. With no clear options and a massive talent need, security and IT leaders need to create the desired security skill set within their existing employees.
READ MORE
| | |
| --- | --- |
| How to allocate budget for a well-rounded cybersecurity portfolio | |
Help Net Security
Getting the C-levels to approve an IT security budget is probably one of the most difficult and exasperating tasks that security professionals and IT managers have to do each year. Information security doesn't contribute directly to the bottom line in most companies and management often views it as a cost.
READ MORE
---
| | |
| --- | --- |
| The Worst Cybersecurity Breaches of 2018 So Far | |
WIRED
Looking back at the first six months of 2018, there haven't been as many government leaks and global ransomware attacks as there were by this time last year, but that's pretty much where the good news ends. Corporate security isn't getting better fast enough, critical infrastructure security hangs in the balance and state-backed hackers from around the world are getting bolder and more sophisticated.
READ MORE
| | |
| --- | --- |
| New Insider Attack Steals Passwords By Reading Thermal Energy From Keyboards | |
Help Net Security
After entering a password, your regular computer keyboard might appear to look the same as always, but a new approach harvesting thermal energy can illuminate the recently pressed keys, revealing that keyboard-based password entry is even less secure than previously thought.
READ MORE
| | |
| --- | --- |
| The Types of Hackers and Why They Hack | |
Bleeping Computer
Originally, a hacker was defined as one who is enthusiastic about computers, whether that be programming or getting into the guts of a computer to see how it works. In current times, the term may describe a person who attempts to gain unauthorized access to computers, with less than honorable intentions, or the person who counters the bad intentioned one. But, there is a pretty broad spectrum of hackers and a variety of motivations for hacking.
READ MORE