This message was sent to ##Email##
To advertise in this publication please click here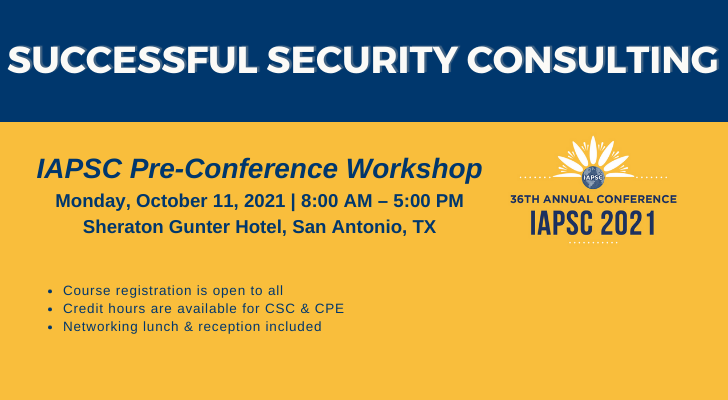 The Successful Security Consultant program covers all aspects of consulting. From the initial client engagement through assessments, system design and specification, procurement, and implementation. Don't miss this opportunity to develop, market, and deliver expert security consultant service.
| | | |
| --- | --- | --- |
| Your virtual seat is still available! IAPSC is hosting a dynamic professional development webinar presented by Debbie Mrazek of The Sales Company. Join us today at 12:00 p.m. ET to secure more business & charge your worth. | | Sal Caccavale is the face of Global Hospitality Security Solutions, LLC providing safety and security solutions on behalf of hotels, law firms, insurance companies and brokers. Read about his 35 years of dedicated service at Hilton Worldwide and actions to help reshape the direction of the company's Safety & Security Department. |
Key highlights
Check out the featured articles from IAPSC. Scroll through to hear more or click the titles below and be directed to the website.
Have newsworthy industry content to share? Email IAPSC@IAPSC.org.
IAPSC member spotlight
IAPSC Executive Committee Member Mitch Fenton shares his IAPSC the value of networking & perks at the Annual Conference.
IAPSC member spotlight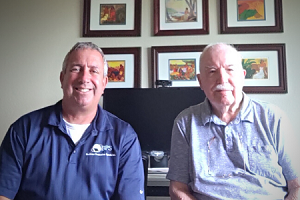 Frank Pisciotta, CSC, the Chair of IAPSC Technical Standards Committee met with our IAPSC Founder Charles "Chuck" Sennewald in California recently. Read how you too can reach out & check in with Chuck & share your IAPSC experience with him.
 

Promoted by Murray Associates
Corporate off-site meetings are prime targets for infiltration and information theft. Resorts and conference centers are the worst. It is not unusual to catch the competition (and unidentified others) hanging around, eavesdropping, crashing meetings and banquets, and picking up unsecured papers. The hotel bar is the spy's best web. This type of encounter is especially dangerous. Second to planting listening devices, it is one of the most successful—and the oldest—espionage trick being used. Just one indiscretion can blackmail a loyal employee into becoming a million dollar problem. Following a few simple rules can dramatically reduce espionage vulnerabilities…



 
---
.
INDUSTRY NEWS
How to build accountability into your AI
Harvard Business Review
When it comes to managing artificial intelligence, there is no shortage of principles and concepts aiming to support fair and responsible use. But organizations and their leaders are often left scratching their heads when facing hard questions about how to responsibly manage and deploy AI systems today.
Pandemic drives increased adoption of security tech
Security Info Watch
The COVID-19 pandemic triggered an unparalleled wave of tech adoption for businesses across all industries, the country, as well as around the world – as employees and consultants worked remotely and connected with their team and customers virtually. While much of the technology that was adopted was not really 'new,' it was just not yet implemented by many of the businesses that were transformed by the pandemic. Necessity is the mother of technology adoption.
Cellular IoT network and infrastructure redundancy
IoT for All
What does happen if your device loses network connectivity? Can it still perform the tasks that it was built to do? Or does data accumulate in storage until the device is full, and then it fails hard?
How to secure hybrid teams against insider threats
The State of Security
As businesses emerge from the pandemic, many are making strategic decisions about their long-term work arrangements. While there is a substantial debate about remaining remote or bringing people back to the office, many companies are choosing to meet in the middle, embracing a hybrid work arrangement that allows people to work both on-site and remotely.
 

IAPSC News

---

Connect with IAPSC





Jason Zimmerman,

Director of Publishing, Multiview, 469-420-2686

 | Download media kit
Jacqueline Hansen, Senior Content Editor, Multiview, 469-420-2636| Contribute news

International Association of Professional Security Consultants
136 Everett Road  |  Albany NY, 12205 
415-536-0288  |  Contact Us  |  iapsc.org/

Click here to unsubscribe. 

Learn how to add us to your safe sender list so our emails get to your inbox.

















 
7701 Las Colinas Ridge, Ste. 800, Irving, TX 75063