| | |
| --- | --- |
| IAPSC Member Wins U.S. Outstanding Security Performance Award (OSPA) at GSX Conference | |
IAPSC
The OSPAs recognize companies and individuals across the security industry. Michael Glasser, Glasser Security Group LLC, was honored at the OSPAs this past September 9 in Chicago; Michael won the very prestigious, Outstanding Security Consultant Award.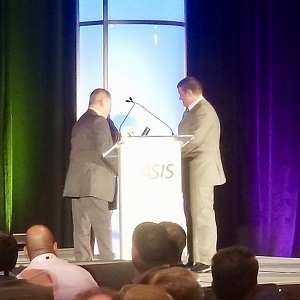 | | |
| --- | --- |
| NOTE: Our Dates Have Changed to Allow Two Full Days of Conference & Exhibits at Sheraton Wild Horse Pass, Pheonix, AZ - June 1-3, 2020 | |
IAPSC
You're invited to join your IAPSC Colleagues, June 1 – June 3, for one of the premier conferences for security professionals. You will enjoy two full days of education to keep you at the forefront of the industry with plenty of opportunities to network, form partnerships, and meet with top of the line security manufacturers.
READ MORE
| | |
| --- | --- |
| Interested in becoming a Successful Security Consultant (SSC)? | |
IAPSC
Plan to join us June 1 at Wild Horse Pass for a day-long intensive program that will show you how to develop, market and deliver security consultant services. The class will run from 7 am to 5 pm. You won't want to miss this opportunity! Then stay for our annual conference.
READ MORE
| | |
| --- | --- |
| Don't miss your chance to highlight your name & support for our highly influential audience | |
IAPSC
A partnership with the International Association of Professional Security Consultants is a great opportunity to introduce your organization to one of the most well-respected risk-management focused organizations in the world. For more information, please reach out to us at IAPSC@IAPSC.org .
READ MORE
---
| | |
| --- | --- |
| Virustotal uploaded 11 Malware related to Lazarus Group | |
DigitalMunition
The U.S. Cyber Commnad which has uploaded 11 malwares which are related to a North Korean Lazarus group. While investigating with several samples, U.S. cyber command found that they belong to HOPLIGHT Trojan. This trojan is designed to gather information of the victim computer. According to ethical hacking researcher of international institute of cyber security this trojan uses public SSL certificates to communicate with cyber criminals.
READ MORE
---
| | |
| --- | --- |
| Hacked SharePoint Sites Used to Bypass Secure Email Gateways | |
Bleeping Computer
Phishers behind a new campaign have switched to using compromised SharePoint sites and OneNote documents to redirect potential victims from the banking sector to their landing pages.
READ MORE
| | |
| --- | --- |
| Ransomware Gang Breach Data Backup Software Used By Hundreds of US Dental Offices | |
TNW
Hundreds of dental offices across the US have been crippled by a ransomware attack targeting a remote data backup service offered by a third-party. PerCSoft and Digital Dental Record (DDR) — the two Wisconsin-based software companies — provide a solution called DDS Safe that delivers triple-layer protection by backing up sensitive medical records to the cloud, an offline workstation, and an in-office hard disk drive.
READ MORE
---
| | |
| --- | --- |
| Hacker Finds Instagram Account Takeover Flaw Worth $10,000 | |
Security Week
A researcher says he has received $10,000 from Facebook after finding another critical vulnerability that could have been exploited to hack Instagram accounts.
READ MORE
| | |
| --- | --- |
| Protocol used by 630,000 devices can be abused for devastating DDoS attacks | |
ZDNet
Security researchers are sounding the alarm about the Web Services Dynamic Discovery (WS-DD, WSD, or WS-Discovery) protocol, which they say can be abused to launch pretty massive DDoS attacks.
READ MORE
| | |
| --- | --- |
| Malicious Android Apps Containing Joker Malware Set Up Shop on Google Play | |
ZDNet
A new malware campaign has managed to infiltrate the official Google Play store to deploy the Joker Trojan to Android devices in a bid to conduct ad fraud.
READ MORE