| | |
| --- | --- |
| IAPSC's 35th Annual Conference | |
IAPSC

The IAPSC Annual Conference is coming up on May 4-6, 2019 in Miami, FL.

You're invited to join your IAPSC Colleagues for one of the premier conferences for security professionals. You'll participate in two full days of education to keep you at the forefront of your industry with plenty of opportunities to network, form partnerships, and meet with top of the line security manufacturers.

Discussion Highlights:
• Winning RFPs
• Trends in Security for Nightclubs and Bars
• Eeny, Meeny, Miny, Moe – Where Do I Begin?
• The Top 10 Contract/Agreement Must Haves
• Parkland Shooting: An Update and Lessons Learned
• Vetting Forensic Cases: From First Call Through Trial
• Criminologist: Crimes and Neighborhoods
• The Value of Networking as a Security Consultant

Download the promotional flyer [PDF]

Registration will open in Fall 2018. Visit iapsc.org for the latest program updates and conference information.

ABSTRACT SUBMISSION — Due September 24, 2018
Interested in speaking at the conference? Submit an abstract for consideration here.
| | |
| --- | --- |
| IAPSC Annual Sponsorship Opportunities are now available for 2019! | |
IAPSC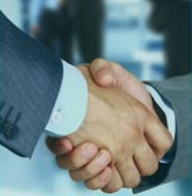 Why become an IAPSC sponsor? Because partnership with the International Association of Professional Security Consultants (IAPSC) is your opportunity to introduce your organization to one of the most well-respected security associations in the world! Our members have the capacity to influence millions in security spending. A partnership with the IAPSC is your opportunity to connect with best-in-class security consultants in a variety of specialties. The IAPSC Annual Sponsorship model offers our sponsoring partners year-round exposure and networking with our consultant members.

Download the brochure to learn more.

| | |
| --- | --- |
| Last Chance to Sign Up for the IAPSC Successful Security Consulting Seminar | |
IAPSC
Sunday, September 23, 2018 | 8:00 am – 5:00 pm

Looking to successfully launch a new security consultant practice or jump-start an existing one? Back by popular demand, this unique program can show you how! Learn from seasoned consultants how to develop and market yourself and avoid costly mistakes that can sabotage your success. Gain practical information to save you time, money, and frustration. You'll return home with sample proposals and reports that give you a clear advantage when competing for a security consulting assignment.

Registration starts at $250 for this one-day pre-conference program offered at ASIS' Annual Conference: GSX in Las Vegas, NV.

Learn More

Register Now
| | |
| --- | --- |
| Become a Certified Security Consultant (CSC) & Pave Your Path to Success | |
IAPSC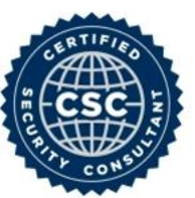 Earning the Certified Security Consultant designation demonstrates your depth of knowledge, professional objectivity, integrity, and skills as a security consultant. The CSC requires a combination of experience, education, independence, ethics, and successfully passing an online examination. The exam is open to both members and non-members as well as independent (external) and internal consultants. IAPSC members are pre-qualified to sit for the exam and receive a discount on the certification fee. Learn more here and apply today!

| | |
| --- | --- |
| Join an IAPSC Interest Group | |
IAPSC
If you're interested in connecting with other members on topics of mutual interest, we invite you to join us on GoToMeeting for our Monthly meetings.

Security Design and Engineering Interest Group
Friday, September 21 @ 10:00 AM; 1:00 PM ET

Cybersecurity Interest Group
Friday, October 19 @ 9:00 AM; 12 Noon ET

Forensics and Security Management Interest Group
Friday, November 16 @ 9:00 AM PT; 12 Noon ET

For more info and to RSVP, go to: https://iapsc.org/events/
| | |
| --- | --- |
| How do security entrances affect an organization's bottom line? | |
Boon Edam, IAPSC Annual Sponsor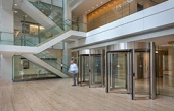 Not all physical security entrances are created equal. In fact, their capabilities vary greatly, and therefore, impact an organization's overall anti-tailgating strategy differently in terms of capital outlay, manpower needed, annual operating costs, ROI, and user education and preparation. We've identified four security entrance capability levels based on each product's working principle. You can think of a capability level as a goal: Does your client want to detect tailgating or prevent it from happening altogether? Download our whitepaper so that you can truly consult your clients on the best entrance for their unique security goals.
READ MORE
---
| | |
| --- | --- |
| Cyber Daily: Calculated Risks; Shifting US Cyber Diplomacy | |
WSJ Pro
Just like valuable data, corporate staff who are likely to be targeted by cyber criminals also must be identified and protected. The security team at Scotts Miracle-Gro Co. calculates risk scores for every employee to help determine how they may interact with the company's technology systems, reports WSJ Pro Cybersecurity's Jeff Stone. As the work got underway, the company discovered that its HR representatives face some of the highest risk of being compromised, partly because they so often receive unsolicited email with attachments.
READ MORE
---
| | |
| --- | --- |
| Apple Removes Top Security Tool for Secretly Stealing Data | |
Info Security
Apple has been forced to remove one of the most popular security apps on its Mac App Store after it was found to be secretly exfiltrating browser data to China. Adware Doctor had a 4.8-star rating off the back of over 7000 user reviews and sat at the top of the list of paid utility apps.
READ MORE
| | |
| --- | --- |
| 6 Ways Companies Fail At Security Fundamentals | |
CSO
A new report suggests many organizations are failing in the basic cyber hygiene efforts and leaving themselves exposed to hackers.
READ MORE
---
| | |
| --- | --- |
| The Equifax Breach One Year Later: 6 Action Items for Security Pros | |
Dark Reading
Large breaches have become such a fact of everyday life for the past few years that it's easy to pass off the Equifax breach last September as just another in a long string of bad security news. But make no mistake about it: this was a huge breach that will take several years to sort out.
READ MORE
| | |
| --- | --- |
| How Metrics Can Enhance the Effectiveness of Security Programs | |
Help Net Security
For anyone responsible for maintaining their organization's security posture, the findings from the SANS 2018 Security Operations Center (SOC) Survey should come as no surprise. Among the highlights, respondents reported a continued breakdown in communication between Network Operations Center (NOC) and SOC teams, and lack of dynamic asset discovery procedures.
READ MORE