| | |
| --- | --- |
| IAPSC Membership Benefits | |
IAPSC
Have you ever thought of an IAPSC membership? Below is a glimpse of our many benefits…

Become Part of the Largest Network of Security Consultants
IAPSC members are the most qualified, reputable, and respected group of security consultants in the world. The organization's high standards and rigid, selective process are recognized throughout the business community and security industry.

Referrals, Referrals, Referrals
Actively involved IAPSC members often receive new business referrals from other members and participate in "teaming" for new business development.

Partnerships Help You Serve Your Clients
When faced with opportunity to serve a new or existing client that requires expertise in an area outside the member's specialty, IAPSC security consultants often partner with other members or refer the assignment.

Website Visibility
The IAPSC website is often the source potential clients use to find a consultant. All IAPSC members are listed in the IAPSC's website directory as security consultants and experts, so your name is available to potential clients searching for a qualified security professional. In addition, IAPSC has created a security RFP distribution service that allows organizations to quickly and easily submit their security project RFPs to professional security consultants in IAPSC.

Annual Conference
This national event offers networking opportunities and educational programs specially tailored for professional security consultants.

Best Practices
IAPSC members are in a unique position to help develop and implement industry best practices.

Speaker's Bureau
Media contacts and speaking engagements are available to all Association members.

Research and Standards
Current IAPSC members have access to the most updated research abstracts on crime prevention methods, as well as an extensive list of national security standards.

Professional Affiliations
Members gain access to the Association of Security Consultants, a British-based international group, and the Security Executive Council, a research and services organization offering solutions to security management problems.

Interested? For more information, email us at iapsc@iapsc.org .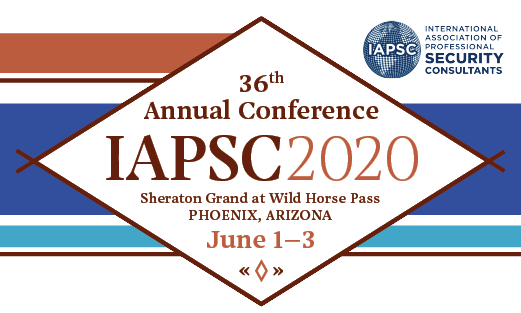 ---
| | |
| --- | --- |
| The Need For a Breakthrough in Cybersecurity | |
Forbes
The cybersecurity industry is growing fast. According to Strategic Cyber Ventures (via Forbes), venture capitalists (VCs) poured an unprecedented $5.3 billion of funding into cybersecurity companies in 2018. Yet during the same time period, the number of security breaches increased exponentially, and the amount of exposed data resulted in a crisis of global scale. According to the U.S. Identity Theft Resource Center, the number of breaches grew from 783 in 2014, an already frightening number, to a peak of 1,632 in 2017.
READ MORE
---
| | |
| --- | --- |
| Casual Dining Chains Identify Cause of Breach | |
Chain Store Age
Moe's Southwest Grill, McAlister's Deli and Schlotzsky's were hacked with an unauthorized code. The three restaurant retailers are providing an update on a payment card security incident customers were initially notified of on Aug. 20, 2019.
READ MORE
| | |
| --- | --- |
| Fake Office Activation Wizard Docs Used to Spread Emotet Trojan | |
Bleeping Computer
The Emotet botnet has switched to a new template used by malicious attachments that pretend to be a Microsoft Office Activation Wizard. When conducting spam campaigns, the actors behind Emotet will use malicious Word document templates that are designed to trick recipients into enabling macros in the document.
READ MORE
| | |
| --- | --- |
| These Sneaky Email Scammers Are Making It Even Harder For Workers To Spot Fake Invoices | |
ZDNet
Email scammers are getting more sophisticated, with one gang showing particularly advanced tactics for stealing from organizations across the world by using stealth, persistence and social engineering to trick firms into paying invoices for legitimate services.
READ MORE
---
| | |
| --- | --- |
| Vulnerabilities Exploited in Multiple VPN Applications | |
CISA
The U.K. National Cyber Security Centre (NCSC) has released an alert on advanced persistent threat (APT) actors exploiting vulnerabilities in Virtual Private Network (VPN) applications. A remote attacker could exploit these vulnerabilities to take control of an affected system.
READ MORE
| | |
| --- | --- |
| Attackers Focus on More Disruptive Ransomware Infections | |
Dark Reading
Details from a campaign tracked over the past five months show how cybercriminals are continuing to refine their strategies and attempting to adjust to victims' resolve to not pay ransoms.
READ MORE
| | |
| --- | --- |
| 218M Words with Friends Players Compromised in Data Breach | |
Dark Reading
A cybercriminal operating under the alias Gnosticplayers has broken into the Words with Friends database and gained access to 218 million player records, The Hacker News reports.
READ MORE