As a subscriber to IPC Global Insight, you will receive occasional messages from one of our sponsors. You may unsubscribe from future sponsor emails by clicking here.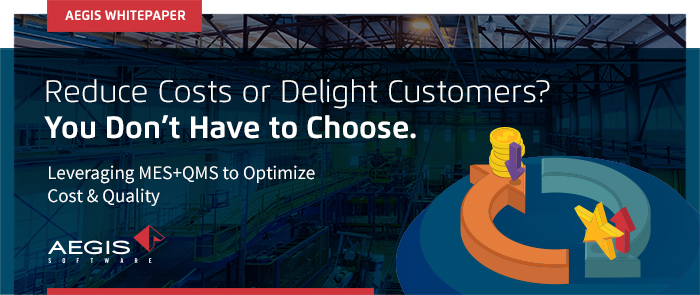 In today's customer-centered world, manufacturers are challenged to meet ever-rising customer demands while also reducing operating costs in an intensified competitive landscape.
While the priorities of quality and cost control may seem mutually exclusive, best-in-class manufacturers take a holistic approach to quality management that enables them to have their cake and eat it, too. By employing a quality-driven mindset across every layer of their operation, manufacturers can strategically enhance process visibility and compliance to improve both cost and customer satisfaction.
Download the whitepaper to learn:
The traditional challenges of balancing manufacturing costs with customer needs.
The 4 leading approaches to balancing cost and quality, based on Best-in-Class behavior.
How an MES + QMS solution strategically reduces the cost of quality for manufacturers.
The power of Aegis' FactoryLogix® platform to simultaneously reduce costs and improve quality for today's leading manufacturers.
Aegis Software  |  5 Walnut Grove Drive  |  Horsham, Pennsylvania
7701 Las Colinas Ridge, Ste. 800, Irving, TX 75063