---
| | |
| --- | --- |
| Transplant Nurses Day Essay Contest | |
My Transplant Nurse: An Avenger of Transplant

In April 2006, ITNS created Transplant Nurses Day to raise awareness of the unique contributions transplant nurses make in the lives of the people with whom they work, especially their patients. The celebration takes place the third Wednesday in April, this year April 17, and recognizes the skill and commitment of transplant nurses around the world. The Transplant Nurses Day Essay Contest allows patients to nominate an ITNS transplant nurse who has made a difference in their lives. Nominations for the Transplant Nurses Day Essay Contest will close on Friday, March 1, 2019.

Help ITNS spread the word! Feel free to print the contest brochure and display it at your hospital or workplace. Encourage your patients to nominate an ITNS member for this prestigious award!
---
---
| | |
| --- | --- |
| Product Feature: ITNS Core Curriculum, second edition | |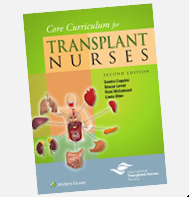 Expanded and updated to reflect today's thinking, the ITNS Core Curriculum for Transplant Nurses, second edition offers real-life direction on the science and skills required for every kind of solid organ transplant-- from initial evaluation to long-term follow-up. Order your copy today! ITNS members pay only $79.99 USD!

| | |
| --- | --- |
| Patient Education Booklets For Hospital Use | |


Interested in printing copies of the patient educational booklets to distribute at your hospital or facility? Visit the online store to purchase unrestricted permission to photocopy or print a patient education handbook for educational use. After purchase, email info@itns.org with the title of the patient education booklet you would like to reproduce. Then, an ITNS staff member will email you a print ready PDF file for your use.
---
| | |
| --- | --- |
| CDC: Proportion of increased-risk deceased organ donors on rise | |
Renal & Urology News
Among deceased organ donors, there has been an increase in the proportion at increased risk for transmitting hepatitis B virus, hepatitis C virus, and HIV to recipients, according to research published in the Jan. 25 issue of the U.S. Centers for Disease Control and Prevention Morbidity and Mortality Weekly Report.
READ MORE
| | |
| --- | --- |
| Genomic sequencing test detects lung transplant rejection | |
Health IT Analytics
A simple blood test that relies on genomic sequencing can detect when a newly transplanted lung is being rejected by a patient, even when no outward signs of rejection are evident. The test could enable physicians to intervene faster and prevent or slow down chronic rejection, which is severe, irreversible, and often deadly. The researchers, whose work was funded by the National Heart, Lung, and Blood Institute, also believe that this test could be useful for detecting rejection in other types of organ transplants.
READ MORE
| | |
| --- | --- |
| Liver transplant tug-of-war pits NYC, Chicago against rural US | |
Bloomberg Government
Senators from states where patients have long enjoyed some of the easiest access to transplanted livers are balking at coming changes to how donated organs are distributed. People with failing livers in states including Florida, Kentucky, Iowa, and South Carolina typically get organ donations earlier than patients in California, Maryland, and New York, according to federal data. The national system for determining who gets donated livers, however, is set to change this year to benefit those areas where people with liver disease have historically faced longer waits, such as Chicago and New York City.
READ MORE
| | |
| --- | --- |
| Frailty tied with cognitive impairment after kidney transplantation | |
Renal & Urology News
Frail kidney transplant recipients experience cognitive improvement soon after transplant surgery, but their cognitive performance slips over the next few years. In a study of 665 KT recipients (mean age 52 years), 15 percent were frail based on the Fried physical frailty phenotype.
READ MORE
| | |
| --- | --- |
| Alcohol-linked disease overtakes Hep C as top reason for liver transplant | |
New Hampshire Union Leader
An estimated 17,000 Americans are on the waiting list for a liver transplant, and there's a strong chance that many of them have alcohol-associated liver disease. ALD now edges out hepatitis C as the No. 1 reason for liver transplants in the United States, according to research published last week in JAMA Internal Medicine. One reason for the shift, researchers said, is that hepatitis C, which used to be the leading cause of liver transplants, has become easier to treat with drugs.
READ MORE
| | |
| --- | --- |
| Development and clinical validity of a novel blood-based molecular biomarker for subclinical acute rejection following kidney transplant | |
American Journal of Transplantation
Noninvasive biomarkers are needed to monitor stable patients after kidney transplant, because subclinical acute rejection, currently detectable only with surveillance biopsies, can lead to chronic rejection and graft loss. We conducted a multicenter study to develop a blood‐based molecular biomarker for subAR using peripheral blood paired with surveillance biopsies and strict clinical phenotyping algorithms for discovery and validation.
READ MORE
| | |
| --- | --- |
| Incidence, outcomes, and long-term immune response to tuberculosis in organ transplant recipients | |
Transplantation
Tuberculosis is a significant opportunistic infection in solid organ transplant recipients. There are limited data on TB incidence in transplantation from low prevalence countries as well as on long-term TB-specific immune responses. We performed a single-center retrospective review of SOTR diagnosed with active TB between 2000 and 2015 and further contacted the available patients for a study of long-term T-cell responses using an interferon-gamma (IFN-γ) release assay and a flow cytometry-based assay.
READ MORE
| | |
| --- | --- |
| International liver transplantation consensus statement on end-stage liver disease due to nonalcoholic steatohepatitis and liver transplantation | |
Transplantation
Nonalcoholic steatohepatitis-related cirrhosis has become one of the most common indications for liver transplantation, particularly in candidates older than 65 years. Typically, NASH candidates have concurrent obesity, metabolic, and cardiovascular risks, which directly impact patient evaluation and selection, waitlist morbidity and mortality, and eventually posttransplant outcomes. The purpose of these guidelines is to highlight specific features commonly observed in NASH candidates and strategies to optimize pretransplant evaluation and waitlist survival.
READ MORE