---
| | |
| --- | --- |
| Shop for Transplant Nurses Day | |


ITNS, in conjunction with Jim Coleman, Ltd., is offering Transplant Nurses Day products including mugs, pens, totes, and more. These items make great gifts for your friends and colleagues. View the products and place your order today!
| | |
| --- | --- |
| Apply for a Leadership Position with ITNS | |
If you are interested in applying for a leadership position with ITNS and becoming a key component in transforming the future of transplant nursing, please review the following documents about becoming a candidate. The deadline to submit a completed candidate application is Monday, April 15, 2019 at 5 PM Eastern Standard Time (USA).

Candidate Handbook - contains an overview of the elections process, board position descriptions, and a candidate application
Candidate Application - all the necessary materials to successfully submit your name for consideration to be added to the 2017 ballot
Reference Form

All interested candidates must submit a fully completed application to lzamora@itns.org by Monday, April 15, 2019 at 5 PM Eastern Standard Time (USA). It is the responsibility of the candidate to fully complete the application and ensure accuracy. Incomplete submissions will not be accepted.
---
---
| | |
| --- | --- |
| Advertise Your Open Position on the ITNS Career Center | |
Looking to fill a role in your hospital? Advertise your open position with ITNS. Check out the ITNS Career Center at http://itns.org/career-center/career-center
| | |
| --- | --- |
| Product Feature: ITNS Core Curriculum, second edition | |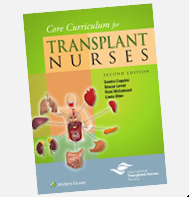 Expanded and updated to reflect today's thinking, the ITNS Core Curriculum for Transplant Nurses, second edition offers real-life direction on the science and skills required for every kind of solid organ transplant-- from initial evaluation to long-term follow-up. Order your copy today! ITNS members pay only $79.99 USD!

---
| | |
| --- | --- |
| Not all cellular rejections are the same: Differences in early and late hepatic allograft rejection | |
AASLD
T cell-mediated rejection is common after liver transplantation, and it is often thought to have a minimum impact on outcomes. Because alloimmune response changes over time, we investigated the role of the timing of TCMR on patient and allograft survival and examined the risk factors for early and late TCMR. We reviewed protocol liver biopsies for 787 consecutive LT recipients with an 8.6‐year follow‐up.
READ MORE
| | |
| --- | --- |
| First state-of-the-art meeting on uterus transplantation | |
Transplantation via Wolters Kluwer
Uterus transplantation is a young, albeit rapidly growing field in medicine in which multidisciplinary efforts of transplantation surgery, gynecology, and assisted reproduction technologies are synergized. The first clinical transplantation trial was launched in 2012 in Sweden following extensive preparatory work in small and large animals.
READ MORE
| | |
| --- | --- |
| Consistent success in life-supporting porcine cardiac xenotransplantation | |
Nature
Heart transplantation is the only cure for patients with terminal cardiac failure, but the supply of allogeneic donor organs falls far short of the clinical need. Xenotransplantation of genetically modified pig hearts has been discussed as a potential alternative.
READ MORE
| | |
| --- | --- |
| Decision support needs of kidney transplant candidates regarding the deceased donor waiting list: A qualitative study and conceptual framework | |
Clinical Transplantation
Kidney transplant candidates face complex decisions about transplant options such as living donation or acceptance of lower quality kidneys. We sought to characterize knowledge and decision support needs regarding kidney transplant outcomes and options.
READ MORE
| | |
| --- | --- |
| The impact of post-reperfusion syndrome during liver transplantation using livers with significant macrosteatosis | |
American Journal of Transplantation via Wiley Online Library
The impact of post-reperfusion syndrome during liver transplantation using donor livers with significant macrosteatosis is largely unknown. Clinical outcomes of all patients undergoing LT with donor livers with moderate macrosteatosis between 2000-17 were compared to propensity score matched cohorts of patients undergoing LT with donor livers with mild macrosteatosis.
READ MORE
| | |
| --- | --- |
| Extracorporeal membrane oxygenation as a salvage therapy for patients with severe primary graft dysfunction after heart transplant | |
Clinical Transplantation
Severe primary graft dysfunction is the leading cause of early death after heart transplant. We reviewed electronic health records of adult patients who underwent heart transplant from November 2005 through June 2015. We defined severe PGD according to International Society for Heart and Lung Transplantation consensus statements.
READ MORE
| | |
| --- | --- |
| Evaluation of outcomes in renal transplantation with hypothermic machine perfusion for the preservation of kidneys from expanded-criteria donors | |
Clinical Transplantation
In 2012, an expert working group from the French Transplant Health Authority recommended the use of hypothermic machine perfusion to improve kidneys preservation and transplant outcomes from expanded criteria donors, deceased after brain death. This study compares HMP and cold storage effects on delayed graft function and transplant outcomes.
READ MORE
| | |
| --- | --- |
| Histological picture of antibody-mediated rejection without donor-specific anti-HLA antibodies: Clinical presentation, implications for outcome | |
American Journal of Transplantation via Wiley Online Library
In this cohort study, we investigated the phenotype and risk of graft failure in patients with histological criteria for antibody-mediated rejection in the absence of circulating donor-specific anti-human leukocyte antigen antibodies, and compared this to patients with definite ABMR and HLA-DSA-positivity.
READ MORE