---
| | |
| --- | --- |
| Shop on AmazonSmile to Support ITNS | |


When you shop Mother's Day gifts at smile.amazon.com/ch/20-1589538, AmazonSmile donates to the International Transplant Nurses Society (ITNS).
| | |
| --- | --- |
| Support the ITNS Foundation | |
Help us make a difference in transplant nursing by directly supporting the valuable research and education of ITNS members who strive to improve patient care in every way. Please consider a gift to the ITNS Foundation and join us as we work to improve transplant patient care. To make a donation, you can donate online at http://apps.itns.org/Donations/DonationsListingPage.
---
---
| | |
| --- | --- |
| Advertise Your Open Position on the ITNS Career Center | |
Looking to fill a role in your hospital? Advertise your open position with ITNS. Check out the ITNS Career Center at http://itns.org/career-center/career-center
| | |
| --- | --- |
| Product Feature: ITNS Core Curriculum, second edition | |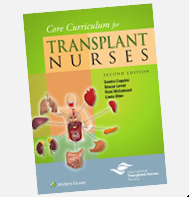 Expanded and updated to reflect today's thinking, the ITNS Core Curriculum for Transplant Nurses, second edition offers real-life direction on the science and skills required for every kind of solid organ transplant-- from initial evaluation to long-term follow-up. Order your copy today! ITNS members pay only $79.99 USD!

| | |
| --- | --- |
| New Member Spotlight | |

Meet Destiny Ekechukwu, ADN RN, who joined ITNS in February. Destiny works at CHI Baylor St. Luke's Hospital in Houston, TX. Destiny became a Transplant Nurse from an IMCU unit because she wanted more challenges. She has continued to be a Transplant Nurse because she enjoys contributing to the interdisciplinary efforts to help patients and families recover, understand the process, and be able to care for themselves after they have transitioned into society.

Destiny, we are glad to have you as a member of ITNS!

---
| | |
| --- | --- |
| Transplant tourism: A 'pervasive' and dangerous 'shadow world of medicine' | |
Healio
Transplant tourism, in which a patient travels to another country to acquire an organ, is thought to make up 10 percent of all solid organ transplants worldwide. "It is not just an infectious disease problem but a global problem that spans not just ID medicine and surgery but healthcare in general, politics, policymakers, lawyers and a vulnerable population," Infectious Disease News Editorial Board member Peter Chin-Hong, MD, professor of medicine and director of the transplant infectious disease program at University of California, San Francisco, said in an interview. "It is really very pervasive in society."
READ MORE
| | |
| --- | --- |
| More care is needed for patients after kidney transplantations, reports research | |
News-Medical
Patients with chronic kidney disease, and dialysis patients especially, have a significantly higher cardiovascular morbidity and mortality than healthy people. Kidney transplantation is the best renal replacement therapy available. Compared to dialysis patients, transplant recipients have significantly better long-term survival and quality of life. Although their cardiovascular risk decreases, cardiovascular complications are still the main cause of shortened patient and organ survival. One recently published review shows current data and derives important conclusions for further long-term improvements in outcomes after kidney transplantation — a highly topical issue, especially for cost reasons and organ or donor scarcity.
READ MORE
| | |
| --- | --- |
| New rules for lung transplants lead to unintended consequences | |
Washington University in St. Louis via EurekAlert!
A donated lung suitable for transplant is a scarce resource. For this reason, the national policy determining which patients on the lung transplant waiting list will receive such an organ has provoked significant discussion and recently generated much controversy. At issue is whether lungs should go to the sickest patients within a local area or the sickest patients in a broader region — all while balancing the likelihood of whether a transplant will be successful.
READ MORE
| | |
| --- | --- |
| Rare gene variants linked to worse lung transplant outcomes in PF patients | |
Pulmonary Fibrosis News
Rare variants in genes that regulate the end regions of chromosomes — called telomeres — are linked with worse survival rates after lung transplant in pulmonary fibrosis patients, a study suggests. The study, "Lung Transplant Outcomes in Pulmonary Fibrosis Patients with Telomere-Related Gene Variants" was published in the journal Chest.
READ MORE
| | |
| --- | --- |
| Variation in use of procurement biopsies and its implications for discard of deceased donor kidneys recovered for transplantation | |
American Journal of Transplantation
The use of procurement biopsies in deceased donor kidney acceptance is controversial. We analyzed Scientific Registry of Transplant Recipients data to describe biopsy practices across U.S. organ procurement organizations and examine relationships with discards, using hierarchical modeling to account for OPO and donor factors.
READ MORE
| | |
| --- | --- |
| Model to calculate harms and benefits of early vs delayed liver transplantation for patients with alcohol-associated hepatitis | |
Gastroenterology Journal
Early liver transplantation (without requiring a minimum period of sobriety) for severe alcohol-associated hepatitis is controversial—many centers delay eligibility until a specific period of sobriety (such as six months) has been achieved. To inform ongoing debate and policy, we modeled long-term outcomes of early vs delayed liver transplantation for patients with AH.
READ MORE
| | |
| --- | --- |
| Chronic pain following laparoscopic living-donor nephrectomy: Prevalence and impact on quality of life | |
American Journal of Transplantation
Chronic postsurgical pain following laparoscopic donor nephrectomy is a disregarded topic. In this cross‐sectional study, all consecutive patients who underwent an LDN at the Radboud University Medical Center were approached for participation.
READ MORE
| | |
| --- | --- |
| An advanced practice practitioner-based program to reduce 30- and 90-day readmissions after liver transplantation | |
National Institute of Health
Hospital readmissions after liver transplantation are common and associated with increased morbidity and cost. High readmission rates at our center motivated a change in practice with adoption of a nurse practitioner-based post-transplant care program. We sought to determine if this program was effective in reducing 30- and 90-day readmissions after LT, and to identify variables associated with readmission.
READ MORE