---
| | |
| --- | --- |
| New Modules Available in the CCTC/CCTN Online Review Course | |

The CCTC and CCTN Online Review Course, presented by Sandra Cupples, PhD RN FAAN and Linda Ohler, RN MSN CCTC FAAN FAST, is a comprehensive program for transplant nurses preparing for the CCTC and CCTN examinations. Two new modules in the Online CCTC/CCTN Review Course have been released: Care of the Living Donor and Kidney and Pancreas. Learn more and purchase in the ITNS online store.

| | |
| --- | --- |
| ITNS joins HRSA in recognizing hospitals, transplant centers, and donation organizations for national organ donation efforts in the 2019 campaign | |
The Health Resources and Services Administration recently recognized more than 1,460 transplant centers and hospitals, including 339 small and rural hospitals, for their efforts to promote organ donation registration in the 2019 Workplace Partnership for Life Hospital Organ Donation Campaign.

The campaign challenges hospitals and healthcare organizations to "let life bloom" by educating their staff, patients, visitors, and communities about the critical need for organ, eye, and tissue donation and by offering them opportunities to sign up as donors. Working with organ procurement organizations, "Donate Life America" affiliates, and state healthcare associations, hospital partners added more than 48,000 donor registrations to state registries between October 2018 and April 2019. Hospitals earned platinum, gold, silver, and bronze recognition based on the number of outreach activities they implemented and donor registrations they prompted. The campaign has generated more than 492,000 registrations since it began in 2011.

The 2019 campaign saw a nearly 16% increase in participation from the 2018 campaign. See a list of all partners recognized.

ITNS is proud to be one of 10 national partners supporting this initiative, and we encourage more hospitals, state hospital associations, and donation organizations across the country to join this important effort to help increase donor registration. For information about joining, visit the Hospital Campaign page here.
---
---
| | |
| --- | --- |
| Enter the ITNS Photo Contest | |
Be a part of the Transplant Nursing Photo Contest! Snap a picture that conveys your experience as a transplant nurse and ITNS members will vote for their favorite image.

It's easy! Simply email your favorite transplant nursing-related photo with a title, short description, and signed permission form for everyone that appears in the photo.

Visit the ITNS website for full contest details. Email all submissions to Rita Wirth, ITNS Staff, at rwith@itns.org by Friday, Oct. 4, 2019.
| | |
| --- | --- |
| Product Feature: ITNS Core Curriculum, second edition | |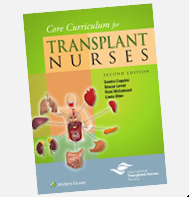 Expanded and updated to reflect today's thinking, the ITNS Core Curriculum for Transplant Nurses, second edition offers real-life direction on the science and skills required for every kind of solid organ transplant-- from initial evaluation to long-term follow-up. Order your copy today! ITNS members pay only $79.99 USD!




Promoted by

Veloxis Pharmaceuticals



Follow the journeys of kidney transplant patients who transitioned to a different immunosuppression regimen. After talking with their doctors about their experiences with other options, they decided to make a switch.

Watch video
---
| | |
| --- | --- |
| Your new heart could be made in China | |
Bloomberg
Recently, a Chinese startup named Qihan Biotech raised $20 million to develop replacement organs for humans. The smallish deal would hardly have rated a headline, except for the fact that the Hangzhou-based gene-editing company is aiming to grow those organs in pigs and other animals. If successful, such transplants could well transform medicine. And, thanks to a unique confluence of need, money, timing and culture, China is poised to lead the way in developing them.
READ MORE
Advertisement
Veloxis Pharmaceuticals

Over the long-term, graft survival may be impacted by factors such as declining adherence, which may be affected by complex dosing regimens and neurotoxicities. Studies show a direct correlation between rejection losses and nonadherence, which is also proven to increase over time. Review 2-year published data and see the results achieved at 2 years in de novo kidney transplant patients.

See the data
| | |
| --- | --- |
| Racial disparities found in pregnancy rates for kidney transplant recipients | |
News-Medical
Among women who are kidney transplant recipients, Hispanic women have a higher likelihood of pregnancy than white women, according to new research from the University of Cincinnati. The study, published in the PLOS ONE journal, demonstrates the importance of understanding the factors responsible for these disparities in pregnancy rates.
READ MORE
| | |
| --- | --- |
| Donor outcomes in anonymous live liver donation | |
Journal of Hepatology
Death rates on liver transplant waiting lists range from 5-25 percent. Herein, researchers report a unique experience with 50 anonymous persons who volunteered to address this gap by offering to donate part of their liver to a recipient with whom they had no biological connection or prior relationship.
READ MORE
| | |
| --- | --- |
| Antibiotic pretreatment alleviates liver transplant damage in mice and humans | |
JCI
Although modifications of gut microbiota with antibiotics influence mouse skin and cardiac allografts, its role in orthotopic liver transplantation remains unknown. We aimed to determine whether and how recipient Abx pretreatment may affect hepatic ischemia-reperfusion injury and OLT outcomes.
READ MORE
| | |
| --- | --- |
| Building lung capacity, lung-first | |
Yale University via Medical Xpress
Pneumonia, aspiration, fluid in the lungs, and injuries from mechanical ventilators can severely damage the lungs of people who are critically ill. Transplanted lungs are tragically scarce and beyond the reach of most such patients, including those burdened by such chronic lung diseases as cystic fibrosis or emphysema. What if custom-grown new lungs were an option? The idea sounds like science fiction. But the disembodied living lungs in one Yale researcher's lab show that a bioengineered organ is well along the road to reality.
READ MORE
| | |
| --- | --- |
| Features of urinary obstruction following kidney transplantation identified for the first time | |
Medical University of Vienna via Medical Xpress
A research group from the Medical University of Vienna has successfully described the histological features of urinary obstruction in humans the first time. Using data obtained from kidney transplant patients, it might be possible in the future to identify potentially dangerous complications following a kidney transplant at an earlier stage, and thus provide prompt treatment.
READ MORE
| | |
| --- | --- |
| Human T-cell lymphotrophic virus in solid-organ transplant recipients | |
The Journal of Clinical and Translational Research
These updated guidelines from the Infectious Diseases Community of Practice of the American Society of Transplantation review the diagnosis, prevention, and management of Human T‐cell lymphotrophic virus 1 in the pre‐ and post‐transplant period.
READ MORE
BMC Infectious Diseases
S. pneumoniae is the leading cause of community-acquired pneumonia in the solid organ transplant recipient; nevertheless, the prevalence of colonization and of the colonizing/infecting serotypes has not been studied in this population. In this context, the aim of the present study was to describe the rate, characteristics, and clinical impact of S. pneumoniae nasopharyngeal carriage.
READ MORE