---
| | |
| --- | --- |
| "Give Hope for New Life" Project Wins Award | |
A group of Bradley University public relations students recently teamed up with Gift of Hope and Green Ford to raise awareness for organ donation registration among local Peoria high school students.

As of January 2018, Illinois legislation granted 16-year-olds access to first-person organ donor registration. In other words, these high schoolers no longer need their parent's consent to sign up. For the Bradley public relations senior capstone project, one group formed the PR agency PRISM to raise awareness of organ donation among high school students and to break down stigmas.

For their efforts, the team was awarded the Fall 2018 Ebeling PR-ize™. Congratulations to Bradley University students Rachel Kendziora, Ranana Levy, Ellie Stamper, Emma Krantz and their professor Dr. Rachelle Pavelko.

The informational video the students created is being used by six local driver's education programs. View the video here.
---
---
| | |
| --- | --- |
| Refer a Friend for Membership in ITNS | |

Log into your account at ITNS.org and click the "My Account" button
Click the "Refer a Friend" link on the left side of the page.
Complete the form and click "Send." You have the option to send yourself a copy of the referral email.
You friend will receive a special email invitation to join ITNS.
| | |
| --- | --- |
| Product Feature: ITNS Core Curriculum, second edition | |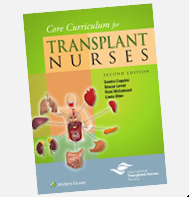 Expanded and updated to reflect today's thinking, the ITNS Core Curriculum for Transplant Nurses, second edition offers real-life direction on the science and skills required for every kind of solid organ transplant-- from initial evaluation to long-term follow-up. Order your copy today! ITNS members pay only $79.99 USD!

| | |
| --- | --- |
| Advertise Your Open Position on the ITNS Career Center | |
Looking to fill a role in your hospital? Advertise your open position with ITNS. Check out the ITNS Career Center at http://itns.org/career-center/career-center
---
| | |
| --- | --- |
| Livebirth after uterus transplantation from a deceased donor in a recipient with uterine infertility | |
The Lancet
We describe, to our knowledge, the first case worldwide of livebirth following uterine transplantation from a deceased donor in a patient with MRKH syndrome. The results establish proof-of-concept for treating uterine infertility by transplantation from a deceased donor, opening a path to healthy pregnancy for all women with uterine factor infertility, without need of living donors or live donor surgery.
READ MORE
| | |
| --- | --- |
| Optimization of heart allocation: The transplant risk score | |
American Journal of Transplantation
The new French heart allocation system is designed to minimize waitlist mortality and extend the donor pool without a detrimental effect on post‐transplant survival. This study was designed to construct a one‐year post‐transplant graft‐loss risk score incorporating recipient and donor characteristics. The study included all adult first single‐organ recipients transplanted between 2010 and 2014.
READ MORE
| | |
| --- | --- |
| US organ transplant rules get an overhaul | |
Modern Healthcare
A powerful but obscure panel, which governs which chronically ill people get critical organ transplants and when, overhauled its rules for these decisions last week, transforming the long-time geography-based system. Under the new system, the patient with the most urgent need for a transplant will have first claim on any organ from a compatible donor within a 150-mile radius, then a 250-mile radius and on up to a 500-mile radius. This process will continue with the priority given to the sickest people. There are generally fewer than 50 patients nationwide who would qualify for this priority "at any given moment," according to the United Network for Organ Sharing, or UNOS.
READ MORE
| | |
| --- | --- |
| Kidneys from deceased donors with acute kidney injury suitable for transplant | |
Johns Hopkins University School of Medicine via Medical Xpress
Organ procurement teams are sometimes leery of accepting kidneys from deceased donors with acute kidney injury, fearing they will harm the recipients. However, a national study chaired by a Johns Hopkins kidney specialist suggests these fears may be unfounded. In medical chart reviews of 2,430 kidneys transplanted from 1,298 donors—585 (24 percent) of them with AKI—researchers say they found no significant differences in rates of organ rejection among kidneys from deceased donors with or without AKI. They also report they found no evidence that factors such as the amount of time an organ is chilled and left without blood supply before transplantation had any impact on recipient outcomes for those who received AKI kidneys.
READ MORE
| | |
| --- | --- |
| Piggyback or cava replacement: Which implantation technique protects liver recipients from acute kidney injury and complications? | |
Liver Transplantation
The cava‐preserving piggyback technique requires only partial cava clamping during the anhepatic phase in liver transplantation and, therefore, maintains venous return and may hemodynamically stabilize the recipient. Hence, it is an ongoing debate whether PB implantation is more protective from acute kidney injury after LT when compared with a classic cava replacement technique. The aim of this study was to assess the rate of AKI and other complications after LT comparing both transplant techniques without the use of venovenous bypass.
READ MORE
| | |
| --- | --- |
| Minimally invasive, robot-assisted procedure for kidney transplantation among morbidly obese: Positive outcomes at 5 years post-transplant | |
Clinical Transplantation
The pre-transplant weight loss required of end-stage renal disease patients is often unachievable. Though robot-assisted procedures among extremely obese have shown minimal complication, long-term outcomes are understudied. Previously, we reported no difference in 6-month patient and graft survival among 28 robot-assisted transplant cases (2009-2013) and 28 open controls (2004-2010).
READ MORE
| | |
| --- | --- |
| Changes in cerebral hemodynamics in patients with cirrhosis after liver transplantation | |
Liver Transplantation
Improvement in cognitive function after orthotopic liver transplantation has been demonstrated in the acute setting immediately after LT and in acute liver failure. However, the longterm changes in cerebral hemodynamics after LT remain unexplored. Therefore, we aimed to evaluate the longterm changes in cerebral hemodynamics of patients with cirrhosis after LT.
READ MORE