---
| | |
| --- | --- |
| OA's Almost Indelible Mark on Scholarly Publishing | |



Marcie Granahan,
NFAIS Executive Director

The Wellcome Trust, the first private funder to establish open access policies, announced that it will be reviewing and updating those policies in 2018 [see full article here]. With an initial goal of ensuring that research articles funded through Wellcome were made available via open access within six months of publication, the funder has now set its sights on supporting a transition to a fully OA world, where no research is behind a paywall.

According to a recent Springer Nature survey, 70% of professional staff in research institutions and 91% of library staff view open access as the future of academic and scientific publishing; however, many are not satisfied with the speed of the transition [see full article here].

Yes, the transition to OA has been slow, and even the European Union is expected to miss its target of having all scientific research freely available by 2020, [see full article here]. The majority of participating universities are reporting that less than one fifth of their researchers' peer-reviewed publications are freely available, and 100% full open access by 2020 may prove to be an unrealistic goal.

Open access was also an important theme of the NFAIS 60th Annual Conference—Information Transformation: Open. Global. Collaborative. The takeaway for many in attendance was that innovation is critical to increasing the productivity of scientists and other researchers but, as an industry, we remain stymied by paywalls and other technological barriers to access [see full article here]. As the energy of the "economic fairness" argument cools, it is being replaced by a more compelling argument that "open science" is critical for driving innovation and productivity.

I'm reminded of the old adage: Information wants to be free but who is going to pay for it? As an industry, we have yet to devise an equitable and sustainable "magic potion" model for underwriting full open access that is freely available to everyone. Even mega journal PeerJ has struggled to meet the financial returns of its venture capitalist investors [see full article here]. After launching in 2013, annual publication output doubled in 2014, but quickly slowed to 70% in 2015, 62% in 2016, and 6% in 2017.

With only 15 percent of journal article openly accessible at the time of publication, libraries are joining the charge. The University of California Libraries recently published a toolkit, Pathways to Open Access, designed to help campuses and research institutions redirect their spending away from subscription services and toward a sustainable open access model [see full article here]. UC libraries hope to be leaders in reforming scholarly publishing, and believe that transforming the scholarly publishing system to one based on open access requires removing publisher paywalls, and connecting readers to information and scholars to emerging scholarship and other authors.

Regardless of a long history of tension between libraries and publishers, most of the industry is now firmly committed to an open access/open science future. Indelibly, the landscape has changed. And while we may be slow to get there, get there we will.
Past insights and reflections on industry developments written by NFAIS Executive Director Marcie Granahan are now archived in NFAIS Community Forum. Feel free to post your comments about these and other key topics there.
| | |
| --- | --- |
| Featured Program: | |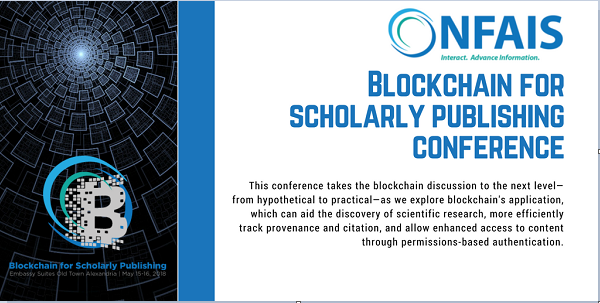 ---
| | |
| --- | --- |
| Wellcome is going to review its open access policy | |
Wellcome
We're going to do the first full review of our open access policy. Robert Kiley, Head of Open Research, explains the motivation behind the review, and how and when it will happen.
READ MORE
| | |
| --- | --- |
| Open access is the future — Springer Nature survey | |
Research Information
The overwhelming majority of professional staff in research institutions and libraries across the globe view open access as the future of academic and scientific publishing. However, many are not satisfied with the speed of transition, according to a survey by Springer Nature.
READ MORE
| | |
| --- | --- |
| Europe set to miss flagship open access target | |
Times Higher Education
The European Union is set to miss its target of having all scientific research freely available by 2020, as progress towards open access hits a "plateau" because of deeper problems in how research is assessed.
READ MORE
| | |
| --- | --- |
| Innovation at the edges: Driving home the case for 'open science' | |
Medium
The recent NFAIS annual conference largely delivered on its themes of "open, global, and collaborative" in addressing the ongoing transformation of scholarly and scientific communication.
READ MORE
| | |
| --- | --- |
| PeerJ waives APCs and pivots again | |
The Scholarly Kitchen
Recently, PeerJ announced that all accepted manuscripts submitted to its two journals (PeerJ and PeerJ Computer Science) before the end of the month would be published for free. This promotion coincided with PeerJ's 5th anniversary.
READ MORE
| | |
| --- | --- |
| UC libraries launch tool to help achieve open access | |
Berkeley Library
For far too long, a gold mine of knowledge has been locked away behind journal paywalls, or has been otherwise inaccessible to countless people who could benefit from it. To help address this problem, the scholarly community has been working toward achieving open access, helping to unlock this wealth of information by making it free to everyone, everywhere.
READ MORE
| | |
| --- | --- |
| New blockchain platform aims to shake up research citations | |
Times Higher Education
U.S.-based ARTiFACTS system is claimed to be first 'fully functional' blockchain-based system for recording research process.
READ MORE
| | |
| --- | --- |
| Digital Science and Katalysis lead initiative to explore blockchain technologies for peer review | |
Digital Science
The initiative is an important step towards a fairer and more transparent ecosystem for peer review and explores the utility of decentralized data stores in supporting trusted assertions that connect researchers to their activities.
READ MORE
| | |
| --- | --- |
| Blockchain to help scholarly publishing fight fraud | |
Chemistry World
Platform can time-stamp data to authenticate research. A new publishing system that uses the underlying technology behind the popular cryptocurrency bitcoin promises to solve some of academia's thorniest problems.
READ MORE
| | |
| --- | --- |
| Congress wants to use blockchain tech to make the government 'more efficient' | |
Fortune
U.S. government agencies should look to blockchain technology for ways to improve their work, a report from Congress recommends. "Government agencies at all levels should consider and examine new uses for this technology that could make the government more efficient in performing its functions," the 2018 Economic Report from the Joint Economic Committee, first posted recently, stated.
READ MORE
| | |
| --- | --- |
| AI researchers embrace Bitcoin technology to share medical data | |
Nature
Dexter Hadley thinks that artificial intelligence could do a far better job at detecting breast cancer than doctors do — if screening algorithms could be trained on millions of mammograms. The problem is getting access to such massive quantities of data.
READ MORE
| | |
| --- | --- |
| Blockchain is proving itself for real-world healthcare applications | |
Healthcare IT News
Even if you don't think blockchain is overhyped, you may still be convinced that whatever real-world promise it holds for healthcare is either too far in the theoretical future to think much about, or it's not yet worth the effort to implement.
READ MORE
| | |
| --- | --- |
| How AI is taking the scut work out of healthcare | |
Harvard Business Review
When we think of breakthroughs in healthcare, we often conjure images of heroic interventions — the first organ transplantation, robotic surgery and so on. But in fact many of the greatest leaps in human health have come from far more prosaic interventions — the safe disposal of human excrement through sewage and sanitation, for example, or handwashing during births and caesarians.
READ MORE
| | |
| --- | --- |
| Is there a glass ceiling in academic publishing? | |
UW News
Five years ago, Nature — one of the most prestigious research journals in science — published an editorial pledging to improve on the low number of women editors and authors in its pages.
READ MORE
| | |
| --- | --- |
| Math is revolutionizing the study of history — here's how | |
The Conversation
The study of history traditionally brings to mind images of dark, winding archives and the smell of dust; visions of academics poring through piles of documents to uncover secrets and find the missing piece, piles that are invariably too small to cover the subject and too high to be worked through.
READ MORE
| | |
| --- | --- |
| Research shows that published versions of papers in costly academic titles add almost nothing to the freely-available preprints they are based on | |
Techdirt
The open access movement believes that academic publications should be freely available to all, not least because most of the research is paid for by the public purse. Open access supporters see the high cost of many academic journals, whose subscriptions often run into thousands of dollars per year, as unsustainable for cash-strapped libraries and unaffordable for researchers in emerging economies.
READ MORE
| | |
| --- | --- |
| Peer review fails to prevent publication of paper with unsupported claims about peer review | |
The Scholarly Kitchen
While there is a steady stream of journal articles criticizing peer review, a recent publication, "Comparing published scientific journal articles to their pre-print versions", has a number of major problems. It's perhaps ironic that a paper finding no value in peer review is so flawed that its conclusions are untenable, yet its publication in a journal is itself an indictment of peer review.
READ MORE
| | |
| --- | --- |
| Wiley partners with OhioLINK to lower the cost of course materials in the state of Ohio | |
Wiley
John Wiley and Sons, Inc. and OhioLINK, a consortium of 91 Ohio college and university libraries, recently announced a new partnership that will reduce the cost of textbooks for students in the state of Ohio.
READ MORE
| | |
| --- | --- |
| VGR equips doctors with up to date clinical decision support from Wolters Kluwer | |
Business Wire
VGR is responsible for healthcare and medical treatment for over half a million residents in Sweden's second largest city, Gothenburg, and over a million residents in 48 other communities throughout the region's 25,000 km2. Now, with UpToDate Anywhere, VGR ensures access to the same high quality, evidence-based content across its nine regional general hospitals.
READ MORE
| | |
| --- | --- |
| Democratizing science: Researchers make neuroscience experiments easier to share, reproduce | |
UW News
Over the past few years, scientists have faced a problem: they often cannot reproduce the results of experiments done by themselves or their peers.
READ MORE
---
| | |
| --- | --- |
| Upcoming Events | |
NFAIS
Lunch & Learn: Editorial Engagement: Past, Present, and Future
Tuesday, March 27, 2018

Blockchain for Scholarly Publishing Conference
Tuesday, May 15 – Wednesday, May 16, 2018

Lunch & Learn: Innovate, Build, Launch & Knowing Your Customer at Every Stage of Product Development
Tuesday, May 22, 2018


---
| | | |
| --- | --- | --- |
| Director, Information Technology Services | Duke University Libraries | Durham, NC, United States |
| Director, Library Marketing | American Psychological Association | Washington, DC, United States |
| Research Librarian (Federal) | National Institute of Standards & Technology | Gaithersburg, MD, United States |
| Technical Product Owner | EBSCO Information Services | Ipswich, MA, United States |
The NFAIS Career Center is the premier one-stop place for employers and job-seekers in the information services field to make the right connections. Click here to view all job opportunities or to post an open position.