---
| | |
| --- | --- |
| The Discovery Disconnect: Closing the Gap Between Researcher Needs and Content Accessibility | |



Marcie Granahan,
NFAIS Executive Director

Artificial intelligence and machine learning will play a significant role in the future of scholarly and scientific discovery. But, as an industry, are we prepared for this change?

Silverchair launched a new text and data mining interface that addresses the expanding needs of researchers to mine research content [see full article here]. The new interface will allow Silverchair clients the ability to offer the purchase and download of full-text content packages, saving researchers and commercial data scientists significant time in data preparation, which can be as much as 60% - 90% of the time spent on the project.

DCL and the Center for Information Development Management (CIDM) recently released their sixth annual survey on content trends [see full article here]. After six years, the one trend that remains consistent is that while organizations are creating a lot of content, little is being done to prepare their content for machine learning algorithms and emerging artificial intelligence analysis techniques. Surprisingly, 71 percent of respondents reported that PDFs were their format of choice, which was down only slightly from 74 percent in 2017.

Google Scholar and EBSCO Information Services are both focused on making it easier for researches to find the content they need. EBSCO recently entered into a five-year agreement with the Georgia Library Learning Online (GALILEO) consortium to offer single sign-on access to its 400 colleges and public libraries utilizing the OpenAthens platform [see full article here]. Using a SAML-based approach, OpenAthens eliminates the need for IP recognition so users can sign-on once for on- and off-site access. Meanwhile, Google Scholar recently released Quick Abstracts, which allows researchers to view complete abstracts and explore citations from any mobile device [see full article here].

As machine learning and artificial intelligence advance, research data will become equally important for data mining. In a recent Springer Nature study, researchers expressed a strong desire that their data be discoverable [see full article here]. And, while 76 percent of researchers reported that making their data discoverable was highly important, 63 percent noted that when submitting data files to a journal it was treated as supplementary information or deposited in a repository. Elsevier hopes to address this with the launch of Mendeley Data. The new platform allows researchers to store, share, publish and query research data, allowing for improved data citation and, ultimately, access and reuse of research data.

Text and data mining allows researchers to make sense of the vast amount of data out there, which is why recently proposed EU copyright reform is receiving criticism from open-science advocates [see full article here]. The proposed new rules contain provisions that would let publishers claim royalties for use of snippets of information, such as tables or headlines, and require repositories to prevent the upload of copyrighted content instead of simply responding to publisher take-down notices. And, while text mining is exempt from EU copyright law for scientists at public research organizations, public-private partnership are not part of the exemption. Data scientists speculate that text and data mining will actually increase the demand for subscription articles, as increased data analytics will result in more requests for lawful access [see full article here].

As we move toward an open-science future, text and data mining will be critical to new discoveries and scientific breakthroughs. Machine learning algorithms and AI analysis techniques will require a broad range of data sources—from scientific articles to the research data itself. If your format of choice is still the PDF and research data is handled as supplemental information, you may be behind the curve.
Past insights and reflections on industry developments written by NFAIS Executive Director Marcie Granahan are now archived in NFAIS Community Forum. Feel free to post your comments about these and other key topics there.
| | |
| --- | --- |
| Featured Program: | |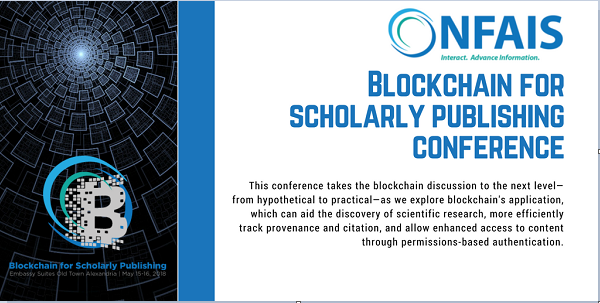 ---
| | |
| --- | --- |
| Silverchair Released Text and Data Optimized for Machine Learning and AI | |
Sliverchair
Silverchair Information Systems announced recently the release of a new Text and Data Mining Interface to the Silverchair Platform.
READ MORE
| | |
| --- | --- |
| 6th Annual DCL-CIDM Survey Highlights Need to Better Future-Proof Content | |
PR Newswire
In an annual content trends survey fielded by DCL and the Center for Information Development Management, 48 percent of respondents said that their content was not ready to support their plans for the future. Last year that number was 51 percent, which is minimal progress.
READ MORE
| | |
| --- | --- |
| GALILEO to Provide Users with Federated Single Sign-On Access in New Agreement with EBSCO Information Services and OpenAthens | |
EBSCO
The GALILEO consortium is making the research experience easier for their library users by implementing federated single sign-on access, enabling end users to sign-on once into any resource from the site or within Discovery.
READ MORE
| | |
| --- | --- |
| Display without Delay: Search, Browse and Cite PLOS Articles with Quick Abstracts from Google Scholar | |
PLOS
If you're someone who's out in the field more than in the lab, you may have been challenged finding research on the fly. That's now in the past. To expedite discovery and access to PLOS research articles, we've worked with Google Scholar to include PLOS abstracts in their new Quick Abstracts feature.
READ MORE
| | |
| --- | --- |
| Researchers' Challenges in Sharing Data Cross Geographic Borders And Disciplines | |
Springer Nature
A report from Springer Nature published today reveals strong support for data sharing globally, yet identifies a number of common problems amongst researchers when they endeavour to share their data. However, the report also shows variations between nations and disciplines in the proportion of researchers sharing their data.
READ MORE
| | |
| --- | --- |
| EU Copyright Reforms Draw Fire From Scientists | |
Nature
An influential committee of the European Parliament is due to vote this month on changes to copyright regulations in the European Union, but the latest drafts of the rules have triggered a wave of criticism from open-science advocates. They say that the proposals will stifle research and scholarly communication.
READ MORE
| | |
| --- | --- |
| Blockchain Will Make AI Smarter by Feeding It Better Data | |
Venture Beat
We've heard — probably too much — about how cryptocurrencies like Bitcoin shift financial power away from governments and big banks to individuals. Blockchain technology is also democratizing artificial intelligence.
READ MORE
| | |
| --- | --- |
| Linux Launches AI Project to Help Build the Future of AI | |
Computer Business Review
The Linux Foundation has launched a new AI Project, to help develop, share and deploy AI and machine learning apps. Acumas, the AI project, is a platform and open source framework, which will be compatible with a variety of tools and technologies while focusing on the development, use and sharing of AI models.
READ MORE
| | |
| --- | --- |
| Publishing in the Age of Blockchain | |
Personanondata
Lost in the often exuberant hyperbole surrounding the potential of blockchain is the fact that blockchain is a "foundational" technology similar to the internet protocol (TCP/IP) which governs all our web activities today. Thus, blockchain is still in its infancy with respect to the applications which will eventually be built on top of it.
READ MORE
| | |
| --- | --- |
| A Reality Check on Author Access to Open Access Publishing | |
PLOS
Technically, the "most journals don't charge authors" statement could well be true. Most open access journals may not charge authors. The source that's used to support the claim is generally DOAJ – the Directory of Open Access Journals.
READ MORE
| | |
| --- | --- |
| Scaling Investment in Open Textbooks Through the Omnibus Bill | |
Washington Monthly
The Omnibus bill introduces a new Open Textbook Pilot, investing in projects that create or expand the use of open educational sources.
READ MORE
| | |
| --- | --- |
| Weighing the Benefits of Library Vendors Versus Online Retailers | |
EBSCO
There's no doubt that a large online retailer like Amazon can handle orders for everything from personal care items to home electronics. But, when it comes to library collection development and acquisitions, online retailers can fall short, compared to library vendors.
READ MORE
| | |
| --- | --- |
| UC Berkeley becomes first university to offer PressbooksEDU to entire campus community | |
Berkeley Library News
Want to share your research with the world? Or are you finally ready to publish that elusive novel? For staff, faculty and students at UC Berkeley, publishing a book just became easier.
READ MORE
| | |
| --- | --- |
| Preprint Research Underused in Disease Outbreaks | |
Healio
Preprint scientific manuscripts are "a critical component of outbreak science" and should be more broadly used to give scientists and public health officials earlier access to important findings during disease outbreaks, researchers argued.
READ MORE
| | |
| --- | --- |
| Experiments in Peer Review: Getting the Decision Right | |
University Affairs
David Kent writes: A number of weeks back I had reviewed a paper for the Journal of Experimental Medicine (JExpMed) and shortly after submitting I received an email that said "Reviewer collaboration" had been started.
READ MORE
| | |
| --- | --- |
| Journal Papers 'Largely Indistinguishable' From Preprints | |
Times Higher Education
A study that found that most preprint scientific papers are "largely indistinguishable" from the versions that appear in academic journals has triggered fresh debate about the role of commercial publishers in scholarly communication.
READ MORE
| | |
| --- | --- |
| Portico Announces the Trigger of the Online Journal of Current Clinical Trials | |
Portico
Portico was recently alerted to a groundbreaking journal that was no longer available to the academic community. The Online Journal of Current Clinical Trials launched in 1992 as part of a collaboration between OCLC and the American Association for the Advancement of Science, and was one of the earliest electronic scientific journals.
READ MORE
---
| | |
| --- | --- |
| Upcoming Events | |
NFAIS
Blockchain for Scholarly Publishing Conference
Tuesday, May 15 – Wednesday, May 16, 2018

Lunch & Learn: Innovate, Build, Launch & Knowing Your Customer at Every Stage of Product Development
Tuesday, May 22, 2018

Blockchain 101
Information coming soon

---
| | | |
| --- | --- | --- |
| Editor-in-Chief, Cell | Cell Press | Cambridge, MA, USA |
| Senior Dewey Editor | OCLC | Dublin, OH, United States |
| Community Manager, Fulcrum | Michigan Publishing | Ann Arbor, MI, USA |
| Senior Editor of Digital Media Production | American Medical Association | Chicago, IL, United States |
The NFAIS Career Center is the premier one-stop place for employers and job-seekers in the information services field to make the right connections. Click here to view all job opportunities or to post an open position.