---
| | |
| --- | --- |
| The New Gold Rush for the 21st Century | |



Marcie Granahan,
NFAIS Executive Director

The dot-com bubble of the 1990s, which ended with hundreds of billions of dollars of wealth being destroyed, helped launch the digitization of scholarly publishing. It funded the infrastructure upon which internet innovations would be built, and laid the foundation for social media, mobile computing, big-data analytics and artificial intelligence. While the digitization of scholarly publishing transformed our industry and the workflow of researchers and students alike, technology has not evolved much since then and, in many ways, it feels like we are stuck in the 1990s [see full article here]. The majority of content is still peer reviewed in antiquated enterprise software systems, and articles are downloaded as PDFs—a format that is not machine-readable.

However, the gold rush boom witnessed during the dot-com bubble may be coming again, this time as the blockchain bubble [see full article here]. And, like the dot-com bubble, the blockchain bubble is creating the infrastructure that will enable the technologies of the future to be built.

There's an explosion of venture capital startups offering blockchain-based services. An example is Project Aiur, whose mission is to ensure all research is validated and reproducible [see full article here]. The blockchain- and AI-enabled search engine allows users to submit a research study and have it verified against all other research in the world.

No doubt the majority of investors are merely hoping to get rich quick and give little though as to why the technology matters. But, to understand why it matters, you have to look past the wild speculation at what's underneath.

Blockchain is an electronic ledger or list of transactions that are stored on multiple independent computers within a decentralized network. No single entity controls the ledger, and any of the computers on the network can make changes to the ledger. The greatest contribution blockchain offers is TRUST. Over time, we've allowed once- trusted intermediaries to become untrusted gatekeepers. Our dependence on the trusted middleman is one reason why Google, Facebook and Amazon have become de facto monopolies. These giants are, in effect, centralized ledger keepers of our digital data. Blockchain will play an important role in disrupting these gatekeeping institutions, and blockchain content could help promote user trust and the protection of personal data in the digital economy.

The GDPR, designed to protect consumers and their data, may unwittingly speed the adoption of blockchain-based content [see full article here]. While the GDPR doesn't specifically address content and its provenance, it could aid in safeguarding the legitimacy of information on the web, improve access to digital content, and provide greater transparency within scholarly research. And although we're still in the early stages, having consensus on central ledgers could prevent the Netscape/Internet Explorer browser wars of the 1990s, and help to avoid fragmented approaches and ensure greater interoperability.

The European Union has embraced this approach, and 22 countries have signed a declaration on the establishment of a European Blockchain Partnership that would prepare for the launch of EU-wide blockchain applications [see full article here].

There are still major obstacles to overcome before blockchain can fulfill its promise of a more robust system for recording and storing digital assets; however, these concepts are already being tested in the field. Who knows what the next Google, Facebook and Amazon emerging from the wreckage of a burst blockchain bubble will be. But like the dot-com bubble, blockchain will bring forth new innovation and a decentralized future.
Past insights and reflections on industry developments written by NFAIS Executive Director Marcie Granahan are now archived in NFAIS Community Forum. Feel free to post your comments about these and other key topics there.
| | |
| --- | --- |
| Featured Program: | |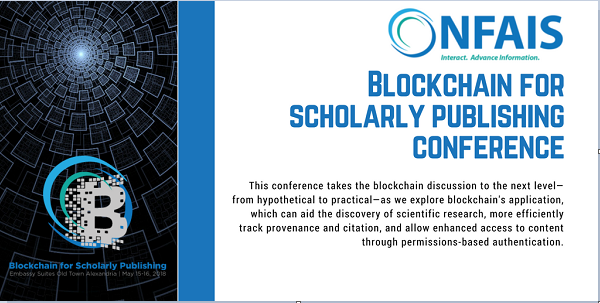 Space is limited, so register soon. See conference page for more details.
---
| | |
| --- | --- |
| Scholarly publishing is stuck in 1999 | |
Medium
Stephen Cornelius writes: I've spent the majority of my career to date working on products in the scholarly publishing and information industry. Lately I can't shake a frustrating feeling that technologically it just isn't evolving.
READ MORE
| | |
| --- | --- |
| In blockchain we trust | |
MIT Technology Review
To understand why blockchain matters, look past the wild speculation at what is being built underneath, argue the authors of The Age of Cryptocurrency and its newly published follow-up, The Truth Machine: The Blockchain and the Future of Everything.
READ MORE
| | |
| --- | --- |
| Iris.ai launches Project Aiur: an open, community-governed AI Engine for Knowledge Validation | |
Technology Org
Iris.ai, the artificial intelligence tool which helps researchers find relevant scientific papers, recently announced the launch of Project Aiur: building an open, community-governed engine that will allow users to access and contribute to a validated repository of scientific research.
READ MORE
| | |
| --- | --- |
| How GDPR may help drive blockchain usage for content | |
MarTech Today
The application of blockchain to content authentication has been gaining traction, and it may get an extra push from the zeitgeist brought about by the EU General Data Protection Regulation (GDPR).
READ MORE
| | |
| --- | --- |
| European countries join blockchain partnership | |
Digital Single Market
22 European countries have signed a Declaration on the establishment of a European Blockchain Partnership. The Partnership will be a vehicle for cooperation amongst Member States to exchange experience and expertise in technical and regulatory fields and prepare for the launch of EU-wide blockchain applications across the Digital Single Market for the benefit of the public and private sectors.
READ MORE
| | |
| --- | --- |
| Taylor & Francis introduces language analysis technology to improve publication speeds | |
Taylor & Francis Group
Taylor & Francis has implemented new copyediting technology to support faster publication speed across its portfolio of 2500 academic journals.
READ MORE
| | |
| --- | --- |
| New research on data analytics and machine learning adoption | |
Data Knowledge Center
Are companies maximizing their data analytics programs, moving into machine learning, or are they still not sure what to do with the latest technology to drive results and improve the bottom line? That big question was the focus of the latest Informa Engage research study sponsored by Dell EMC and NVIDIA.
READ MORE
| | |
| --- | --- |
| Do journal article recommendation features change reader behavior? | |
The Scholarly Kitchen
As research output continues to expand, publishers are increasingly challenged to attract the attention of individual readers. At the same time, researchers are under pressure to keep up with the latest developments in their field — and adjacent fields.
READ MORE
| | |
| --- | --- |
| Facebook's data lockdown is a disaster for academic researchers | |
Phys.org
Facebook recently announced dramatic data access restrictions on its app and website. The company framed the lockdown as an attempt to protect user information, in response to the public outcry following the Cambridge Analytica scandal.
READ MORE
| | |
| --- | --- |
| Powering advances in wireless connectivity for the future | |
National Science Foundation
The National Science Foundation announces an important milestone in its Platforms for Advanced Wireless Research effort. In collaboration with an industry consortium of 28 networking companies and associations, NSF is supporting the development and deployment of the first two PAWR research platforms, based in Salt Lake City and New York City.
READ MORE
| | |
| --- | --- |
| Report lifts lid on cost of subscription deals with publishers | |
Times Higher Education
European universities and research organisations could save hundreds of millions of euros a year by switching to an open access publishing system, a new analysis of subscription deals with publishers has concluded.
READ MORE
| | |
| --- | --- |
| Clarivate Analytics acquires research startup Kopernio to accelerate pace of scientific innovation | |
NFAIS
Clarivate Analytics recently announced the strategic acquisition of AI-technology startup Kopernio, to create the definitive publisher-neutral platform for research workflow and analysis for scientific researchers, publishers and institutions worldwide. Kopernio's vision is to legally provide one-click access to millions of journal articles and academic research papers across the globe, dramatically improving and facilitating access to scientific knowledge.
READ MORE
| | |
| --- | --- |
| Move It Forward: UC Davis Library advances plan for open access scholarly publishing | |
US Davis Library
The UC Davis Library is advancing Move It Forward, a project that promises to make big strides for open access scholarly publishing. Supported by the Andrew W. Mellon Foundation, Move it Forward is investigating how publishers and research universities might economically and expeditiously switch to open access scholarly publishing models where the public can freely access journal articles.
READ MORE
| | |
| --- | --- |
| University Press Group decries censorship | |
Inside Higher Ed
The Association of University Presses has issued a statement urging scholarly publishers to refuse requests from foreign governments to restrict digital access to content.
READ MORE
| | |
| --- | --- |
| Battle over college course material is a textbook example of technological change | |
The Washington Post
Brandan Hudgins, an engineering student at Virginia's Tidewater Community College, has used traditional textbooks and electronic books. He has paid for digital codes to get homework assignments and, sometimes, gotten free, unlimited access to texts.
READ MORE
| | |
| --- | --- |
| Project Aiur seeks to verify academic research with blockchain and AI | |
Blockchain News
The team behind Iris.ai, an artificial intelligence tool that enables researchers to find helpful scientific studies, recently launched a community-governed artificial intelligence (AI) engine, Project Aiur, to further the reach of scientific knowledge around the globe.
READ MORE
| | |
| --- | --- |
| Blockchain starting to feel its way into the artificial intelligence ecosystem | |
Datanami
Blockchain is a technology that everybody seems to think will revolutionize the global economy. If nothing else, the cryptocurrency boom has produced a flood of VC money that's trying to cash in on every potential application for this distributed hyperledger technology.
READ MORE
| | |
| --- | --- |
| Dutch universities, journal publishers agree on open-access deals | |
TheScientist
In the Netherlands, as in many other European countries, universities are pushing for scholarly journals to become open access. Driven in part by the E.U.'s mandate to make all scientific articles freely available by 2020, the Association of Universities in the Netherlands, which represents 14 of the country's academic institutions, has been negotiating new subscription deals with publishers.
READ MORE
| | |
| --- | --- |
| Google partners with CyArk to 3-D scan the world's historical sites, provide open access to data | |
Road to VR
Google has partnered with CyArk, the non-profit studio behind VR app MasterWorks: Journey Through History (2018), to expand CyArk's mission to 3-D laser-scan the world's historical sites and provide open access to the data. Called the Open Heritage Project, Google and CyArk aim to preserve the historical sites digitally for future generations in case disaster strikes.
READ MORE
| | |
| --- | --- |
| The 5 key business benefits of GDPR | |
Open Access Government
The impending General Data Protection Regulation is seen as a force of major disruption by so many businesses. The regulations which come into force on 25th May aim to drastically increase the transparency in the data processing methods of any worldwide business that handles the data of EU citizens.
READ MORE
| | |
| --- | --- |
| ARTiFACTS and Blockchain in Healthcare Today partner to expand use of blockchain in scholarly publishing | |
PR Newswire
ARTiFACTS, creator of the world's first blockchain-based platform for scholarly research, and Blockchain in Healthcare Today, the premier open access, peer review journal focused on the use of blockchain in the health sector, have formed a partnership to advance the use of blockchain in scholarly publishing.
READ MORE
| | |
| --- | --- |
| Let it go: Automating collection development to enable librarian/patron collaboration | |
No Shelf Required
As library personnel budgets are cut or held steady, and while the number of scholarly and scientific monographs increases from year to year, academic librarians need to find ways to discover and acquire relevant monographs more efficiently.
READ MORE
---
| | |
| --- | --- |
| Upcoming Events | |
NFAIS
Blockchain 101: What it is and what its's not
Tuesday, April 24, 2018

Blockchain for Scholarly Publishing Conference
Tuesday, May 15 – Wednesday, May 16, 2018

Lunch & Learn: Innovate, Build, Launch & Knowing Your Customer at Every Stage of Product Development
Tuesday, May 22, 2018


---
| | | |
| --- | --- | --- |
| Product Manager, Products & Analytics | American Chemical Society | Washington, DC, USA |
| Director of Library Information Technology | Robert E. Kennedy Library, Cal Poly SLO | San Luis Obipso, CA, United States |
| Production Editorial Associate | Annual Reviews | Palo Alto, CA, USA |
| Dean, University Libraries | Florida State University | Tallahassee, FL, United States |
The NFAIS Career Center is the premier one-stop place for employers and job-seekers in the information services field to make the right connections. Click here to view all job opportunities or to post an open position.