---
| | |
| --- | --- |
| Interesting Times for Scholarly Literature Citation and Discovery | |



Marcie Granahan,
NFAIS Executive Director

The Initiative for Open Citations (I4OC) celebrated its one year anniversary, as the number of indexed scientific articles with open citation data reached more than 50% [see full article here]. Funders, scientists, and librarians search scholarly citations to study scientific progress, appraise scientific impact, and determine which ideas are worth funding. Since its founding, I4OC has worked with scholarly publishers to persuade them to openly release the citation data of their articles.

Reuse of this freely available citation data has spawned a new generation of citation search and indexing companies, such as Digital Science's Dimensions and the newly launched 1findr that pull from open data sources like Crossref and Repositories. 1findr's goal is to become the best and most comprehensive abstract indexing system and, in a recent comparison between 1findr, Dimensions, Scopus, and Web of Science, 1findr had the largest coverage of journal articles, as well as the greatest number of open access articles [see full article here]. While the real strength of Web of Science and Scopus is their advanced search features, mass export abilities and citation research capabilities, the competition may be heating up, as Dimensions and 1findr are looking to advance their services in these areas.

Another company to watch is ARTiFACTS, which recently partnered with the Blockchain in Healthcare Today journal to assess and evaluate the strengths and weaknesses of blockchain technology for improving the speed, collaboration, access, transparency, and attribution of scholarly research [see full article here]. ARTiFACTS uses blockchain technology to allow for discovery and citation in near real-time at the beginning of the research process.

Despite these advances in citation discovery, the most uncited research is in the arts and humanities [see full article here]. Unlike the sciences, which use journal articles to capture and cite the first expression of an idea, monographs and book chapters carry far more weight for the humanities. This made news of the University Press of New England's closure at the end of the year especially troubling, since academic publishers frequently publish work that commercial publishers won't take on [see full article here]. There are also increasing political pressures, such as the case with the University Press of Kentucky, that increase the fiscal demands placed on university presses [see full article here].

These are interesting times for scholarly literature citation and discovery. Wherever we end up, open access, machine learning, and new technologies like blockchain will create exciting new business models that will undeniably impact the scholarly publication landscape.
Past insights and reflections on industry developments written by NFAIS Executive Director Marcie Granahan are now archived in NFAIS Community Forum. Feel free to post your comments about these and other key topics there.
| | |
| --- | --- |
| Featured Program: | |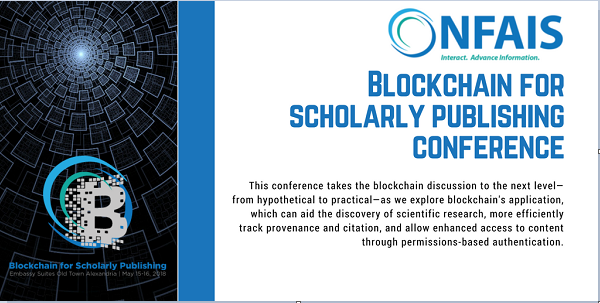 ---
| | |
| --- | --- |
| I Robot | |
Personanondata
Those of us who may be short on time and haven't been able to get to that autobiography we've been meaning to write need worry no longer: Artillect Publishing will do the work for you by scanning your online presence, merging some ancillary information and producing your sure-to-be best-selling biography.
READ MORE
| | |
| --- | --- |
| Time management: Stressed science needs to slow down | |
Nature
The academic life has a reputation for long hours. A recent global survey of academics makes bleak reading, with researchers describing ever-increasing workloads and struggles with work-life balance. Earlier this year, academics worldwide joined a Twitter argument about their working hours, with many agreeing that a 60 hour week was an expected part of an academic career.
READ MORE
| | |
| --- | --- |
| The EU copyright directive is failing | |
CREATe
Academics from 25 leading Intellectual Property research centres in Europe have today published an open letter, expressing grave concerns at the legislative direction of the proposed copyright directive.
READ MORE
| | |
| --- | --- |
| Study examines the research that never receives a citation | |
Inside Higher Ed
Academics publishing in particular fields of chemistry or neuroscience are virtually guaranteed to be cited after five years, but more than three-quarters of papers in literary theory or the performing arts will still be waiting for a single citation.
READ MORE
| | |
| --- | --- |
| The long and winding road to DRM-free e-books in academic libraries | |
No Shelf Required
The issue of Digital Rights Management has been around for as long as e-books have been around—and not only e-books, but digital content in general, including online journals, movies, TV shows, games and software.
READ MORE
| | |
| --- | --- |
| Coverage and overlap of 1findr, Dimensions, Scopus, and Web of Science | |
A Way of Happening
Quick post here. 1science just released a new journal article and open access search tool, 1findr, and I thought it be interesting to compare it to another similar search tool that launched a couple months ago, Dimensions.
READ MORE
| | |
| --- | --- |
| ARTiFACTS and Blockchain in Healthcare Today partner to expand use of blockchain in scholarly publishing | |
PR Newswire
ARTiFACTS, creator of the world's first blockchain-based platform for scholarly research, and Blockchain in Healthcare Today, the premier open access, peer review journal focused on the use of blockchain in the health sector, have formed a partnership to advance the use of blockchain in scholarly publishing.
READ MORE
| | |
| --- | --- |
| Dutch universities, journal publishers agree on open-access deals | |
TheScientist
In the Netherlands, as in many other European countries, universities are pushing for scholarly journals to become open access. Driven in part by the E.U.'s mandate to make all scientific articles freely available by 2020, the Association of Universities in the Netherlands (VSNU), which represents 14 of the country's academic institutions, has been negotiating new subscription deals with publishers.
READ MORE
| | |
| --- | --- |
| Scholarly publishing's last stand | |
The Chronicle of Higher Education
This month, Kentucky's General Assembly overrode Gov. Matt Bevin's veto of the budget, restoring many of the cuts in education that Bevin had proposed in January. But the funding Bevin eliminated for the University Press of Kentucky was not restored. To remain open, the press has a rough road ahead.
READ MORE
| | |
| --- | --- |
| University presses are not in crisis | |
Publishers Weekly
With the news recently that the University Press of New England will be shut down came the predictable takes on the plight of university press publishing today. But despite sensational headlines like the one this week in the Chronicle of Higher Education — "Scholarly Publishing's Last Stand" — university presses, by the numbers, are actually faring rather well.
READ MORE
| | |
| --- | --- |
| University Press of New England will shut down | |
Inside Higher Ed
Dartmouth College announced this week that the University Press of New England will be shut down by the end of the calendar year. The press was founded in 1970 as a consortium and once was supported by 10 colleges and universities.
READ MORE
| | |
| --- | --- |
| Taylor & Francis is bringing AI to academic publishing but it isn't easy | |
The Bookseller
Leading academic publisher Taylor & Francis is developing natural language processing technology to help machines understand its books and journals, with the aim to enrich customers' online experiences and create new tools to make the company more efficient.
READ MORE
| | |
| --- | --- |
| The citation graph is one of humankind's most important intellectual achievements | |
BoingBoing
When researchers write, we don't just describe new findings — we place them in context by citing the work of others. Citations trace the lineage of ideas, connecting disparate lines of scholarship into a cohesive body of knowledge, and forming the basis of how we know what we know.
READ MORE
| | |
| --- | --- |
| Publishers join Blockchain for Peer Review project | |
Research Information
Taylor & Francis Group and Cambridge University Press have joined a pilot project to test blockchain technologies applications to peer review. The initiative, announced in March, focuses on the problems of research reproducibility, recognition of reviewers and the rising burden of the peer-review process.
READ MORE
| | |
| --- | --- |
| REF open-access requirement for books 'worth the outlay' | |
Times Higher Education
As preparations for the 2021 research excellence framework continue apace, UK-based academics could be forgiven for pushing the 2027 assessment to the back of their minds for now.
READ MORE
| | |
| --- | --- |
| Making landmark texts in architecture and urban studies accessible to the world | |
MIT
The Andrew W. Mellon Foundation has awarded a grant of $157,000 to support the digitization and open accessibility of landmark out-of-print architecture and urban studies titles published by the MIT Press. By digitizing a cohesive set of classic architecture and urban studies texts from formative and influential moments in these fields, the MIT Press will be surfacing a significant set of works for discovery and research by the scholarly community.
READ MORE
| | |
| --- | --- |
| Grants given for Blockchain in science | |
Laboratory News
Research technology incubator, Digital Science has announced the recipients of its Blockchain Catalyst Grant as Datax ­— who are developing a system to improve the datasets available for machine learning ­— and VIVO who proposed the use of Blockchain to create new models of research value based on a diverse set of research outcomes.
READ MORE
| | |
| --- | --- |
| Reinventing the collaborative economy with blockchain | |
Open Access Government
The collaborative economy is not what we were promised. Inspired by Wikipedia, it emerged from the idea of a peer-to-peer networks of citizens, sharing and collaborating for the common good, in every field. However, today we can observe how digital monopolies concentrating data, resources and power are the new normal.
READ MORE
---
| | |
| --- | --- |
| Upcoming Events | |
NFAIS
Blockchain for Scholarly Publishing Conference
Tuesday, May 15 – Wednesday, May 16, 2018

Lunch & Learn: Innovate, Build, Launch & Knowing Your Customer at Every Stage of Product Development
Tuesday, May 22, 2018


---
| | | |
| --- | --- | --- |
| Head of Conservation and Preservation | Getty Research Institute | Los Angeles, CA, United States |
| Managing Editor (ACCOUNTS OF CHEMICAL RESEARCH, CHEMICAL REVIEWS and JACS) | American Chemical Society | Washington, DC, USA |
| Director, Purdue University Press | Purdue University | West Lafayette, IN, USA |
| Head of Scholarly Communications | Emory University | Atlanta, GA, United States |
The NFAIS Career Center is the premier one-stop place for employers and job-seekers in the information services field to make the right connections. Click here to view all job opportunities or to post an open position.