This message was sent to ##Email##
| | |
| --- | --- |
| March 13, 2019 |       |
---
| | |
| --- | --- |
| New AEM Podcasts Discuss Gender-Based Salary and Rank Disparities in Academic EM | |
In a new AEM podcast, She Works Hard for the Money - Time's Up in Healthcare, Dr. Esther Choo, guest editor for the upcoming special "gender" issue of AEM and a nationally-recognized expert in gender bias in medicine, discusses a study that shows a persistence of gender-based salary and rank disparities in academic emergency medicine. In a second new podcast, lead author Chris Bennett, MD, discusses a study that found that female academic EM physicians are less likely than their male counterparts to hold the rank of full professor.

| | |
| --- | --- |
| Friday is the Final Day to Apply for the AEM E&T Fellow-in-Training Editor Program | |
March 15 is the deadline to apply for the AEM Education and Training (AEM E&T) Fellow-in-Training Editor Program. This one-of-a-kind opportunity is open to any SAEM member who is a current resident and who will start a medical education fellowship in the summer of 2019 OR is a current fellow in a 1- or 2-year medical education fellowship program. The fellow appointment to the Editorial Board of AEM E&T is intended to mentor a medical education fellow in the process of peer review, editing, and publishing of education research manuscripts.

| | |
| --- | --- |
| Call for Papers: AEM E&T Annual Meeting Proceedings Issue | |
AEM Education and Training (AEM E&T) invites submissions from SAEM academies, committees, and interest groups for a special issue of the journal that will publish in early 2020 and will highlight the proceedings from the 2019 SAEM annual meeting relevant to education and training. Details and submission instructions can be found online. Deadline is August 31, 2019. If you missed the The Proceedings From the 2018 SAEM Annual Meeting, you can view and download a copy here.

| | |
| --- | --- |
| Drs. Kuhn and Lupton Appointed to AEM Editorial Board | |
Mark B. Mycyk, MD, director of the AEM "Resident Member of the Editorial Board" program, has announced the selection of two residents for the 2019-2020 term: Diane Kuhn, MD, University of Maryland and Joshua Lupton, MD, Oregon Health & Science University. The resident-in-training appointment to the AEM editorial board provides an introduction to the process of peer review, editing, and publishing of medical research manuscripts. The resident appointment begins each year at the SAEM annual meeting and runs for 12 months.




Envision Physician Services is seeking a Toxicology Fellow to serve as core faculty and help establish and create a toxicology service at Aventura Hospital and Medical Center in beautiful South Florida. Position includes consultation in toxicology, clinical shifts in the E.D. and active participation as a faculty member. APPLY NOW




Reach Your Prospects Every Week




Thousands of industry professionals subscribe to association news briefs, which allows your company to push messaging directly to their inboxes and take advantage of the association's brand affinity.

Connect with Highly Defined Buyers and Maximize Your Brand Exposure
---
| | |
| --- | --- |
| Best Wishes for Match Week and Good Luck to Our Future EM Physicians | |
Sending good vibes and best wishes to all of our medical students this Match Week... And Good luck on Match Day. May all your hopes, wishes, and matches come true. We're pulling for you! From your friends at the Society for Academic Emergency Medicine.

| | | |
| --- | --- | --- |
|   |  PRODUCT SHOWCASE | Advertisement |

New York Presbyterian Hospital-Weill Cornell Medicine is seeking motivated full-time residency-trained academic Emergency Medicine faculty. We are seeking candidates to join a diverse enthusiastic group of academic Emergency Physicians at one of the premier academic medical centers in the nation. Learn More.

Send curriculum vitae and cover letter to Rahul Sharma, MD, MBA, CPRE, FACEP ras2022@med.cornell.edu
| | |
| --- | --- |
| GEMA President Stephanie Kayden Featured in Newest RAMS Academy Podcast | |
The third RAMS-sponsored academy podcast features Stephanie Kayden, MD, MPH, vice chair and division chief, International Emergency Medicine and Humanitarian Programs at Brigham and Women's Hospital/Harvard Medical, and 2018-19 president of the Global Emergency Medicine Academy (GEMA). Dr. Kayden gives a brief overview of GEMA, discusses the challenges involved in developing sustainable EM initiatives abroad, and talks about the educational resources and opportunities available through GEMA.

| | |
| --- | --- |
| A New Podcast for Researchers: Exception From Informed Consent | |
In the newest podcast episode from the SAEM Research Learning Series (RLS), Dr. Jill Baren from the Perelman School of Medicine at the University of Pennsylvania, discusses the hot topic of how to conduct emergency research under the domain known as "Exception From Informed Consent," or "EFIC," for short. Provided in partnership with Academic Life in Emergency Medicine (ALiEM), the SAEM Research Learning Series provides live, online education on popular emergency medicine research topics.

| | |
| --- | --- |
| March Regional Meetings Start Soon! | |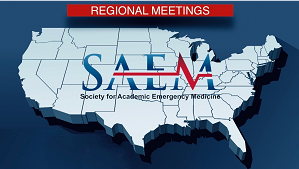 Plan to attend one of SAEM's upcoming regional meetings. Registration is open.

Western Regional, Napa Valley, CA, March 21-22
New England Regional, Worcester, MA, March 27
Mid-Atlantic Regional, Washington, DC, March 30

Regional meetings provide opportunities to present original research and to participate in sessions designed to teach essential research skills.
---
| | |
| --- | --- |
| Saving Money on SAEM19 is as Easy as 1-2-3! | |
Save big on your SAEM19 registration and pocket your saved quarters for the slots!

1. Register before March 18 for early bird discounts
2. Reserve your sleeping room by April 18 for a special rate
3. Renew your membership; avoid non-member SAEM19 fee

| | |
| --- | --- |
| Medical Student Symposium Provides In-Depth Tips and Techniques for Applying for an EM Residency Position | |
The 2019 Medical Student Symposium, May 16, 8 a.m. – 3 p.m. will provide in-depth information about the process of applying for an EM residency position. Topics include: EM training and practice options; details about the residency match process; strategies to excel in EM rotations; tips for completing an away rotation; components of a successful personal statement; suggestions for application preparation; and interviewing advice. A networking lunch with EM program directors and clerkship directors is included. Sign up for this Forum when you register for SAEM19.

| | |
| --- | --- |
| Pick Up Tangible Skills for Patient Advocacy at the Physician Advocacy Boot Camp | |
The emergency department is a key component of the social safety net; consequently, emergency physicians are uniquely positioned to advocate for individual patients and for policies that improve the health and well-being of patients and the broader medical community. This session will provide participants with concrete skills they can use for advocacy, including leveraging social media, writing op-eds, talking to the media, writing expert testimony, working with government and public health officials, and participating in local politics.

| | |
| --- | --- |
| Announcing a Golden Opportunity for Mentor and Mentees! | |
If you are interested in becoming a mentor or could benefit from the advice and guidance of seasoned faculty, consider signing up to be a mentor or a mentee for SAEM's popular Speed Mentoring event, May 15 from 3:30–5:30 p.m. at SAEM19 in Las Vegas.

You must be registered for SAEM19 for at least the day of the event to participate.

| | |
| --- | --- |
| Experience SAEM's First-Ever MedWAR Up Close and Personal: Be a Volunteer | |
SAEM is seeking 30 volunteers to help during our inaugural MedWAR competition at Red Rock National Park. MedWAR (short for Medical Wilderness Adventure Race) is a unique event that combines wilderness medical challenges with adventure racing. Volunteers need to be registered for SAEM19 to participate and be available from 7 a.m. until 4 p.m., Friday, May 17, 2019. Transportation to and from Red Rock National Park will be provided. What a great way to experience this one-of-a-kind teaching event.

---
| | |
| --- | --- |
| Which Misused Prescription Meds Send Americans to the ED? | |
Most folks treated in a U.S. emergency department for misuse of prescription medications get into trouble because they mix different substances, a new study reports. Benzodiazepines like Xanax (alprazolam) and Ativan (lorazepam) are most commonly implicated in health crises that lead to an ED visit, followed by prescription opioids, researchers found. But in most cases, the patients fell ill because these drugs were taken with other substances and created a dangerous interaction, said lead researcher Dr. Andrew Geller.
| | |
| --- | --- |
| Interactive Game Shows Pressures of Working in the Emergency Department | |
An interactive game that simulates the experience of health staff working in an emergency department has been developed with input from nurses. "Crisis Point: A Day in A&E," developed by medical negligence solicitors Bolt Burdon Kemp, highlights the challenges emergency care staff face daily. It takes users through two 12-hour shifts as different healthcare professionals, including a staff nurse and a charge nurse.
| | |
| --- | --- |
| For Emergency Departments, Incredible Crowding Can Be Normal | |
The emergency department at Brigham and Women's Hospital in Boston is so congested that doctors treat patients in hallways. Cancer patients wait near mentally ill patients. Delays can last hours. Some frustrated patients simply walk out, and the hospital at times turns away ambulances seeking to bring others. With a $52 million expansion project that kicks off April 1, the Brigham will become the latest Massachusetts hospital to significantly enlarge and redesign its emergency department.
7701 Las Colinas Ridge, Ste. 800, Irving, TX 75063